Searching the internet is the first port of call for most people these days when looking for a new service provider or product. Therefore, it is crucial that your website appears high up in the search results for the right keywords – and this can be achieved with a regular SEO ranking check. We show you how it's done!
What is ranking and why is it so important?
The position of a website in the search results of a search engine such as Google Search is called rank. The higher the rank, the better the visibility of the website and the more traffic can be generated, which ultimately also increases the chances of making sales. A good ranking is therefore very important for companies and website owners, as it can positively influence growth. To achieve an optimal ranking, various factors should be taken into account, such as the quality of the content or the technical implementation of the website.
What does Ranking Check mean?
Many website owners have a certain idea of what place their website should occupy in the search results (SERPs). However, knowing the position of one's website in the Search Engine Rankings is not always that easy – especially if the position changes regularly. Especially for large websites with thousands of subpages, it can be difficult to keep track.
A ranking check helps here: A ranking check is a process that determines where a website is ranked on a search engine such as Google Search or Bing. With the help of special tools, the current position of the website in the SERPs is determined and visualized. In this way, it is possible to quickly and easily determine where exactly the website is at the moment and whether the position has changed compared to the previous month or week.
A ranking check is therefore an important tool that can be consulted to determine where a website is placed in the search results for various keywords. This information can be very useful to determine if a website has been optimized for certain keywords and if it can climb further up in the search results. It can also help to decide which new keywords to optimize for your website. The findings are then used to improve the search engine optimization (SEO) for a website and thus increase its rank.
There are many different ways to perform a ranking check. Some of them are available online, others require the use of special software. The exact steps vary depending on the method chosen, but basically it's about finding out which websites are displayed for certain keywords and on which position they are.
How does a ranking check work exactly?
So, the Ranking Check is an important tool to check the position of a website in the search results of a search engine. This can either be done manually by typing a website's URL into any search and seeing where it is listed, or you can use a specialized rank checker tool. Some of these tools are free, others need to be paid for. Some examples of website rank checker tools:
Google Search Console: One of the most powerful and comprehensive rank checker tools, with which you can find out not only what position your website is in the search results, but also a lot of other information such as the number of visitors via Google Search and which page cuts apply.
WooRank: Another very helpful rank checker tool with multiple functions. WooRank offers detailed OnPage analysis options in addition to the actual ranking check, as well as tips on what you should/could improve.
SEOmoz: This is an SEO software that can help you learn and improve your website's ranking in Search Engine Rankings. It provides you with tools to optimize your website for better visibility and performance.
HubSpot: HubSpot is an inbound marketing and sales platform that helps companies engage and grow their business online. HubSpot can not only help you experience your website's ranking, but also generate more website visitors, convert those visitors into leads, and ultimately gain more customers.
Ahrefs: Ahrefs is a powerful tool that helps you check your website rank, analyze the competition, improve your own rankings and discover new keyword ideas
When you use a tool, you usually just enter the URL of the website you want to check, and the tool will then show you on which position the website is listed in the search results. However, there are also advanced features that allow you to get even more information about your search result. For example, you can see how often your website appears in the search results, which keywords are most relevant for your website and whether your website is linked to by other websites.
This information is important for figuring out what you need to do to get your website higher up. However, in most cases it is enough to know on which position your website is listed.
Race for the best ranking - what factors have an influence?
After you have used a website rank checker, you surely want to know how to get high in Google SEO ranking. Here, many factors influence the ranking of a website in the search engines. These factors include the quality of the website, the content of the pages and the links to other websites (backlinks). User experience also plays a role in the ranking: if a website loads quickly and is easy to navigate, it will rank higher than a slow and complicated site.
There are thus many different ways to improve your SEO ranking. Some are easier and faster to implement than others. Here are some of the best ways to boost your SEO ranking:
What do you have to pay attention to in ranking optimization?
Whether you have a large or small website, regular SEO checks are important. The size of the website is not the decisive factor, but rather the fact which importance the search engine optimization has in the company. Many entrepreneurs have no idea about the ranking factors and therefore see no sense in a constant check. However, it is important to constantly check your digital marketing strategy and adjust it if necessary.
If you have a website, then it is likely that you are also concerned with search engine optimization, or at least should be. After all, SEO is about making your website as attractive as possible for search engines like Google, so that it appears high up in the search results. Unfortunately, search engine optimization is not an exact science and therefore it is not always easy to draw the right conclusions from the rankings.
That is why it is important to make use of other tools besides ranking check tools that facilitate search engine optimization. One such tool is neuroflash. With neuroflash you can not only write SEO optimized texts, but also check your existing content for its SEO suitability: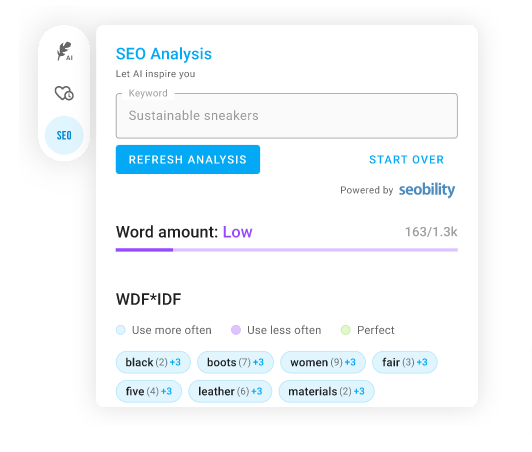 With the neuroflash SEO function, you can check and adjust your texts so that they are guaranteed to rank higher. You can check your texts for keywords used, whereby you are shown how often you should use which keywords in your text. In addition, you can also use this feature to analyze the SERP for your selected main keyword and compare your content with the competition:
A regular SEO ranking check is important because it shows you how well your websites are performing on search engines. This gives you valuable information about what changes you need to make to improve your ranking. Also, a good ranking check can help you gain valuable insights into search engine algorithms. These insights can help you optimize your future posts even better to attract even more readers.