Experienced real estate agents know that a professional exposé is crucial for sales success. But what if you don't have the time or the necessary skills to create it yourself? In today's digital world, there are many software solutions that can help you create an appealing and compelling real estate exposé in no time. We would like to report about that in this blog. We'll help you find the right software and show you how you can benefit from it.
Introduction to the world of real estate exposé softwares
A real estate exposé software is a specially designed software that helps real estate agents to create professional and appealing sales exposés. With the user-friendly interface, brokers can insert photos, text and other important information and export the finished result as a PDF or Word file. The software also offers ready-made templates to make the process even more efficient. In addition, it can be coupled with various agency packages to stay in sync wherever you are. With the help of this powerful application, real estate agents can provide their clients with informative and professional exposés, thus accelerating their business.
With a real estate exposé software you can work according to your taste and present your projects in the way you see fit. Most real estate exposé software providers offer free versions of their programs, so you can test whether this tool makes sense for you. If you find that this is the case, you can later opt for one of the many expensive versions.
How to choose the best real estate exposé software
It is important that you find the best real estate exposé software for your needs. Luckily, there's a lot to choose from and some clear signs you can look for. These include
Simple user interface: A simple user interface is the key to efficient exposé creation. A good software should be clearly designed and provide all required functions in one place.
Flexible options: A good software should be flexible and allow you to choose different options depending on what types of properties you want to market. Search for software with different templates and design options to ensure the result is exactly what you need.
Automation options: A good real estate exposé software should be able to be automated to save time. This allows you to create multiple exposés at once and serve more clients.
Cost-effectiveness: When looking for real estate exposé software, make sure you consider cost-effectiveness. Compare different prices and features in terms of spending and make sure that the software meets your requirements.
In addition, there are many other aspects to consider when choosing the right real estate exposé software. So take the time to review and carefully weigh all available options – this can help save time, money, and facilitate the perfect transition process for your business!
How real estate exposé software works - Writing real estate exposés with neuroflash
The best AI text generator for German texts, neuroflash, offers you the possibility to create professional real estate exposés in addition to over a hundred other text types. Here, the operation is extremely simple, as the interface is presented in a simple and understandable way. All you have to do is write down the address of the property and/or its features:
Once you have filled in at least one of the fields, you can generate several suggestions for a real estate exposé and choose the most successful result: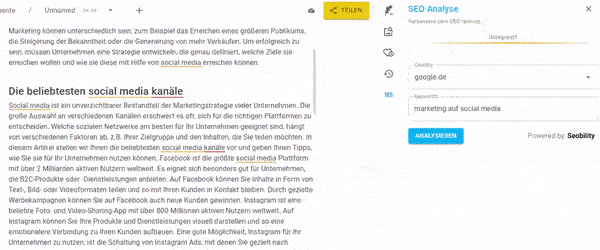 The advantages of a real estate exposé software
Real estate exposé software can be a valuable tool to help a seller promote their property. With a professional presentation, sellers can advertise their property in a targeted manner and appeal to interested parties.
Another advantage of real estate exposé software is that it allows sellers to efficiently provide all relevant information. Whether it is the location of the building and land, the equipment features or other important data – with the software all details can be easily transmitted. This eliminates a lot of work for the seller and he no longer has to write everything down individually.
Otherwise, with the help of real estate exposé software, it is possible to create intuitively designed ads that are also effectively received by the reader. It offers sellers the opportunity to achieve appealing and convincing results and thus attract the attention of potential buyers.
Overall, real estate exposé software offers many advantages for sellers – from providing all relevant information to creating compelling ads. This makes it easier for sellers to market their properties and attract prospective buyers.
The future of AI in the world of real estate
Artificial intelligence (AI) is on the rise – and not just in the world of technology, but also in the real estate industry. After all, the possibilities offered by AI can enormously facilitate and improve the work of real estate professionals. We explain here how exactly this works.
AI can help simplify the search for a suitable property, for example. To do this, it analyzes the customer's search criteria and compares them with the offers in the database. This enables it to filter out the best results and present them to the customer – without the need for tedious sifting through advertisements.
AI can also be a great help when valuing a property. This is because it can provide a more accurate assessment than humans can, based on factors such as location, amenities and price trends. In this way, real estate experts will be able to provide their customers with even more precise information about the value of a property in the future – and thus support them in their decision to buy or sell.
But AI is not only useful for finding and valuing properties, it can also help with marketing. With the help of AI-controlled bots, interested parties can be informed around the clock – for example, about new offers or price developments. This way, they no longer miss any important information and can keep up to date with the latest developments at all times.
All these examples show: AI is already a great help in the real estate industry today – and will be able to do much more in the future. Because the possibilities offered by AI are almost unlimited. Thus, in the future, it will take on more and more tasks and support real estate professionals in their work – whether in searching for, evaluating or marketing real estate.
Conclusion: Why use real estate exposé software?
Using real estate exposé software can significantly reduce the time and effort you have to invest in creating a professional and compelling exposé. Thanks to the intuitive design tool and attractive layout, brokers can create impressive documents faster and easier than ever before. With this software, you have a complete toolset at your disposal to make your real estate exposés even more impressive and enhance them. This way you can take your business to the next level and keep the trust of your customers. So why not take advantage of an excellent real estate exposé software? Start taking your real estate exposés to the next level today with neuroflash!