If you're creating a new website or revamping an existing one, it's important to consider search engine optimization (SEO). This checklist is designed to help you follow the most important steps of SEO to increase your chances of ranking well in search results.
If you want to optimize your website for search engines, you should definitely consider the following points. First of all, it's important that you research keywords and find the right keywords for your niche to rank with. Then you should make sure that your website is technically sound and that all content is search engine optimized. The structure of your website and the user-friendliness are also important factors that are evaluated by search engines. So make sure your website loads quickly and is easy to navigate.
SEO Checklist: OnPage Optimization
OnPage optimization is the foundation of good search engine optimization. So if you want to optimize your website or blog, you should work on OnPage optimization first. What is OnPage Optimization? Quite simply, that's all you can do on your website itself to improve rankings in search results. So this means: the right keyword research, the optimization of title and meta description, the design of URLs and content as well as internal linking – all these are factors that you can influence and are therefore also part of OnPage optimization.
SEO Checklist: OffPage Optimization
If you really want to reduce your Facebook Ads costs permanently, or at least work to make them profitable, then it's extremely important to think about what your goal is BEFORE you run the ad – not after it's already running. This involves goals such as: Do I just want traffic? Or do I want people to convert (buy something or sign up for something, such as a newsletter) on my landing page right away? Do I want more followers for my Facebook page or more interactions for my Instagram posts? Such questions are relevant because you always get from Facebook exactly the people Facebook knows how they react. So if you want conversions, but you're bidding on traffic, your Facebook Ads costs will go up, simply because you've chosen the wrong target and Facebook is sending you the "wrong" people.
SEO Checklist: Link building
Whether you're optimizing a new website or an existing one, backlinks are an essential part of any SEO strategy. But what makes a good link? This is where the SEO checklist comes into play:
A good link comes from a trusted website. This means that the website is relevant and has a good reputation.
A good link is thematically relevant. This means that the website fits your industry or the theme of your website.
A good link is "do follow". This means that the link is redirected from the source website to the target website.
If you build links that meet all these criteria, you can be sure that they will help you in search engine optimization of your website.
SEO checklist at a glance
Check if the primary keyword is still relevant or if another keyword has more potential.
Check if the primary keyword is used enough in the text.
Check if the primary keyword is used in the optimized title tag, headings, meta description, URL, image names, etc.
Check if enough other relevant keywords are used in the text.
Make sure the content is long enough to compete with the other top results.
Check for grammatical and spelling errors.
Make sure the article matches the users' search intent.
Enhance the content with unique and relevant information, if necessary, check if the right title tags are used for the headings.
Add more images, videos or gifs if possible and necessary.
Insert lists and other visual aspects (bold text, underlined text, etc.) to improve the readability of the text.
Check which questions should be answered in the article.
Check whether special formats are used in the articles of the top group (lists, number of paragraphs, images, etc.).
Add visual elements such as images, videos, statistics, quotes, etc.
Add alt text to the most important images.
Make sure the images are copyright free or use original images.
Add the source of the image.
Make sure that the images are of high quality and check their size so that they don't slow down the website speed.
Use articles to link to other relevant articles (choose good anchor texts like keywords).
Also link to other relevant articles or websites outside your own domain that rank well for the same keyword and are on the first page of Google.
Include important items in the website menu bar.
Create backlinks for important articles (see link building)
SEO Check with neuroflash
To perform an effective SEO check and thus complete your SEO checklist, you can also make use of free tools like neuroflash. neuroflash helps you to write SEO relevant content, starting with SEO meta descriptions: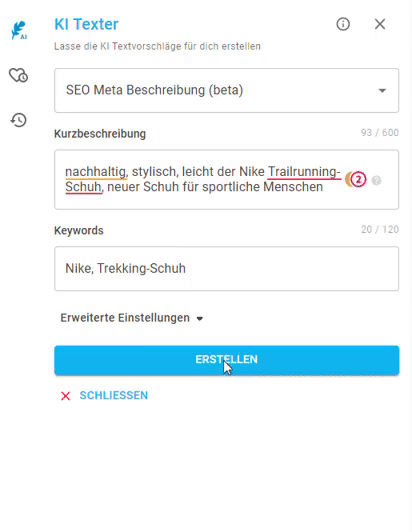 In doing so, neuroflash also offers a useful SEO analysis feature that allows you to check your text to see if it can compete with its length and abundance of different keywords.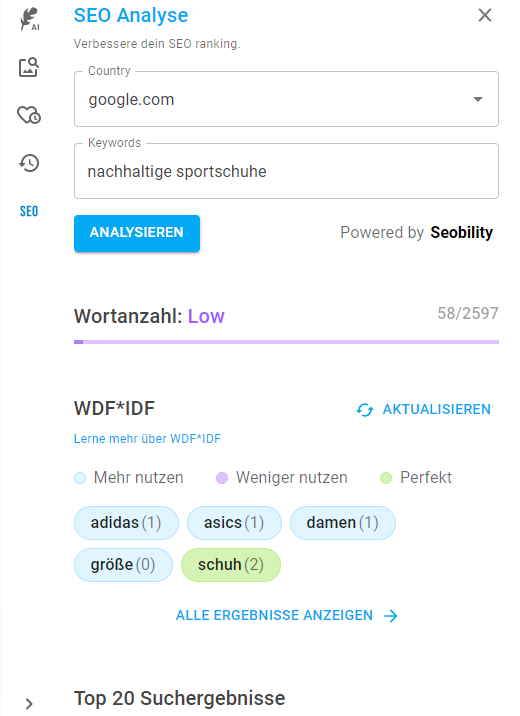 Frequently asked questions & answers
How many steps are included in the SEO checklist?
The SEO checklist includes several steps and subcategories.
Which step should be taken first?
The first step to do is "keyword research".
What is the purpose of the checklist?
The checklist serves as a guide for optimizing a website for search engine optimization.
Be sure that your website is optimized for search engines.
Use the right keywords and make sure you have a good keyword density.
Make sure you have good internal linking.
Build backlinks from high quality websites to your own website.
Make sure your website is quick and easy to navigate.
SEO is a complex and ever-changing discipline. The SEO checklist presented above should help you to consider the most important factors. However, it is important to understand that there is no universal recipe for perfect SEO success. The best strategy is to constantly educate yourself and keep your knowledge up to date.