Writing a children's book is a big task, but also a very rewarding one. The joy you can give a child is priceless. But how do you actually develop a gripping story? In this blog post, we'll give you tips and tricks so that you, too, can soon hold your own children's book in your hands.
Why write children's books?
Children's books are a great way to stimulate the imagination and encourage creativity. In a good children's book, the reader is introduced to a new world with exciting adventures and interesting characters to discover.
But children's books are not only entertaining, they can also be educational. Picture books for the youngest children in particular teach important social and emotional skills. Through story reading, children learn to empathize with others and develop compassion.
For adults, too, children's books are a welcome break from the stressful daily routine. They offer the opportunity to get away from the stress of everyday life and immerse yourself in a fantastic world. At the same time, they can also have a calming and relaxing effect.
So writing children's books is not only a great way to stimulate your own imagination and be creative, it also brings joy to other people.
What makes a good children's book?
A good children's book is a story that captivates children and that they can relate to. It should have a common thread and the characters should seem authentic. The writing style is also important – it should be catchy and make kids want to keep reading.
In this video, author Alexandra Link shares valuable writing tips on the path to a successful children's book:
What do you want your children's book to be about?
If you want to write a children's book, it's important to first think about what you want it to be about. Because you can only write your story if you know what it's about.
If you don't have an idea yet what your children's book should be about, you can use the following questions as a guide, for example:
Is it about a particular topic of interest to children?

Is it a book about friendship, family or love?

Does your story contain a mystery or surprise?

Is there a conflict or problem that needs to be resolved?
Meanwhile, there are also many tools that can help you write a children's book using artificial intelligence. These are, for example, AI text generators such as neuroflash, which offer many different suggestions for possible book ideas based on a short briefing. Here you only have to specify the desired genre and the target group:
Once you've figured out what you want your children's book to be about, you can start developing the plot. To do this, you first need to be clear about which characters are in your story and what their motivations are. After that, you can think about how the plot will unfold and what twists and suspense it should contain.
What topics are suitable for children's books?
The topics suitable for children's books are as varied as the children themselves. Of course, it also depends on the age of the children, which topics are interesting. Generally speaking, they can handle any topic imaginable. The only important thing is that the story is interesting and understandable for the target audience. Some examples of topics in children's books are:
The friendship between two or more children

The experience of a first day at school

A trip to the zoo or an amusement park

A child who is looking for his way and has to find his way in the world

Fears and worries of a child

A special day in the life of a child, for example, the birthday
How do you create interesting characters?
Probably one of the most interesting tasks in writing children's books is creating the main characters. After all, what good is a great story if the main characters are boring and children can't identify with them?
But do not worry, even though it is a very important task, it is by no means impossible. With a few tips and tricks, you too can create exciting and interesting characters that kids will love to identify with.
Tip 1: Make your characters unique
Whether human or animal, your main characters should always be unique. They should have something that sets them apart from everyone else and makes them special. This can be, for example, a special talent or a special characteristic. Externally, too, there should be something that sets your characters apart from the rest – be it a special hat or an unusual hairstyle.
Tip 2: Let your characters make mistakes
Although it's tempting to create perfect main characters, it's much more interesting when your characters make mistakes. Because mistakes make us human and allow children to identify with the characters. So make sure that your characters also make mistakes and have weaknesses.
Tip 3: Make sure your characters look authentic
Whether you create human or animal main characters, make sure they look authentic. This means that you have to think carefully about how your characters think and feel. What thoughts are going through their minds? How do they react in certain situations?
How do you build a compelling storyline?
For a compelling plot, your story should have a clear beginning, an exciting climax, and a satisfying ending. The plot should be logically constructed and hold readers from beginning to end. Some tips to build a compelling storyline:
1. start with something exciting
Your book should start with something that grabs the reader's attention and makes them curious to read on. Be it an exciting event, an interesting place or an unusual situation – the main thing is that it is something that arouses the reader's curiosity.
Throughout the plot, questions should arise that encourage readers to read on to find the answers. Make sure these questions are logically embedded in the plot and not answered too obviously.
To keep your story compelling, it's important to keep the tension high. This means that there should always be new twists and developments that move the plot forward and keep it exciting.
4. make the showdown exciting
The showdown is the climax of the story and should be designed accordingly exciting. This is where all questions should be answered and all threads brought together. Make sure that the showdown is not too predictable and that the tension is kept high until the end.
The ending of your story should meet the reader's expectations and be satisfying. It should answer any unanswered questions and clear up any threads. At the same time, it should leave enough room for interpretation so that readers can think about your book for a long time to come.
What to consider with the language?
The language of a children's book should be simple, easy to read and understandable. It should not be too complicated or abstract and should not use foreign words. Instead, it should reflect the child's view of the world and arouse the child's interest.
It is also a good idea to adapt the language of the book to the personality of the main character. Thus, a cheerful character can be formulated in a slightly friendlier way than a gloomy character.
The different ages of the children should also be taken into account when choosing the language. Thus, a book for younger children may be more simply written, while a book for older children may be a bit more challenging.
How to breathe life into your story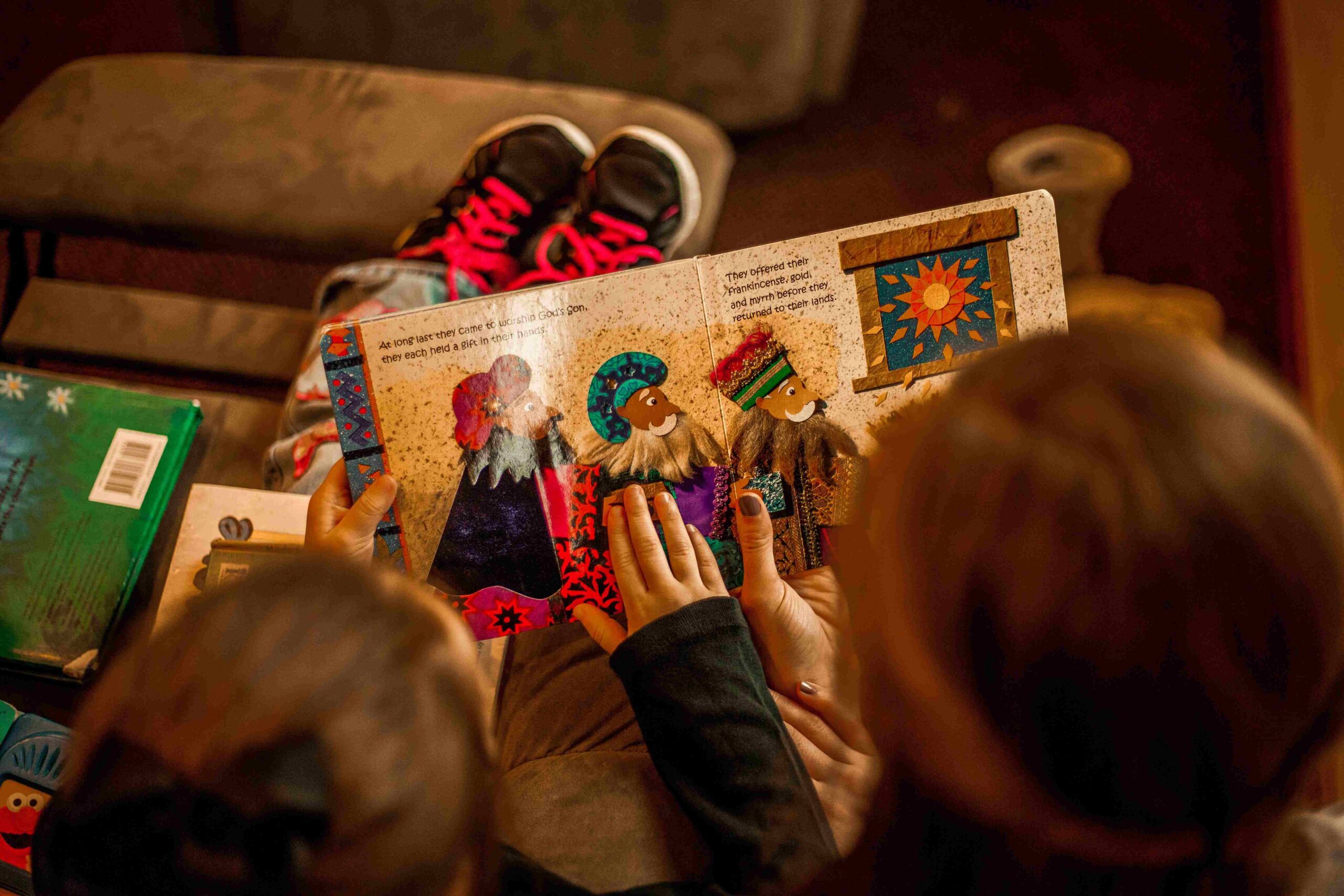 A good children's book should not only be exciting, but also really come alive. How can you breathe life into your story and make it so memorable? One of the best ways, is to write through the eyes of the characters. So try to see into the minds of those who live and breathe your story. What feelings do they have? What do they think about the things they see? What memories do they associate with the place where they are? This way you can give your book a touch of reality and show your readers that there are people who think and feel the same way as they do, for example.
Differentiation tips for different age groups
When writing a children's book, you need to be aware that your text should be suitable for different age groups. Because depending on whether you're writing a picture book for toddlers or a young adult book, for example, readers will have different expectations of your text.
Picture books are usually intended for children aged 2-5 years. At this age, children are still learning to read for themselves and therefore need a simple writing style. Sentences should be short and concise, and the words they contain should be simple. In addition, it is important that the text is understandable even without pictures.
Young adult books, on the other hand, are aimed at a slightly older audience. At this age, readers also understand more complex texts, which also gives you a little more leeway in your choice of words and phrases in a young adult book. However, you should also make sure that the text is understandable and not too complicated.
Now it's time to revise the book and put the finishing touches on it. This is an essential step in writing a children's book, because here you can check once again whether the content is coherent and the language is convincing. Also, make sure you're targeting the right audience. If you are unsure, you can also ask friends or family to read the book and give you feedback.
Here's what happens next: The next steps to a children's book
After you've written and revised your children's book, it's time to publish it. Here are the final steps you need to take before your book passes into the hands of your readers:
You can either find a publisher to print and distribute your book, or you can self-publish your book. If you decide to self-publish, there are a few things you should keep in mind. First, you need to make sure that your manuscript is professionally written and formatted.
It is also advisable to seek editing services to ensure that your book is error-free. Once your manuscript is ready, you can have it printed at an online print shop like CreateSpace or Lulu.
An attractive cover is crucial to the success of your book. Many self-publishing platforms offer cover design services, but you can also hire a professional designer or try to design the cover yourself. If you decide to do it yourself, make sure the cover looks professional and grabs the viewer's attention.
Once your book is available, you need to promote it. You can do that through social media and blogs, for example. Make sure you know your target audience and where they hang out online. Then you can target ads and create content that is relevant to that audience.
Examples of successful children's books
The best children's books are those that inspire and captivate children. To give you some pointers for your own book, here are some of the most successful authors and their works:
1. Michael Ende: The Neverending Story
The Neverending Story is one of the most popular children's books of all time and has been translated into numerous languages. The book tells the story of Bastian Balthazar Bux, a boy who dives into a magical book and is trapped in another world.
2. J.K. Rowling: Harry Potter
Harry Potter is one of the most famous children's books in the world. The series was written by J. K. Rowling and first appeared in 1997. The books are about Harry Potter, a boy who goes to a secret boarding school for wizards. There he meets new friends, but also has to defend himself against evil magicians. The Harry Potter series is an international success and has been translated into over 70 languages.
3. Antoine de Saint-Exupéry: The Little Prince
The Little Prince is about a little boy who goes on a journey across the galaxy and makes many new friends. In the process, he learns a great deal about the world and himself. The book has sold millions of copies worldwide and is still one of the most widely read children's books ever.
4. C.S. Lewis: The Chronicles of Narnia
The Chronicles of Narnia is a series of children's books by C.S. Lewis published in the 1940s and 1950s. They are about the adventures of four children who end up in a magical land called Narnia.
5. Rick Riordan: Percy Jackson
Percy Jackson is a popular children's book character who stands out primarily because of his compelling writing style. He is a demigod who lives in the modern world and fights against the powerful gods. At the same time, he is humorous, clever and brave – all qualities that children love about him.
Frequently asked questions & answers
How can I write a children's book convincingly?
To write a compelling children's book, you should bring your story to life and make sure it is interesting to children.
What topics are suitable for children's books?
Children are interested in many different topics. Some popular themes are: Friendship, Adventure, Animals, Family, Fantasy and Humor.
How can I get kids excited about writing?
By reading them interesting and varied stories and encouraging them to get creative themselves.
Think about an interesting story you want to tell.

Find out who your target audience is and what they are interested in.

Write in a clear and simple style so that the book is easy to understand.

Make sure your book is well structured and has a common thread.

Get your book tested by other readers before you publish it.
Writing children's books is a great way to creatively enrich the world of children. If you're thinking about writing a children's book, the key to success lies in your own conviction. As long as you put your heart and passion into it, you're sure to create a great book.