In an increasingly digital world, it is becoming more and more important for companies to be at the cutting edge of technology. Email marketing is a powerful tool, but can be even more powerful when enriched with AI. AI can help drive better results and generate more revenue.
Boost your email marketing strategy with these 5 neuroflash features
It's no secret that email marketing is one of the most effective strategies to reach your goals. But what about the people who don't respond to your emails? If you think Artificial Intelligence is the solution to this problem, you're not alone. Many companies are using AI in their email marketing strategy to improve their results and increase the response rate of their recipients.
The email subject line is one of the first things the recipient of the email sees. Many people won't even open your emails if the subject line doesn't seem interesting or appealing enough. This is why it is so important to invest time in creating a good email subject line.
Often, it can be difficult to compose a good email subject line because you don't know what might interest the recipient. But with neuroflash, you can create subject lines that are both creative and personalized for your audience, and make them curious about the content of your email. This is how you can increase your open rate!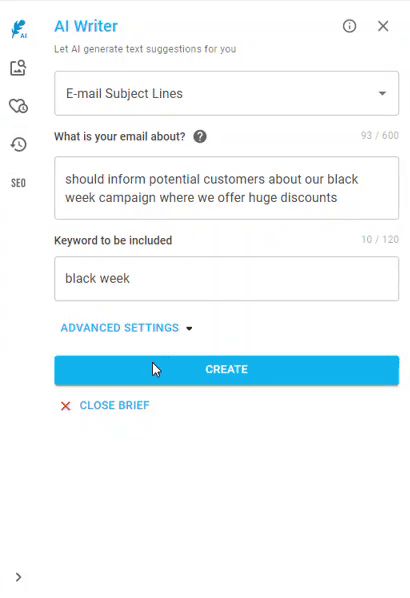 Launch emails are important because they are the first chance to sell a product or service to a new clientele. With a good launch email, you can set the tone for all further communications with your clientele and ensure that your offer is as interesting as possible.
It can be any amount of pressure to make that first impression. If you don't craft your launch email properly, you can lose potential customers. Use neuroflash to ensure that your launch emails are perfectly tailored to your audience and achieve the desired effect.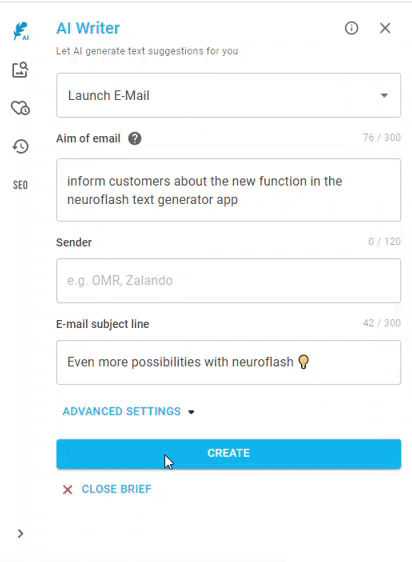 Newsletters are an effective way to connect with customers and inform them about news and offers. They can also help increase brand visibility and build customer loyalty.
Here, it is important that the newsletter also offers exciting and captivating content so that it is also read by the customers. neuroflash can help you write an informative and interesting newsletter that is both concise and descriptive.
Event promotion emails are for relevant because they draw recipients' attention to the upcoming event. This type of communication can also help get potential customers interested in a brand or company. Event promotion emails should therefore be both informative and engaging to achieve the best possible impact.
There are many different types of events and each has its own challenges when it comes to promotion. neuroflash supports you in writing an event promotion mail that not only conveys all relevant information, but also inspires your readers and convinces them of your event.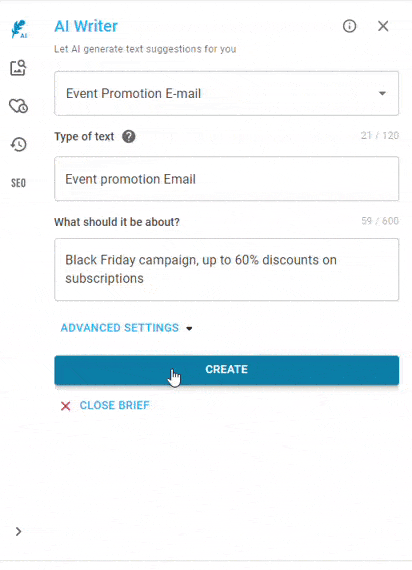 Sales emails are important for marketing because they are an effective way to connect with potential customers. They allow companies to market their services or products directly to those most likely to be interested. Sales emails can also help increase a company's visibility and raise awareness. By spreading information about a company, more people can become familiar with it and eventually consider using its services themselves.
It's often hard to get off to a good start when it comes to sales emails. Most try the same old approach: read a few articles on the subject and then write their first email. But if you really want to stand out from the competition and get people's attention, you can use neuroflash to write a sales email. This way, you'll not only be more creative, but also finish the task faster and more effectively.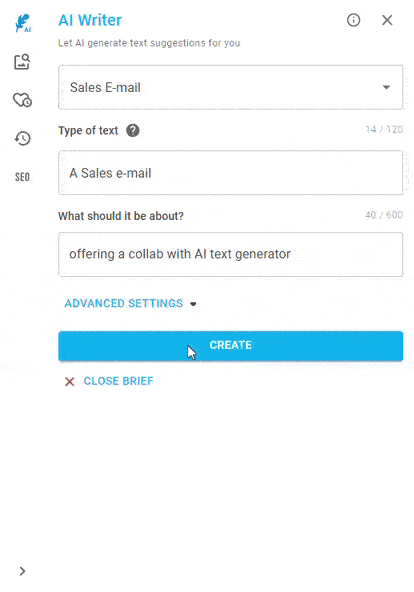 Tips & Hacks for even better email texts with the magic pen
HACK: Use the neuroflash AI tester and get real-time feedback on how well your emails trigger emotions and implicit associations in your customers' minds.
TIP: You can also use neuroflash to refresh and rewrite existing texts or to formulate key points.
Increase your email open rate and enjoy more benefits from AI
While it takes a human about five minutes on average to compose an email, an AI can usually do it in seconds. AI can bring this and many other benefits:
The writing style is compelling.

It's more efficient to write emails with AI.

It saves time and effort.

One can customize the content of the email according to your wishes.

It's faster to write an email with AI.

You can write high-quality emails without being an expert yourself.

The email open rate increases.
Frequently asked questions and answers
How can I use email marketing with AI?
E-mail marketing is a form of direct marketing in which companies inform their customers and business partners about news and offers via e-mail. Using AI in email marketing can be useful in many ways. For example, AI can help better understand the target audience and create personalized emails. AI can also help tailor email content to the interests of recipients.
Can AI improve my email marketing?
For sure! Because AI can help reach the right customers, send the right messages, and develop the right emotions and motivations.
How can I personalize email marketing with AI?
Often, emails appear in the inboxes of hundreds or even thousands of recipients at the same time – meaning the message may only get a few seconds of attention before the user clicks on or deletes it. However, personalizing emails with the help of AI offers the possibility to solve this problem. Using technologies such as natural language processing (NLP) and machine learning, AI can understand what a particular email is about – and use those insights to send customized messages to each recipient.