Blogging has become an integral part of our lives, and it's no surprise why. It allows us to express ourselves, share our opinions, and connect with like-minded individuals from all over the world. However, crafting a compelling blog article can be challenging even for experienced writers. Fortunately, AI technology is here to lend a helping hand. With its advanced capabilities, AI can assist you in planning and writing your blog articles in a way that resonates with your audience. In this post, we'll explore how AI can transform your blogging experience and help you create content that engages and inspires your readers.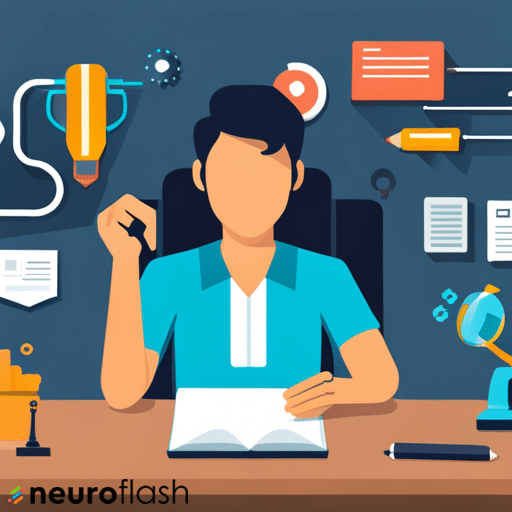 5-Steps guide to build a Blog Article with neuroflash
The benefits of a blog are many and can help you build on- and offline reach, generate more website traffic, and gain leads and customers. Adding interesting content to your company blog on a regular basis adds value to readers – at the same time, search engines like Google learn that your website is up-to-date and offers relevant information.
If you need to know more about how to use AI to create content, you can learn more about this topic by reading this article: Content writing tips and tricks for beginners.
It is not easy to constantly find new and creative ideas for potential content. So that you don't get bogged down, neuroflash generates a selection of blog article ideas in a matter of seconds, suitable for your topic.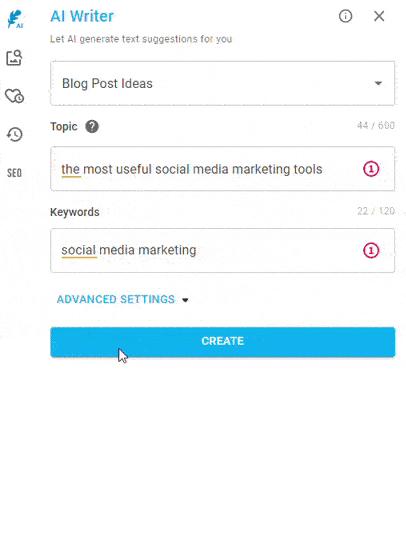 A call to action is a short, catchy piece of text designed to pique interest and and motivate the reader to do something like making an account or buying the product. It is an important impression of your blog and often decides whether someone is interested in what you have to offer or not. To make sure you can use this opportunity to the fullest and manage to captivate your readers, use neuroflash to generate a selection of catchy call to actions that no one can resist!
There are many reasons why it can be difficult to write a blog article. First of all, you need to decide what topic you want to cover and then find an interesting and appealing title for the article. Then it is a matter of researching the article and finding the right words for the text. It is important not only to present facts, but also to clearly express the author's opinion. All these points do not make it easy to write a blog article.
neuroflash revolutionizes the tedious process of writing for blog articles with Blog Article Builder. Instead of painstakingly writing a complete article from start to finish, you can simply have artificial intelligence generate all the important components of a blog step by step. From the title, to the outline, to the individual paragraphs – writing a blog article has never been easier!
There are a few reasons why you should rewrite a blog article. On the one hand, you can adjust and update the content if something has changed. On the other hand, you can also adapt the article to the needs of your readers. Maybe you have new readers who don't find the old article so interesting anymore. Or you just want to make the article better. By rewriting, you can make it more understandable, enlightening, or entertaining.
It can be difficult to find the right formulations, especially if you have been working on the same text for a long time. neuroflash can support you in your creativity and rewrite individual sentences or even entire passages of text for you until you are finally satisfied with the result.
4. Workflow: SEO-optimized blog article
With our SEO workflow, you can rest assured that every article you produce will be optimized for maximum impact. Say goodbye to the frustration of low engagement rates and hello to a world where your content is king.


Step 1:

You can start writing your Blog article by simply adding the topic you are going to write about in brief (the magic pen will take care of shaping it). Also add your keyword; you can add up to 2, but remember: we always recommend that your content is focused on a single keyword or keyphrase, to ensure an optimal result.
Step 2:

Now, select the tone of voice in which you want the magic pen to write your article (you can always edit and modify it in the text editor). You can select up to two tones, for example "Enthusiastic" and "Formal". The possibilities are endless!
Step 3:
Once you have defined the main idea, the relevant keyword and the tone of voice in which your article will be written, in this third step you can add more details. Effectively, you can create a fairly complete and detailed first draft of your blog article, optimised and ready to see the light of day. Here, optionally, you can ask the magic pen to add an image at the beginning of your article, so it will catch the attention of your audience and captivate the reader at a glance. With royalty-free images from Unsplash, you'll have a complete, optimised blog. Don't forget to add the "attributes" tag and an Alt title, with the keyword you are writing about.
You can also add reference links to enrich the content, add a video at the end or even a "Frequently Asked Questions" section like the ones in Google's "Users also ask". All this, just one click away!
The keenest optimisation for your blog articles in neuroflash
Our team of experts are dedicated to staying ahead of the game when it comes to SEO best practices, ensuring that our clients receive only the very best service possible. We understand how important it is for businesses like yours to stay competitive in an ever-changing digital landscape, which is why we're committed to providing cutting-edge solutions designed specifically with your needs in mind.
The SEO workflow is only available for users on the Pro plan and above (and the old Power & Premium plans). Upgrade your accout now.
While working with the Blog SEO workflow, you can add more elements, as optional, to optimize the result of your Blog article. These are the must-see highliths of the new contentflash SEO workflow:
 Generation based on your keyword input
 Automatic SEO optimization (WDF*IDF)
 Connected to the Internet: Real-time detection of "users also ask" questions and creation of the respective answers.
 Multimedia: Integration of Unsplash images and YouTube videos into your article
 Suggestions of references for backlinks usage
Blogs are a great way to connect with potential customers and offer them something new and exciting. But if no one reads or finds your blog, there's no point. That's why search engine optimization (SEO) is so important for blogs – you need to reach your audience!
neuroflash offers a useful function to check your blog articles for their SEO suitability and improve them if necessary. With the WDF*IDF analysis you can check which keywords you need to add to your text to rank better in the search results. Also, with this tool you can make a direct comparison between your article and the top articles that rank for the same keyword.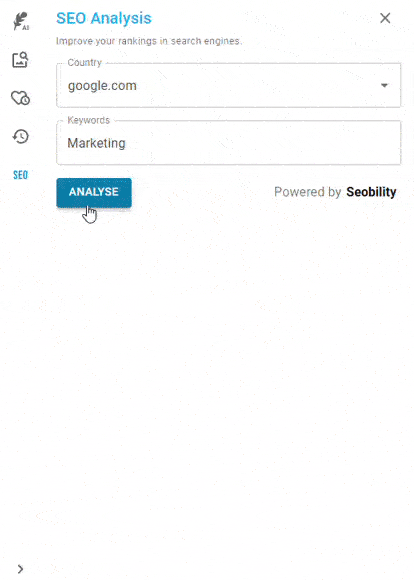 Tips & Hacks for Top Ranking Blog Articles with the Magic Feather
HACK: If you get stuck in your writing flow, you can also simply use the "Continue" or "Formulate" function in the toolbar to continue a thought or finish a text. All you have to do is select the text and choose the desired function. Alternatively, you can also use the "Continue writing" key combination.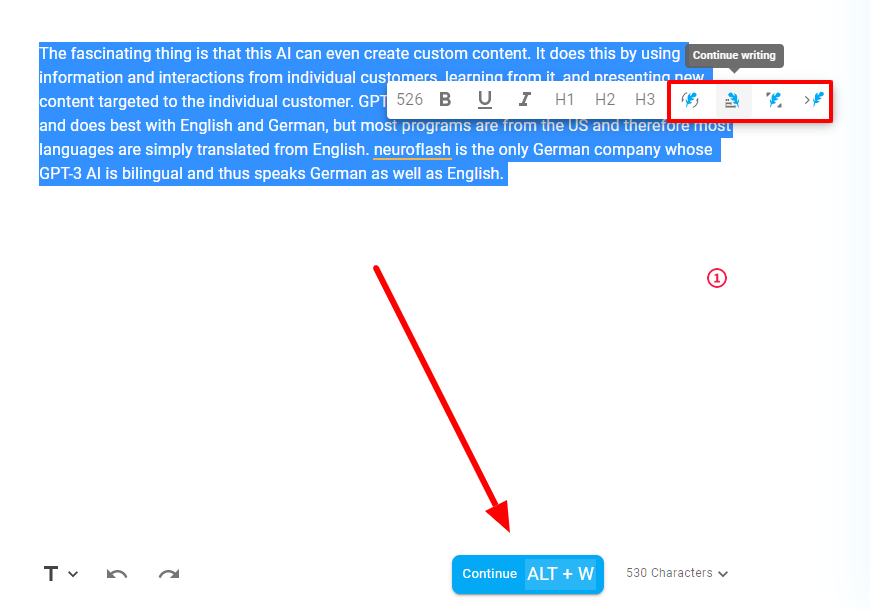 TIP: If you need suitable images for your blog article, use the Unsplash extension, which allows you to search for suitable and royalty-free images for your topic. You can then insert the images directly into your text at the desired position.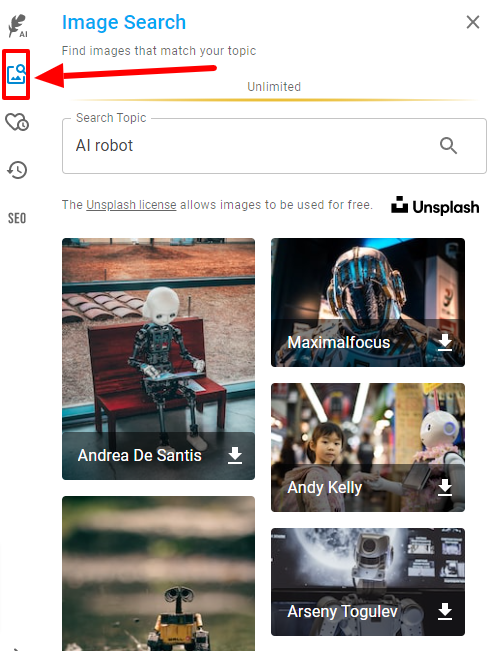 TIP: Want to create original images for your blog article that are both unique and creative? Then use the neuroflash image generator, ImageFlash! Describe your desired image in a short sentence and the AI will create an image suggestion within a few seconds.
ImageFlash: sparkle your blog article with images AI
ImageFlash is the answer to all your artistic needs without breaking the bank! Our state-of-the-art Stable Diffusion-models ensure that every photo you create is nothing short of spectacular. You'll be amazed at how effortless it is to use, and with just a few basic descriptions, you can produce stunning digital artworks in no time.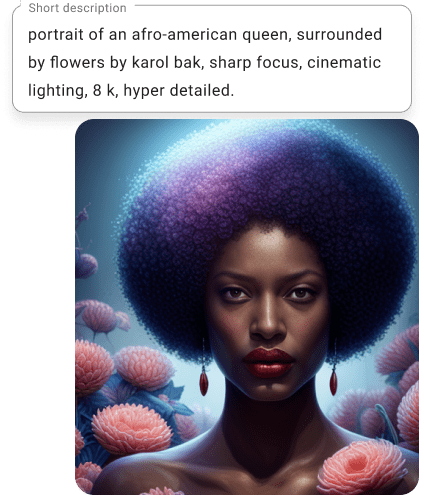 How to use ImageFlash to add images AI on your Blog articles
Our ImageFlash is an AI art generator from text that helps create high-quality images and artwork in the easiest and professional way. It uses a combination of natural language processing and deep learning algorithms to analyze text input and generate a visual output that is true to the content. With ImageFlash, you can create customized images and artwork for your brand easily, without the need for any design expertise. The tool is sophisticated, with a user-friendly design that enables easy customization of the generated art.
Boost your Blog Articles with ImageFlash
ImageFlash's features include its ability to generate high-quality images and artwork in less time, provide high-quality output with finer details, support for various image sizes, and formats, and customized output that includes the ability to add company logos and watermarks. Comparing ImageFlash with other AI art generator from text creators, it separates itself with its ease of use, the ability to understand the language more accurately, and the customization of output, making it a tool that any designer or marketer can benefit from. Read here how to create Artworks from text AI, using ImageFlash.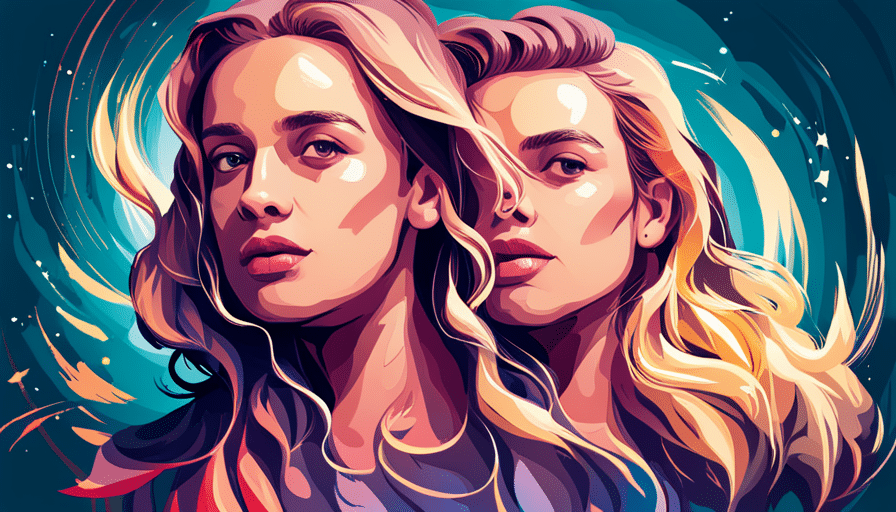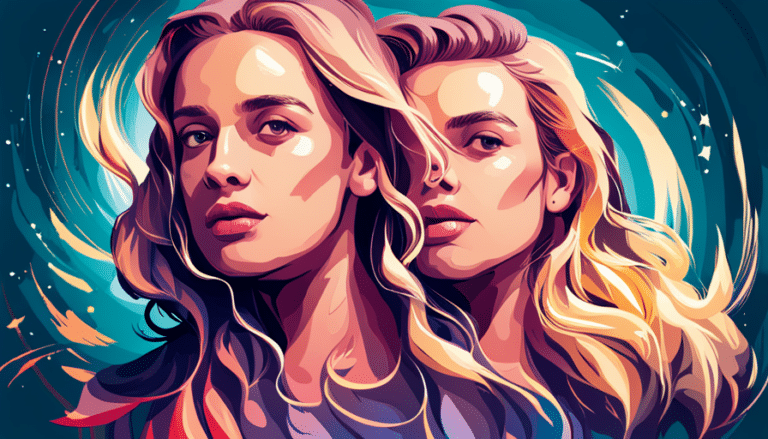 Whether it's product presentations, realistic photos, or illustrations, ImageFlash has the capability to take a simple description and turn it into a professional-looking image within a matter of seconds, and empower any of your blog articles.
This features allow you to create high-quality and engaging content blog with ease. Pro users (and superior) can therefore enjoy the convenience and efficiency of ImageFlash without feeling the need to overthink their prompts. So why wait? Try out ImageFlash today and see how easy it is to take your visual content to new heights!
Advantages of writing blogs with AI
Using artificial intelligence to write blog articles has some advantages:
You can write a blog article much faster and more effectively.
Using AI gives the article a higher quality, which increases the likelihood that readers will stick around until the end and take an interest in your brand.
Using AI saves time and effort in researching relevant information as well as in the writing process itself.
You can check your text for its SEO optimization with the help of AI, so it will thank better and generate more clicks.
You can use AI to create new and original images for your articles that no one else has.
Whether you're an established blogger with years of experience under your belt or just starting out on this exciting journey, incorporating AI technology into your writing routine is sure to help you produce blog articles that truly resonate with your audience. So why wait? Start exploring all the incredible benefits that come with embracing cutting-edge technology today!
Frequently asked questions and answers
How do I use AI to write a blog post?
Use neuroflash's blog workflow to let the AI write a complete blog post step by step. All you have to do is select the language you want, specify the topic for the article and the magic pen will do the rest.
Are there any disadvantages to writing a blog post with AI?
Even texts written by artificial intelligence are not always perfect. In any case, a human should always read over the generated texts before they are published.
Are the generated texts SEO optimized?
You can specify a desired main keyword on which the generated text should be optimized. Additionally, you can use the neuroflash SEO function to analyze and optimize your text.
With the help of AI, you can easily overcome writer's block and produce high-quality content that engages your readers. However, it is important to remember that AI should not replace human creativity and critical thinking skills. Rather, it should be used as a tool to enhance your writing process and bring your ideas to life. So whether you are an experienced blogger or just starting out, incorporating AI technology into your writing routine can help you create compelling blog articles that leave a lasting impact on your audience. 
Don't let writer's block hold you back from producing exceptional content that captivates your readers. Embrace the power of AI and take your writing to the next level! But don't forget, while AI can be a game-changer in terms of efficiency and productivity, it should never replace human creativity or critical thinking skills. Instead, use it as a tool to enhance your natural abilities and bring out the best in yourself as a writer.