Instagram is one of the most popular social media platforms. According to Statista, Instagram has over 1 billion active users worldwide and 500 million users actively uploading, sharing and liking photos and videos every day. But how can individuals and companies benefit from this gigantic platform? And what's the best way to gain more followers? A great Instagram profile is half the battle. We'll explain what makes a perfect Instagram profile so you're guaranteed success!
What is an Instagram profile?
An Instagram profile, also called an Instagram bio, is a short profile you can create on your Instagram account. In this Instagram profile, you can provide some basic information about yourself, such as your name, age, and where you are from. Also, you can upload a photo of yourself and include some hashtags that describe you.
You should distinguish between a private Instagram account and an Instagram business account. For a private account, Instagram profile is important because it is a great way to convey personal data and learn more about a person. It's also a great way to make sure you're communicating with the right person.
However, many businesses also use Instagram marketing to show more presence on social media. In this case, the Instagram profile is important to give individuality to the Instagram business account so that the Instagram profile also stands out from the competition. A profile gives companies the opportunity to present themselves and explain what they do differently. So, finally, companies can attract the attention of many target groups with Instagram marketing.
What content should the Instagram profile have?
You only have a total of 150 characters for an Instagram profile. This means you need to use the few characters effectively to create a compelling Instagram bio. Here, you should know that the profile on your Instagram profile consists of several components:
Profile picture: The profile picture is the first visual impression users get of your Instagram profile. That is why the quality of the image is especially important. It should be clear and well lit. The image should also reflect the personality of the user. If it is a single person, then choose a picture where the person looks friendly and open. For a business, one image of their logo can often be enough.
Username and profile name: The username is displayed at the top of your Instagram profile and also when you comment on other posts, this name is visible. If you did not get the username of your choice because it was already taken, you can enter your desired name in the profile name. When choosing a name, the most important thing for most people is that the name is unique and interesting. Others make sure that the name is easy to remember. Still others make sure that the name matches their personality profile.
Profile Description: The profile description is the actual text you use to describe yourself or your business in your Instagram bio. Your Instagram profile description is an important part of your appearance on the platform. Here you can present relevant aspects and tell what makes you or the company special. This will attract new followers and give a positive first impression. You can also use emojis to lighten up the text-heavy description.
Keywords and hashtags: Keywords and hashtags are an essential part of a good profile description, as they can help your profile be found better in searches on social media sites and Google. So using keywords and hashtags can help you gain more followers on Instagram. For example, it's worth researching some keywords that are interesting and appealing to your target audience and using hashtags that you want followers to interact with.
Internal links: You can also set internal links to other Instagram accounts within your profile description. For example, if you are part of a company that also has an Instagram profile, or if you are the owner of multiple accounts, you can link these profiles with an @ in your description. This prompts followers to follow these accounts as well.
External links: Besides internal links in your description, you can also put extra some external links. This link is highlighted and should therefore be used to link to important external pages. For example, this could be another account of yours on other social media platforms, or a link to your company's website.
Category: You can select a category on Instagram to directly show users and followers what kind of profile it is. For example, if the profile is of a digital artist, you can specify the category Artist.
Contact options: If you want your followers and Instagram users to be able to contact you directly, you have the option to include personal or company contact information, such as a phone number or email address.
Profile display:

Finally, you can specify in the settings who can access your profile and therefore your Instagram profile. If you want a lot of reach, it is advisable to make the profile as public as possible so that many people can see it. If you want to keep your Instagram profile a bit more private instead, you can limit the visibility of your account to followers only.
How to write your Instagram profile among themselves and uses emojis
To make your Instagram profile look clean and easy to understand, it's a good idea to stagger the information underneath each other, as in the example above, rather than listing them next to each other. To apply this formatting to your Instagram bio, you'll first need to save the aspects you want to appear in your profile in a writing program on your computer or in your notes app on your phone. There you can format the information appropriately. After that, all you have to do is copy and paste the text into your Instagram profile, and the formatting will be applied.
Additionally, you can use emojis to make your Instagram profile more appealing and add some emotion. To add an emoji to your profile, just select the emoji button on your smartphone, or use a site like Emojipedia or EmojiTerra. Here are a few ideas for how you can include emojis in your profile 😉:
Emojis as Call-to-Action: A call-to-action (CTA) is something that prompts your audience to take a specific action. For example, if you have a link in your Instagram bio, your CTA is usually to get your audience to click on the link. You can use emojis to draw attention to your link to make it stand out even more.
Examples:
Personal information: You can also use emojis to highlight information about yourself. For example, if you have a pet, you can use an animal emoji and also hobbies or your nationality can be well represented by emojis.
Examples:
|
|
Contact information: If you have a business or otherwise rely heavily on incoming emails and phone calls for collaborations or customer inquiries, it can be very helpful to highlight your contact information in your bio using emojis. Important contact information would include your phone number, email, and company location.
Examples:
|
|
Important information: Since Instagram does not provide the ability to format the text in the Instagram bio with different fonts, colors, or styles, it can be difficult to highlight certain points. Putting eye-catching emojis before and after the text you want to highlight can help.
Examples: ❗ ‼️ 🚨 🚩 🛑 🎉🔍 👀 ⚠️
Do you need an Instagram profile for verification?
An Instagram verification is a process by which Instagram recognizes an account as an official account of a person, organization, or brand. This is achieved by sending a special code to the account holder, which must then be entered to complete the verification process. Verification is signaled by a blue check mark behind the profile's username. You can request verification yourself on Instagram.
Many Instagram users seek such verification because it offers many advantages. On the one hand, it increases the visibility of the account and thus the chance that more people will see and follow it. On the other hand, there are many people who like to connect with other people who have Instagram verification. This is because verification is a sign of quality and reputation.
The completeness of the Instagram profile is definitely a factor in the verification selection process. This includes an Instagram profile, a profile picture and, of course, the posts that are posted on the Instagram account. Here's what the Instagram Help Center says:
Create an Instagram profile with AI
Even though an Instagram profile is very short, it still requires some creativity to write an appealing text. Not everyone has the skills or resources to write a compelling profile. Or maybe you just need some inspiration?
In both cases, the free AI text generator from neuroflash can help you. With just a few inputs, neuroflash can, for example, write corporate visions for an Instagram bio that reflects the company's guiding principles: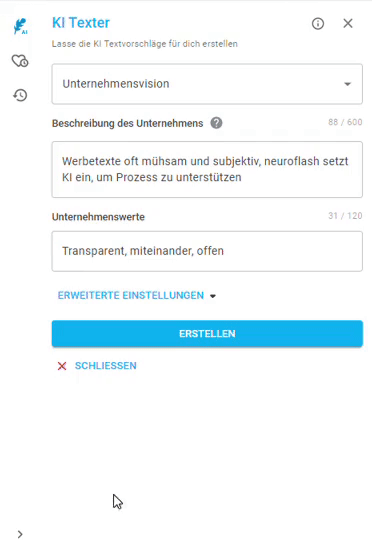 neuroflash can also create a personal bio for an individual's Instagram account:
Alternatively, you can use our freestyle tool to explicitly create an Instagram profile:
Instagram Profile Templates Generated By AI
As you've seen, it's easy to generate an Instagram bio using artificial intelligence. But how good is the AI really? Here you can see some Instagram profile templates written by our neuroflash AI:
Instagram profile template for a fitness coach:
I am a fitness coach from Hamburg. In my studio I lead individual workouts and give tips for a healthy diet. For me, sport is the best way to stay fit and healthy – and I want to convey that to all my clients!
Instagram profile template for a photographer:
I am a photographer with passion and have my own studio. You can also book me for weddings.
I love telling people and their stories through the lens and capturing them in the form of images.
Photography is more than just a hobby for me – it is my great passion.
Instagram profile template for a backpacker:
I like to travel around the world and discover new countries and cultures.
In my backpack I have everything I need for my travels.
Since I have a limited budget, I have to be careful when choosing my travel destinations.
I love taking photos of the places I visit. It is important to me not only to show the beautiful sides of a country, but also to give insights into the everyday life of the people.
Instagram profile template for a chef:
I am a chef who specializes in Italian cuisine. I work in a 3 star restaurant and I love my job.
Instagram profile template for a dog:
Hugo the French Bulldog, 3 years old, loving furry and part of a family of 4. Hugo is a wonderful dog who is always up for a hug. He loves spending time with his family and is the absolute heart of our little community.
Instagram profile template for a cat:
Our Persian cat Madame Moe is very affectionate and cuddly and enjoys being the center of attention. But she is also very proud and elegant and behaves accordingly.
Now that you know what's important in a perfect Instagram profile, you shouldn't waste any more time putting together your own. Just pay attention to the above aspects and you will see how fast and easy it is. In a pinch, you can also turn to online tools like neuroflash to make writing your Instagram bio easier. Have fun creating your profile and sharing your photos with the world!