The best aspect about the neuroflash text generator is the possibility to use it as a sentence rewriter tool. It analyzes the content of your article and can then rewrite the text to create new and unique content. The AI writing tool offers a completely original and plagiarism-free version without any problems. It only takes a few seconds to complete this process. It has been designed to be extremely easy to use.
General advice for writing and paraphrasing
Anyone who wants to publish unique content must follow certain legal guidelines. There are also some rules of thumb that apply to direct quotation and writing in all fields. For example, always start with a well-written introduction, provide detailed references, and summarize your point in the conclusion. 
A good article has a clear thesis statement, which you support with strong supporting arguments at best. These arguments should be supported by relevant examples and by direct quotes for quality content. 
The best way to use an indirect quote or paraphrase is to take a sentence from another source and then rewrite it succinctly in your own words. This gives you a new version of the original text that sounds like the original, but is not plagiarized. Writing is an art form, and it takes time and effort for you to master it. It's easier than you think, because neuroflash basically recreates the process for you: 
Why AI sentence rewriter tools are the better alternative to free text spinners
Whether the use of a free article spinner is worthwhile for you, you have to decide yourself. No question, it is always possible to have texts rewritten by using some current spinning technology. However, you have to make sure that your texts pass the copyright rules and are not plagiarized. With the ability to rewrite the structure of existing articles, it will be easier to publish quality content even if you are a novice blogger. In this context, AI Writers are more advanced than free article spinner technology and have far more additional factors to optimize readability.
You can also ensure quality content by hiring a writer who has experience in your niche. However, the best way to rewrite text, in our opinion, is to use a combination of both. For example, you can start with a few paragraphs of handwritten content before letting a rewriting tool do the rest of the work.
How good is artificial intelligence at sentence rewriting?
The best way to find out is to try out one of the many AI sentence rewriter yourself. There are many rewriting tools that let you create content and then allow the AI to take over. Some of them are free, others cost money. Additionally, most of them offer a wide range of additional features around text creation with artificial intelligence.
neuroflash, for example, is an advanced tool that lets you rewrite your entire text or parts of your text. You can use it to quickly generate high-quality content from any original content. You'll love using this tool. It makes content creation really fast and easy using artificial intelligence. Just add your brief, choose a text type and click go and neuroflash will offer you brand-new ideas: 
Once you have chosen a theme, you can let the magic pen continue writing for you: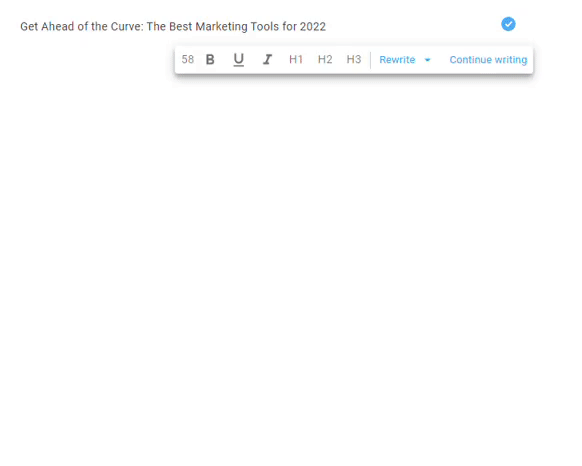 And if you don't like the text or want to improve your existing unique content, you can get to sentence rewriting. Additionally, you can change the emotions associated with your text by choosing a new tonality: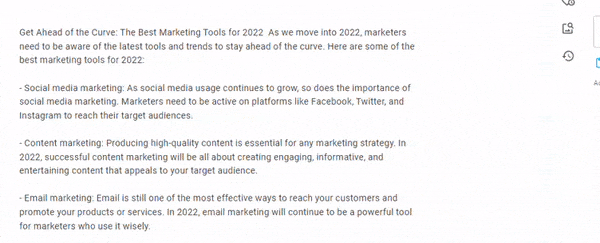 Finally, if you want to simplify a written text, you can also make use of the "rephrase for 2nd grader" feature: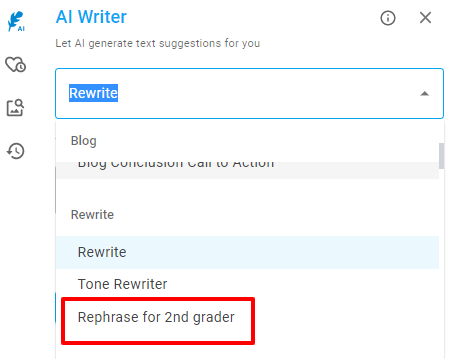 This way you can make sure that your content is creative, original and plagiarism-free. If you want to learn more about how well the neuroflash works, especially with its numerous diverse text types, then check it out for free right here. 
Text rewriting can be so easy with AI - rewriting tools advantages
Text rewriting can be a breeze with the help of AI-powered tools. Here are some of the benefits of using a sentence rewriter tool:
They can help you improve the quality of your writing. One of the biggest advantages of using an AI-powered sentence rewriter is that it can help you to create content that is more persuasive and better written. This is because the tool is able to analyze the text and identify ways to improve the language used in order to make it more convincing.
They can help you save time by automating some of the editing process. Most AI rewriting tools automatically correct spelling or grammar errors. By doing so, you will have to spend less time on rereading the text and checking for any possible mistakes. The tool might even catch errors that you would otherwise miss. 
With an AI sentence rewriter, you can rewrite sentences without changing the meaning. This is useful for when you want to paraphrase a sentence without changing the context. It can also help boost your creativity by providing you with different examples and ideas on how to rephrase the sentence.
It is quick and easy to use. An AI sentence rewriter is easy to use and will save you a lot of time. This is especially true if you need to rewrite a large amount of text or are not confident in your ability to rewrite sentences. You will no longer lose time through writer's block and can instead focus on other tasks while the AI takes care of the tedious rephrasing work.
Are you tired of writing the same old copy? Do you want to create unique content that stands out from the crowd? The AI sentence rewriter tools like the neuroflash text generator allow you to rewrite any text in no time at all. It is the most advanced way to create outstanding content without having to write from scratch and come up with fresh ideas. 
Create unique content at the click of a button that will attract the attention of your audience and make sure your website ranks high and is found by more people online. Once you try it, you'll never go back to writing the same old texts ever again!