If you've never heard of an AI content spinner, you might be wondering what it even is. Quite simply, it's a text generator that uses artificial intelligence to create text.
Artificial intelligence is a great way to produce content. With the right software, you can generate this type of content for any number of purposes. One example of this is AI Content Spinner. This software has different features that allow users to use artificial intelligence to write texts that are of high quality and have a good chance of ranking well in the various search engines.
What is AI content spinner?
In recent years, AI content spinning technology has become increasingly popular. Many online entrepreneurs use it to fill their websites with high-quality content without having to invest a lot of time and effort themselves. But what exactly is an AI content spinner?
AI content spinners are programs that use artificial intelligence to automatically create or rewrite text. They use AI to capture the key points of a text and then rephrase them into a new, unique text. This process saves time and allows users to focus on other tasks.
This tool can be used for search engine ranking as well as for general writing purposes. Here you can see how the neuroflash generator continues a text for you: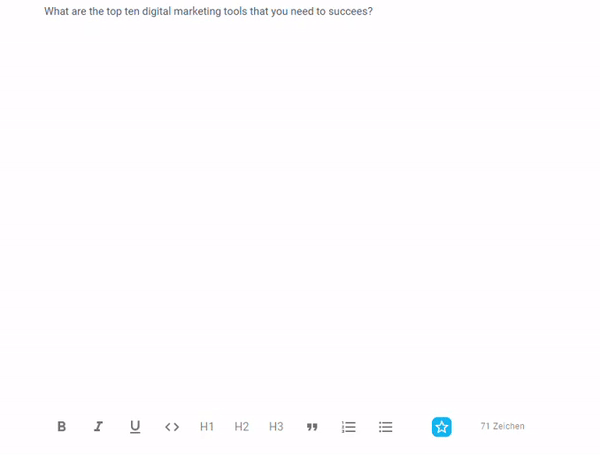 If you don't like the suggestions, you can have the AI rewrite the text again: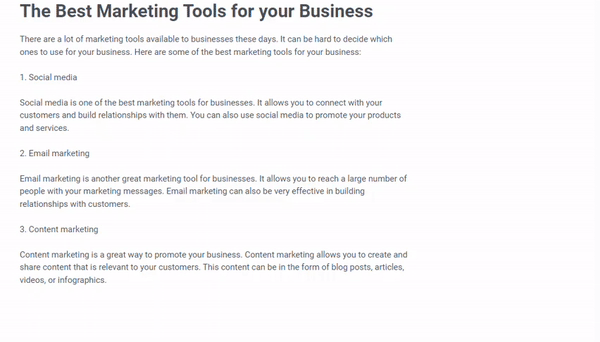 Overall, the neuroflash AI Content Generator can create a variety of different text formats: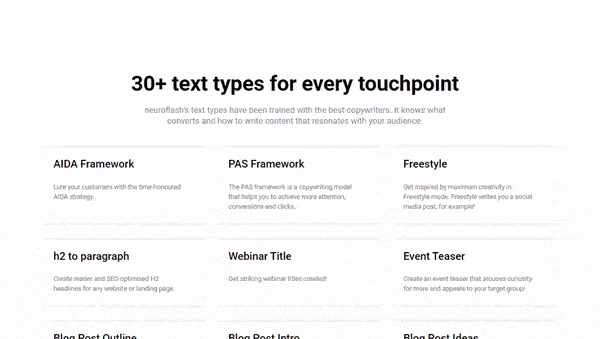 What are the advantages of AI content spinner?
Creating SEO friendly content with just one click: AI has access to a large network of data and information, allowing SEO friendly content to be produced quickly and easily. All you need to do is enter a few terms and the artificial intelligence will do the rest. Thus, content is effectively created, which is populated with relevant keywords. 
Avoiding writer's block: Who doesn't know it? When writing a text, you suddenly run out of ideas and your whole concept stalls. It can take time to overcome such a blockade. However, you shouldn't waste too much time in the fast-paced world of social media. AI ties directly into this problem and can create new content in a matter of minutes. This way, you can bypass the lack of ideas and the unnecessary waste of time.   
Fast and effective with quality control: the AI Content Spinner allows you to have texts written fully automatically in no time at all. In doing so, the AI guarantees error-free grammar and spelling despite the high speed. This combination of efficiency and quality ensures that valuable time is saved. This time can then be invested in other important areas of the business.
Saving resources: An AI is a tireless employee whose work can be called upon 24/7. Here, the AI mainly takes care of repetitive tasks and creates a large volume of content, so that human writers and digital marketers can be used for other activities that require sensitivity and creativity. 
What are the possible drawbacks of AI content spinner?
A recent study found that AI content spinner systems are less empathetic than humans. The researchers said this was because they "lacked the ability to understand the mental states of others." They are, in the end, just text-creation machines. 
The majority of AI content spinners available today are designed to create unique articles from scratch. They are usually very effective at creating high-quality spun content, but they don't always produce readable or even grammatically correct text at the appropriate level of detail. However, especially with Google and Facebook ads, the approach needs to fit right off the bat.
The study was conducted using a system developed by the University of Washington known as the Emotional Turing Test (ETT). It was developed to determine whether or not computers can pass for humans.
What are uses for AI content spinner?
Content is always an important part of the SEO strategy for any website owner. Especially in the age of social media, it is particularly important that both high-quality texts and other technical aspects are implemented accordingly. If these points are not taken into account, it can quickly happen that the website loses importance in the search results.
Once you apply an AI content spinner, you can convince your target audience of your website's content in the best possible and quickest way. The small amount of content on your landing page is often not enough to capture the visitors' interest and score in search engine results.
Artificial intelligence can help you make your content versatile:
An AI content spinner can be used to create unique and compelling content that grabs readers' attention.
An AI content spinner can help find the right words and phrases for a text to have the desired effect on the reader.
An AI content spinner can also be used to optimize the structure of a text to make it even easier to understand.
An AI Content Spinner can help to find the right balance between information content and advertising.
AI content spinner & the future?
Currently, it looks like AI content spinners will be a promising method for the future. This method offers a number of advantages over traditional content creation methods. For one, it is much faster and more efficient. Second, it can help ensure that content is personalized and relevant to the target audience. 
AI content spinners are therefore an exciting way to shape the future of writing. In the future, with the help of AI, we will become better and better at finding the right tone and words for our texts. Thanks to the vast databases that AI systems can leverage, we will be able to tailor our content to the needs of our readers and achieve even better results. 
With a powerful AI content spinner, complete websites can be overloaded with high-quality content in an automated way for a longer period of time. Using AI content spinners is the future because they are able to create unique and readable content. This is especially important if you're trying to get your website or blog higher up in the search engine rankings. Still not convinced? Then you can get more information about AI content spinners here and here.