If you want to run a successful website, then you should look into copywriting. In this article, you'll learn what goes into an engaging blog and what copywriting tips exist for a successful website.
It is the writing of texts for the purposes of advertising, marketing and communication. It aims to appeal to a specific audience and convince them to buy or do something specific. Most people don't think too much about copywriting – until they have to try to sell something themselves. Whether it's about your service or you're just trying to get your ideas across to someone else, if you don't know how to write effectively, you're sure to fail.
Copywriting for websites can be done in several ways. The most common are sales-boosting texts, keyword texts and search engine optimized content:
Sales-promoting texts: These texts are responsible for persuading visitors to a website to buy a product or use a service. Sales-promoting texts are often found on the home page or product page (landing page) of a website.
Keyword texts: Keyword texts are content articles that have been optimized for specific search terms and should therefore appear higher up in search engine results. So the goal of these texts is to drive more traffic to the respective website.

Search Engine Optimized Copywriting:
Also referred to as SEO (Search Engine Optimization), this is the process of writing copy with the goal of displaying it higher in search engine results.
Why copywriting for websites is important
A website should serve its purpose, whether it is a commercial operation or a personal blog. The content must be engaging and interesting to keep visitors on the page. The art of copywriting is finding the right tone and choice of words to grab readers' attention and keep them happy.
Copywriting is an essential component for website creation because it helps the reader become familiar with the website and the products or services it offers. An effective writing style can help drive traffic to a website and increase conversion rates.
If you've decided to take copywriting classes or hire a professional writer for your website, you need to know what exactly is involved and what types of content are best for creating a successful website.
It is an essential part of any website because it helps to make the content of the page lively and interesting. Copywriting also helps website operators get their point across and provide relevant information to the reader. A well-designed website with excellent copywriting achieves better results in terms of target audience than a poorly designed site with weak or no copy. Good copywriting can attract and persuade more people so that they become customers or clients – which, in the end, is the main purpose of any website.
What is important in copywriting for websites?
People use the Internet to achieve something. Whether it's finding information, buying a product, or staying in touch with friends. So your job as a copywriter is to address these needs of your readers and support them as best you can on their user journey. But first and foremost, you have to find the right words – and that's exactly what copywriting rules are for. These not only help you to make the content of your website intuitively understandable and appealing to users, but also put you at the top of Google rankings – which is of course extremely important!
Copywriting tips to improve your content
Copywriting is the art of writing texts that achieve a specific goal. Whether you're writing a blog article, a product description, or an email, good copywriting skills are crucial if you want your content to resonate with your target audience. If you want to improve your skills, follow these copywriting tips:
Formulate your texts so that they are clear and precise. Use simple and understandable words and phrases and avoid conveying too much information at once. Be brief and say exactly what you want to say.
Find your own style and be unique. Your writing should reflect you as a person and it should be clear what sets you apart from others. Use your personality to make your writing more interesting and engaging.
Copywriting is not a one-way street – you must always stay on the ball and react to new trends. Stay up to date on what's hot in your industry right now and use that knowledge in your writing. This way you can make sure your content stays relevant and interesting.
Before you publish your texts, you should always test them. Have friends or family members read it and listen to their feedback. This way you can find out if your texts are really well received and if they are understandable.
Writing a good copy: this is how it works
Copywriting is a great way to get your website visitors to buy something from you or sign up for your newsletter. But how do you write copy successfully? Here are a few tips:
1. write for your target audience
Before you start writing, you should first consider who your target audience is. What questions do they have? What problems do they want solved? If you know what your readers are looking for, you can find the right words and phrases to appeal to them – and get them to click on your call-to-action.
2. Make it short and sweet
Nobody has time for long-winded texts – so keep it short and to the point. Write in simple words and sentences and use paragraphs to make the text easier to read. Although it's tempting to cram a lot of information into one text, you should focus on the most important points and leave everything else out.
3. Use bullets or teasers
People love lists – that's why bullet points are a great way to make text more readable and grab readers' attention. Teaser texts are also a good way to create interest and arouse the curiosity of readers. However, be careful not to give away too much information – otherwise there will be no reason to read on! You can generate blog teasers on neuroflash.
Power words are words with emotional impact that help readers identify with the text and evoke a strong response. Use these words sparingly so they don't seem worn. Some examples of power words are: "secret", "fast", "simple", "now" and "discover".
You should always test and optimize – because that's the only way to find out what resonates with your target audience and what doesn't. Test different versions of the text with different call-to-actions and see the click-through rate. Then optimize the text accordingly and test again – until you find the perfect combination!
There are several ways to make a blog appealing. First of all, you should consider what topic most interests the readers. Then it is important to make the content of the blog interesting and varied. Another tip is to pay attention to the layout and images. If possible, you should also offer videos or podcasts. To ensure that the blog does not go unnoticed, you can, for example, regularly publish posts or share them on social media channels such as Twitter and Facebook. Guest posts from other bloggers can also help attract new readers and increase awareness of your blog.
What does blog writing depend on?
The most important thing when writing a blog is to focus on one topic and clearly articulate your thoughts on it. A blog should not be too long, so that the reader does not lose the thread. A good blog is informative and entertaining at the same time. Also, make sure you choose an appealing title that will grab the reader's attention.
Many people think that in order to have a successful blog, you need to invest a lot of time and effort. That's true, too, but there are some tricks you can use to make it easier to find ideas. Here are a few tips:
Find out what topics interest your target audience. If you know what your readers want, you can target content or produce it yourself. So think carefully about the kind of people you want to write for.

Keep your finger on the pulse and stay informed about current trends in your niche. Of course, you need to know what's being talked about in your field – so follow relevant newsletters or podcasts. This way, you always keep track and can react to new topics in time or write/share appropriate posts.
If, despite these tips, you still have problems finding good ideas for your blog, useful tools from the web can help you. Like neuroflash: Just enter the topic you would like to write about and your most important keywords into the fields. The KI Text Generator will create several ideas for you to use in your article in just a few seconds. Try it out right away.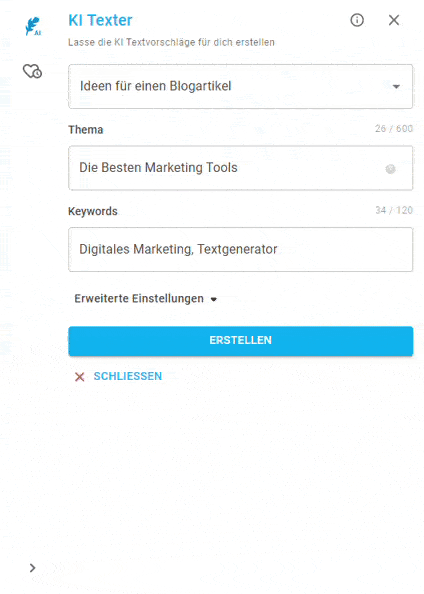 Focus on one topic and one statement
Many companies and even individuals who want to make money online have a very clear idea: they want to reach as many people as possible. Unfortunately, this is not the best strategy to succeed online. Because the more people you want to reach, the more general and superficial your message becomes – and that leads to the fact that in the end nobody feels properly addressed. It is better to focus on one topic and one statement. If you know what you want to say and who you want to say it to, it will be much easier for you to craft your content and also find the right words.
Whether you're writing a blog article, an eBook, or a social media post, if you want your words to resonate with people, you should always try to tell a story. Stories are something that connects us all and touches us emotionally. So if you want to get a message across, people are much more likely to pick it up and notice it if it's delivered in the form of a story.
Of course, you don't have to write a romance or a drama – everyday stories can be very effective, too. The only important thing is that you try to give your readers something to hold on to and something that touches them emotionally.
Writing stories is not always easy, but this is where neuroflash can help you. The Text Generator creates a text from your ideas within seconds. Test it out here.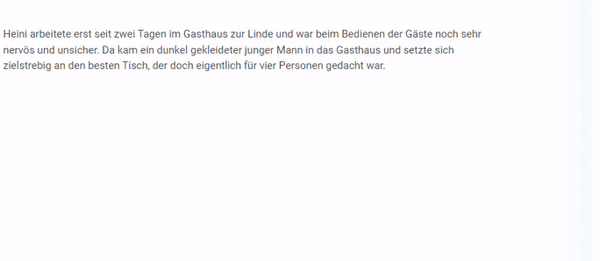 If you do something you don't really enjoy, you won't do it well. So if you're not a passionate writer, then maybe you shouldn't offer yourself as a ghostwriter either. Or at least not for a project you don't care about.
Because if you don't have passion for what you do, you won't do it with the dedication you need – and customers will notice. So think carefully about whether you are really enthusiastic about the project or whether it might be better to give the job to someone else.
Use large images and little text
If you want to stand out with your advertising, you should use large, eye-catching images. These images should catch people's attention and make them want to view your ad. Another tip is to use no or little text in your image. The reason for this is that people usually won't read the text, so it will only distract their attention from what you really want to convey.
No time to find suitable images for your blog? The AI Image Generator from neuroflash takes care of that for you: Have unique images created for you in just a few seconds. Just write your detailed description in the field and you're ready to go.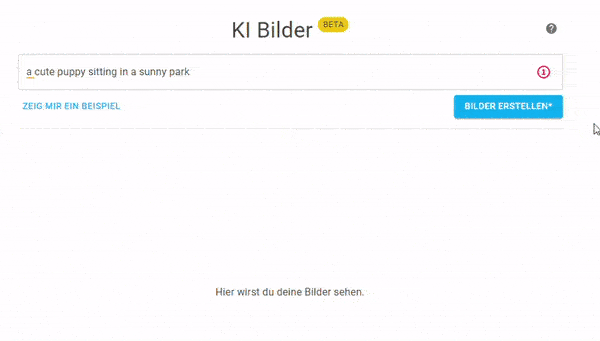 Now that you have found the perfect words and images, the next step is to publish your website. For this you can use, for example, a provider of hosting for WordPress.
Frequently asked questions & answers
How to improve the flow of reading when writing texts?
By using simple, clear and precise words.
How can I prevent my text from becoming too general?
Through the use of specific and detailed examples.
How can I ensure that my text remains captivating?
By telling a story or addressing a current issue.
When looking for copywriting tips, remember that your goal is to create clear and understandable text. Avoid adding unnecessary information or confusing sentences.

Use simple and concise sentences. This will help make your text more readable and understandable to your target audience.

Pay attention to spelling and grammar in your text. Make sure your text is free of errors to create a professional effect.

Use keywords in your text to draw the attention of search engines to your content. This will help improve your ranking in search results.

Make your text interesting and informative so readers will love to share it. Remember, content that is shared has a wider reach and can drive more traffic to your website.
Copywriting is a really great skill to acquire. It's not easy, but with the right tips it goes much faster. Hopefully, this blog post has given you some helpful copywriting tips to apply when writing for your website. If you want to keep practicing and improving, be sure to get more resources on copywriting. The investment will definitely be worth it!