Artificial intelligence is revolutionizing the way we work with images, and there are now many different tools available to help us enhance and manipulate visual content. However, with so many options on the market, it can be difficult to know which one to choose. In this blog post, we'll take a closer look at Pebblely AI Pricing and compare it to other popular AI image tools. By the end of this article, you'll have a better understanding of what sets Pebblely apart from its competitors and why it might be the right choice for your needs.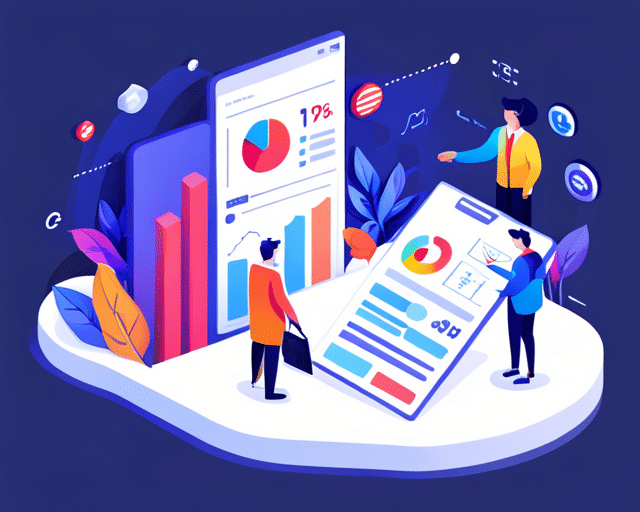 1. Introduction: How AI Image Tools Can Transform Your Business
How would you like to effortlessly transform your business with the help of AI image tools? Imagine being able to create stunning product images, captivating marketing materials, and eye-catching website backgrounds, all with just a few clicks. Well, look no further than Pebblely AI – the game-changing image tool that is revolutionizing the way businesses generate and edit images. Pebblely AI is not your ordinary image tool – it is a powerful app designed to simplify the image editing process and generate professional-grade visuals in an instant. With its user-friendly interface, even those with no design experience can easily navigate the tool and create visually appealing images that are perfect for showcasing your products on platforms like Shopify. One of the standout features of Pebblely AI is its pricing. Unlike other AI image tools on the market, Pebblely AI offers a range of affordable pricing plans that won't break the bank. Whether you're a small business just getting started or a larger enterprise, there is a pricing option to suit your specific needs.
2. What is Pebblely AI?
What is Pebblely AI, you ask? Well, my friend, let me enlighten you. Pebblely AI is not your ordinary run-of-the-mill image tool. Oh no, it's so much more! This little gem of a tool has the power to transform your images into a work of art, effortlessly and with a touch of magic. Imagine this scenario: you're running an online business and you need stunning product images to entice your customers. 
But what makes Pebblely AI truly remarkable is its pricing. Unlike other AI image tools out there, Pebblely AI offers an affordable and transparent pricing structure. No hidden fees or surprises, my dear reader. Plus, they even have a free version of the tool, so you can give it a whirl before committing.
Moreover, Pebblely AI is not only user-friendly but also cost-effective. You can create captivating visuals for your products or social media campaigns without breaking the bank. Pebblely AI offers a range of subscription options, including a free trial to get you started. In conclusion, if you're tired of spending valuable time searching for the perfect images or struggling to create engaging visuals, Pebblely AI is definitely worth considering.
3. Understanding the Benefits of Using AI Image Tools
Understanding the benefits of using AI image tools, such as Pebblely AI, can be an absolute game-changer for businesses looking to create stunning visuals effortlessly. By utilising these cutting-edge tools, you can wave goodbye to tedious manual editing and instead focus on what really matters – growing your brand.
One of the key advantages of AI image tools like Pebblely AI is their ability to swiftly generate high-quality images. Whether you're looking to create captivating marketing materials or enhance your product photos for your Shopify website, these tools have got your back. With just a few clicks, you can effortlessly remove backgrounds, add filters, and generate eye-catching visuals that will leave your audience in awe.
Another significant benefit of using AI image tools is their cost-effectiveness. While some tools in the market come with hefty price tags, Pebblely AI stands out by offering a range of affordable pricing options. From free plans for startups and solo entrepreneurs to flexible paid plans for larger businesses, there's a pricing plan that suits everyone's needs. And don't worry, the quality certainly doesn't suffer – you'll still be able to create stunning visuals that will give your brand the professional edge it deserves.
So why spend hours upon hours manually editing images when you can let AI image tools like Pebblely AI do the heavy lifting for you? With its easy-to-use interface and impressive range of features, you'll save time, effort, and money, allowing you to focus on what truly matters – delivering exceptional products and growing your business. Embrace the power of AI image tools and unlock the full potential of your brand's visuals today.
4. Comparing Pebblely AI Pricing to Other AI Image Tools
When it comes to finding the perfect AI image tool for your business, pricing is a factor that cannot be ignored. After all, you want to ensure that you are getting the best value for your money. That's where Pebblely AI steps in, offering competitive pricing that makes it one of the top contenders in the market.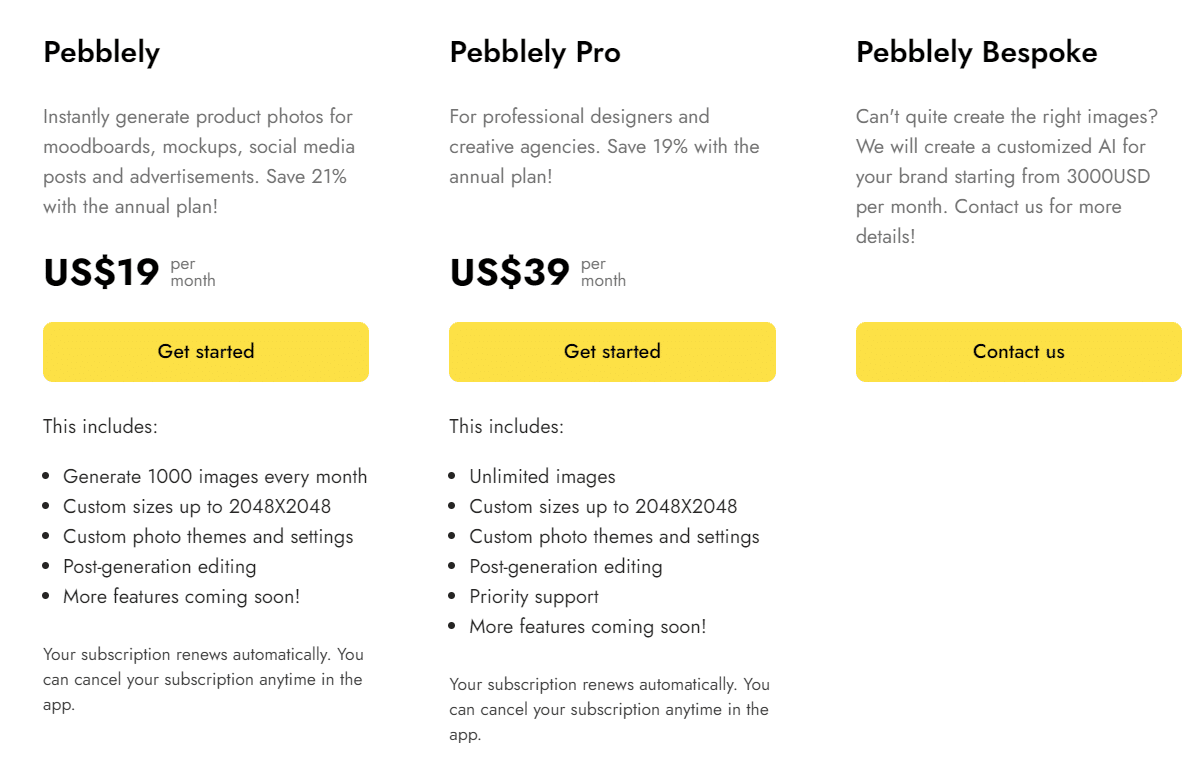 Pebblely offers an array of pricing options to suit all budgets, with plans beginning from just $19.99 per month- and if you sign up for an annual subscription, you could even be in with a chance of saving extra money. If you would like to find out more on the pricing front, simply check Pebblely's official website or get in touch with their customer service for a more detailed breakdown.
With a free account, you have access to few possibilities. Generate up to 40 images every month and take advantage of 17 pre-defined themes, such as Studio, Cafe, and Nature. These features give you unparalleled flexibility and creativity to make the most out of your photography. With these exceptional features at your fingertips, you'll have the power to unleash your creativity and take stunning photographs like never before. The flexibility that comes with this technology is unmatched, allowing you to capture every moment exactly as you envision it.
On the paid plan, you can:
Generate up to 1,000 images every month ($19/month) or unlimited ($39/month)
Generate custom backgrounds for your product
Resize images to any dimensions, up to 2048X2048
Change the canvas size and the number of images generated
However, this popular tool for generating AI images, has its fair share of cons that users should be aware of. One major drawback is the limited access provided during the free trial. Users often find themselves running out of credits within minutes, hindering their ability to fully explore the tool's capabilities. This can be extremely frustrating for users who find themselves running out of credits within minutes of exploring.
5. Pebblely AI Pricing Drawbacks
While this AI image generation tool may be widely used, it is important to note its drawbacks. It behooves users to consider the downsides before fully embracing it.
Furthermore, the platform's restriction on testing multiple photos can be frustrating, especially when users encounter the issue of generating images at the wrong angle. As background generation is considered a credit-consuming task, it adds to the limitations of the free trial. While Pebblely AI holds promise as a powerful image generation tool, its shortcomings in terms of trial access can leave potential users wanting more.
Unfortunately, Pebblely AI's free trial falls short in several aspects, making it challenging for users to fully test and evaluate the product. Within just 10 minutes, users often find themselves exhausting their free access credits, leaving them with limited opportunities to explore the tool's functionalities. Moreover, the inability to test different photos due to credit restrictions proves to be highly frustrating. This limitation becomes particularly problematic when users encounter the issue of images being generated at improper angles.
To make matters worse, generating backgrounds counts towards the limited credits, further restricting users' ability to thoroughly examine the platform. While Pebblely AI shows promise as a valuable image generation tool, the shortcomings of its free trial impede its effectiveness and hinder users from truly experiencing its potential.
6. Analyzing the Cost vs Value of Different AI Image Tools
Now, let's talk about Pebblely AI pricing. When comparing it to other tools in the market, Pebblely AI stands out for its reasonable pricing structure. In fact, it offers a free version that allows you to test out its features before committing. For small businesses and startups, this is a great opportunity to experiment without breaking the bank. And for those who require more advanced features, Pebblely AI offers various affordable pricing plans.
However, it's essential to analyze the cost versus value when choosing AI image tools. While some tools may seem cheaper upfront, they could lack the quality and capabilities that Pebblely AI provides. It's vital to consider the long-term benefits, such as increased conversions and improved brand image, when making a decision.
Of course, Pebblely AI isn't the only player in town. There are alternative tools available in the market, each with their unique pricing structures. Exploring these alternatives can help you make an informed choice that suits your business needs.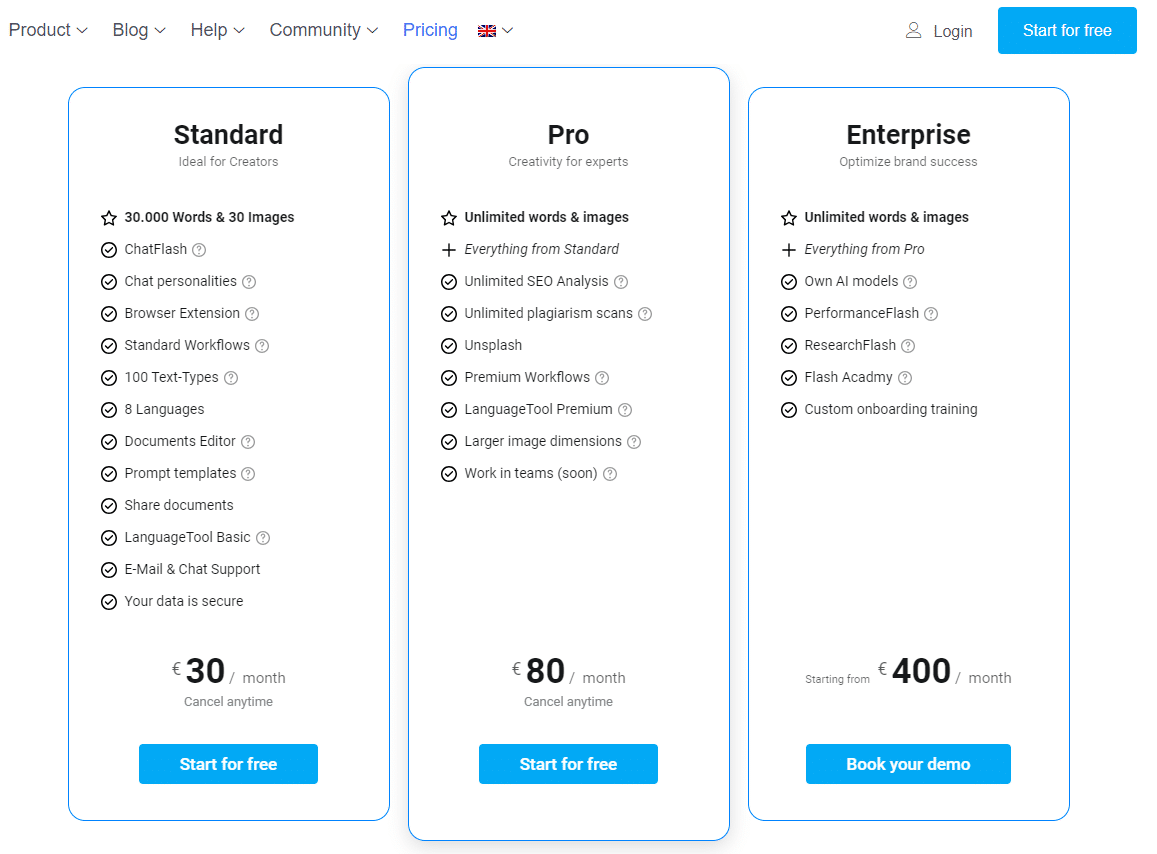 7. Exploring Alternatives to Pebblely AI Pricing: ImageFlash
If you're looking for a cost-effective solution to all your artistic requirements, ImageFlash is the perfect choice! Our cutting-edge Stable Diffusion-models guarantee that every picture you produce will be truly remarkable. You'll be astounded by how easy it is to operate and with minimal input, create breathtaking digital masterpieces in mere moments.

Are you tired of spending hours on end trying to create digital art? Look no further than our revolutionary software. You'll be astounded by how easy it is to operate and with minimal input, create breathtaking digital masterpieces in mere moments. Say goodbye to the frustration of complicated and time-consuming art programs and hello to a world of endless creativity. Don't miss out on the opportunity to take your digital art to the next level with our user-friendly and efficient software. Try it out today and see for yourself just how effortless and stunning your creations can be.
Pay attention to this simple demonstration of what imageflash can create with just a given idea. try it now for free and generate ia images from text. in addition, you can now also optimise your prompts to get results that are more optimised to your needs. We show you this and other amazing features below.
What sets ImageFlash apart from other alternatives is its user-friendly interface and its cost-effective nature. Unlike Pebblely AI, ImageFlash offers a free version that allows users to enjoy a wide range of functionalities. However, for those seeking even more amazing features, the premium version of ImageFlash provides an enhanced experience at an affordable price.
Don't limit yourself to just tinkering with technology when it comes to using an AI art tool. It has the potential to revolutionize your business by creating visually stunning images that will leave a lasting impact on your audience. Embrace its power and elevate your brand or message beyond what you thought was possible! 
Realstic images: if you need to add a photo shoot to your visual content in a low budget.
Product presentation: create realistic product photos in a few seconds, and enhance your marketing strategy.
Stock Photography: exclusive and royalty-free stock photography customized to your needs.
Illustrations: improve the vision and concept of a product.
Graphics: in marketing, using graphics is a great way to communicate. Make it more simple and close to your needs and objectives with the image AI generator, ImageFlash.
If your not really sure about how deep on details you are when creating your AI art, or if you know what kind of AI image you want to create but you're not inspirated… Let's make it easy for you. You only need to choos by clicking in "Optimize my prompt" and then you will see the options below.
2. Resizing your AI images
This feature is perfect for those who are serious about their craft and want nothing but the best when it comes to creating stunning visuals. With our intuitive interface and powerful editing capabilities, you can create anything from simple logos to complex illustrations in no time at all. Plus, with regular updates and new features being added all the time, there's always something new for you to explore.
Shifting our focus from Pebblely AI, allow me to introduce you to a remarkable alternative that has the potential to exceed your expectations – ImageFlash. Boasting an array of impressive features, ImageFlash is undoubtedly the finest substitute for Pebblely AI. Both businesses and individuals with creative inclinations will find this tool invaluable in their endeavors on social media platforms.
ImageFlash is an exceptional tool that can produce breathtaking images in a matter of seconds. It eliminates the tiresome task of scouring for suitable pictures and waiting endlessly for them to load. With ImageFlash, you save precious time while creating mesmerizing visuals that will enhance your products or projects' appeal instantly!
Not only is ImageFlash a time-saver, but it also offers a diverse range of image options. With its extensive library of high-quality images, you can easily find the perfect fit for any concept or theme. Whether you need images for business presentations, social media posts, or new product launches, ImageFlash has got you covered. 
Furthermore, ImageFlash's intuitive interface makes it incredibly easy to use. You don't need any design experience or technical skills to create stunning visuals that will captivate your audience. The drag-and-drop feature allows you to effortlessly add text and graphics, giving you complete creative control.
Frequently question asked
What is pebbly AI?
Pebbly AI is an emerging branch of artificial intelligence that focuses on developing intelligent systems specifically designed to perform tasks in environments characterized by uncertainty and limited resources. These systems are inspired by the concept of pebbles, small stones that are adaptable, efficient, and able to make the most out of their environment. Pebbly AI algorithms and models are designed to mimic the behaviour of pebbles, utilizing computational intelligence techniques to adapt to unpredictable and changing situations. These algorithms are capable of learning from experience, making quick decisions, and optimizing resource allocation. One of the key features of pebbly AI is its ability to handle uncertainty. Unlike traditional AI systems, which rely on precise and complete information, pebbly AI systems excel in situations where data is incomplete or noisy. They are able to make informed decisions even with incomplete information and effectively manage uncertainties and risks. Pebbly AI finds application in various domains, including robotics, autonomous vehicles, resource management, and decision making. For example, in the field of robotics, pebbly AI enables robots to navigate through unknown or dynamic environments by adapting their behaviour to the changing circumstances. In autonomous vehicles, pebbly AI algorithms help in making split-second decisions based on uncertain sensory data. Overall, pebbly AI is an exciting and promising area of research that aims to develop intelligent systems capable of handling uncertainty and limited resources. By harnessing the principles of adaptability and efficiency observed in pebbles, pebbly AI has the potential to revolutionize various industries and sectors.
Is AI editor free?
No, AI editor is not free. It typically requires a subscription or payment for full access to its features and functionalities. AI editor is a sophisticated tool that utilizes artificial intelligence algorithms to assist with various writing tasks, such as grammar and spelling correction, style and tone suggestions, and contextual feedback. The AI editor's pricing may vary depending on the specific platform or service you choose. Some AI editors offer different subscription plans based on the level of usage or the number of documents you need to edit. Other providers may offer a pay-as-you-go model, where you only pay for the specific documents you edit using the AI editor. It is essential to explore different options and compare pricing structures to find the most suitable one for your needs. While there may be limited versions or free trials available for AI editors, these usually come with certain restrictions or limitations on the features available. The free versions may offer basic correction capabilities, but to access more advanced features and receive comprehensive suggestions, users are typically required to upgrade and pay for a subscription. In conclusion, AI editor is not available for free, and users are generally required to subscribe or pay for its services. The pricing model varies across different providers, and it is advisable to explore various options to ensure you find the best AI editor that suits your requirements and budget.
How do you use Pebblely?
To use Pebblely, follow these steps: 1. Download and install the Pebblely app from the designated app store on your mobile device. 2. Launch the app and create an account by providing the necessary details. 3. Once logged in, Pebblely will ask for permission to access your device's location. Granting this permission is important for the app to provide accurate and relevant information. 4. Explore the main menu within the app to discover the various features and options available. 5. To find nearby places or businesses, tap on the "Nearby" option in the menu. Pebblely will use your location to display a list of establishments in your vicinity, such as restaurants, hotels, pharmacies, and more. 6. If you're looking for specific information, use the search functionality. Tap on the search bar and enter your query, such as the name of a restaurant or a particular category like "coffee shops." 7. Pebblely also offers helpful reviews and ratings for businesses. Simply tap on a listing to view more details, including user reviews, contact information, and address. 8. To save places for future reference, tap the star icon next to the listing. This feature allows you to create a personalized list of favorite places. 9. If you want to share a place or its details with others, you can use the share button to send it via social media, messaging apps, or email. 10. Pebblely also provides navigation assistance by tapping on the "Directions" button within a listing. This feature integrates with your device's built-in maps app, guiding you to the selected destination. Using Pebblely allows you to easily explore your surroundings, find relevant information, and discover new places with ease.
What is Pebblely?
Pebblely is a unique and innovative smartwatch that combines style, functionality, and convenience. With its sleek design and high-quality materials, Pebblely is a fashion statement on your wrist. This smartwatch offers a range of features that make it an essential companion for the tech-savvy individual. One of the standout features of Pebblely is its impressive battery life. Unlike many other smartwatches on the market, Pebblely can last for several days on a single charge, ensuring that you stay connected without frequent recharging. Additionally, Pebblely is compatible with both iOS and Android devices, allowing users to sync their smartphone notifications, calls, and messages directly to their watch. Pebblely is also equipped with various health and fitness tracking capabilities. It can monitor your heart rate, track your steps, and even analyze your sleep patterns to provide valuable insights into your overall well-being. Whether you're a fitness enthusiast or simply looking to lead a healthier lifestyle, Pebblely has you covered. Moreover, Pebblely offers a wide range of customizable watch faces and apps to suit your personal style and needs. From productivity apps to music control, the watch provides a seamless and intuitive user experience. With its water-resistant design, you can even wear Pebblely during your workouts or outdoor activities without worrying about damage. In conclusion, Pebblely is a cutting-edge smartwatch that combines style, functionality, and convenience. With its impressive battery life, health tracking capabilities, and customization options, Pebblely is truly a game-changer in the world of wearable technology.
While some apps may claim to be free, they often come with limited features and watermarked images that are not suitable for professional use. With Pebblely AI, you can create stunning, high-quality images without breaking the bank or sacrificing creativity.
When considering alternatives to Pebblely AI pricing, it's important to carefully analyze the cost versus value. While some tools may seem more affordable, they often lack the comprehensive features and user-friendly interface that Pebblely AI offers. Investing in Pebblely AI means investing in the success and growth of your business.