You have a great website, but nobody knows it? That's not surprising, because without a bit of digital marketing, it's very hard to be seen on the Internet. In this blog post, you'll learn how to use digital marketing to get the word out about your website and what strategies work best for you.
Basics: Digital Marketing
Digital marketing (also online marketing) refers to any marketing activities conducted online. This includes marketing websites, social media, and mobile applications, among others. The objective of digital marketing is usually to increase the visibility of a brand or product as well as to increase sales. To achieve this, companies employ various strategies and tactics, such as search engine optimization (SEO), content marketing, or social media advertising.
You can find a more detailed explanation of digital marketing here.
Why you should promote your website with digital marketing
1. you can reach a wide audience
Digital marketing allows you to reach a much larger audience than you ever could with traditional methods. Thanks to social media and other online platforms, you can easily share your website with a large number of people.
2. digital marketing is very targeted
One of the best things about digital marketing is that you can be very specific about who your target audience is. Thanks to detailed targeting options, you can make sure that your ads only reach the people who are really interested in your product or website. This way you don't waste money on advertising that no one sees anyway.
3. digital marketing is measurable
You can track exactly which of your activities are successful and which are not. Sophisticated analytics tools let you see exactly which campaigns are working, so you can target your efforts. This way you always have a good overview of the success of your efforts and know exactly where you still have room for improvement.
Digital marketing for websites: How do you get started?
If you have a website, it's time to make sure others can find it too. There are several digital marketing strategies for this, some of which will work better for you than others. Before you begin, consider what your goals are. Want to generate more traffic? Or do you want to get people to take certain actions on your site (for example, buy a product or sign up for a newsletter)? Once you know what you want to achieve, you can set about selecting the appropriate strategies. These could include search engine optimization, content marketing, affiliate and email marketing, or social media marketing, for example.
Increase your reach with search engine optimization (SEO)
Search engine optimization (SEO) is one of the most effective ways to make your website more popular and generate more traffic. By using the right keywords and making sure your content is relevant to search engines, you can ensure that you appear higher in search results, attracting more visitors. If you don't have any experience with SEO, it can be a bit overwhelming to get started. But don't worry – there are plenty of resources to help you get started.
The following video gives you a little insight into the topic and explains how companies use SEO for themselves:
First of all, you should think about what keywords you want to use. Choosing the right keywords is crucial to the success of your SEO strategy, as it determines how well you rank in search results. There are a few different ways to figure out which keywords are best for you. For example, you can use the Google AdWords Keyword Planner tool. This free tool will help you find the most popular and best converting keywords. Alternatively, you can just search Google for the products or services you want and see which words show up most often in the search results.
Once you've selected a few relevant keywords, it's time to incorporate them into your content. Make sure you use them naturally and don't repeat them too often – otherwise you'll get penalized by the search engines. Instead, try to put them in titles and subtitles as often as possible, and make sure your content is generally relevant and interesting. If your site is well optimized and offers interesting content, you'll soon find that your reach increases and more visitors come to your site.
How to write convincing SEO texts, you will learn here.
Content marketing: Relevant content for your target group
If you want to promote your website with digital marketing, it's important to create relevant content for your target audience. To do this, you first need to know who your target audience is and what content interests them. Then create a content calendar where you plan targeted topics and publish new content regularly. Also share your content on social networks and other sites to reach as many people as possible. This will not only increase your visibility, but you can also attract new visitors.
A good way to create content quickly and easily is the free AI text generator from neuroflash. This automatically composes a variety of different texts based on your own specifications. For example, you can use it to conveniently write an introduction for your next blog post: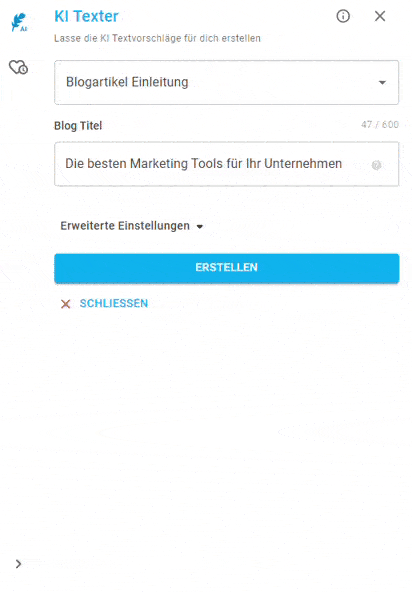 Save yourself valuable time that you can invest in other aspects of your website and write your first content with neuroflash here.
Affiliate and e-mail marketing: More traffic through recommendations
If you want to generate more traffic, you should definitely consider affiliate and email marketing. By getting recommendations from friends and acquaintances, you can give your website the boost it needs to keep growing.
Affiliate marketing allows you to earn money by marketing other products or services on your website. You will be rewarded with a commission for every customer who buys a product or service through you. Of course, this principle is also beneficial for your affiliates, as the products you promote get higher visibility. So it's a win-win situation for both sides.
Email marketing, on the other hand, is a great way to keep in regular contact with your customers and provide them with updates on new products and services.
To be successful, you should consider which platform best suits you and your website. Choosing the right partners is also crucial. Look for affiliates and email providers with a good reputation and a high conversion rate. This way you can be sure that you are directing as much traffic as possible to your pages.
Social Media Marketing: Leverage the popularity of social networks
Social media has become extremely popular in recent years and offers you the opportunity to make your website more popular. It's important that you use the right social networks and are active there. Facebook, Twitter and Instagram are the most popular networks. Pick one or two and focus on getting your brand out there. If you post interesting and quality content on a regular basis, you will quickly drive new visitors to your website.
Conclusion: How to improve your website
There are a lot of different ways you can improve your website and make it more popular. Digital marketing is an important aspect of this, but there are many other things you can do. Remember, it's not necessarily the most expensive or elaborate solution that works best – often it's simply the one that best fits your audience and content. So try out a few different strategies and see which one works best for you.
Frequently asked questions & answers
What is digital marketing?
Digital marketing refers to the marketing of products or services via digital channels.
Which digital channels can be used for website marketing?
There are a number of digital channels that can be used for website marketing. This includes social media such as Facebook, Twitter and Instagram. Blogs, YouTube videos and online advertising can also help increase awareness.
Why is digital marketing important for websites?
Digital marketing is important for websites because it is an effective way to increase visibility and get more visitors.
Plan your attack: before you start digital marketing your website, you should have a clear plan of how you want to proceed. What goals do you want to achieve? What channels do you want to use? What messages do you want to convey? Once you have answered these questions, you can start creating your strategy.
Add value: If you offer your visitors something they can't find anywhere else, they will return again and again. Be creative and offer something unique that your competitors can't.
Use social media: Nowadays, it is essential for companies to be active on social media. By sharing your content on social media, you can reach a much larger audience and significantly increase your visibility.
A/B Testing: With A/B testing you can find out which version of your website works best. By testing different elements (such as the buttons or the layout) you can find out which version gets the most visits and generates the most conversions.
Search Engine Optimization: Through search engine optimization (SEO), you increase the likelihood that your website will appear higher in search results – which in turn means more traffic.
Pay-per-click advertising: pay-per-click advertising (PPC) is another way to drive more traffic to your website. With PPC, you pay every time someone clicks on one of your ads. This way, you'll only get relevant visitors who are actually interested in your offer – which significantly increases the chance of a conversion.
Digital marketing is a great way to get your website noticed and generate more traffic. From search engine optimization to social media marketing, there are many different ways you can promote your content. If you apply the right strategies, you can give your website the boost it needs to succeed.