As a business owner or marketing manager, you might not think AI will have much of an impact. After all, it's just a computer program. But AI is already capable of changing the way we write copy – and that can have a positive impact on your business. Even if you think AI is only for big companies, you're wrong! Artificial intelligence is also a useful and versatile addition for small and medium-sized enterprises. But how exactly does writing with the help of AI work? And what advantages do AI marketing texts have for companies? We took a closer look at the technology and give you an overview here!
What are AI marketing texts?
AI marketing texts are a form of artificial writing that relies on a database to automatically generate texts. The technology is often used for business purposes and is designed to help save time and money. AI marketing texts are therefore computer-generated texts that are written using algorithms. These algorithms analyze the company, the target audience and the context and then create a text that matches it. There are already some companies using this technology and I am sure that in the future more and more companies will rely on AI marketing texts. Because why shouldn't they? The texts are individual and perfectly fit the company and the target group. In addition, these texts can be written in a very short time – so ideal for companies that need many different texts, but do not have so much time or staff.
How does AI marketing copywriting work?
Marketing is a communication tool to convince potential customers of products and services. Marketing copy is therefore so important for a company's advertising – whether online or offline. They must therefore not only be informative, but also attract attention and arouse curiosity.
But writing such texts often involves a lot of work: Researching, finding keywords and then writing the text so that it is optimized for search engines and can still be read "fluently". However, small businesses in particular often lack the time and personnel to write high-quality marketing texts. This is where AI comes in: Algorithms take over the writing of texts – based on templates or structures defined by the company. So-called text generators can finally be used to create new marketing texts in just a few clicks.
As you can see here, there are several AI tools for creating texts. An example of such a text generator is neuroflash. With neuroflash you can write the best German marketing texts that are both original and versatile. For example, you can generate marketing texts for products. All you have to do is provide a few information about the product and desired keywords and the AI will create an optimized product description: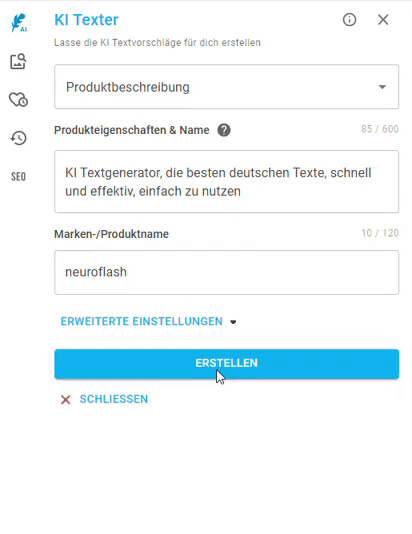 Even social media texts are no challenge for artificial intelligence: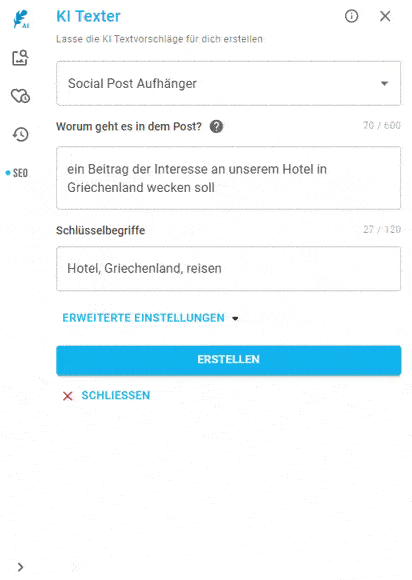 The advantages of AI marketing texts
The use of AI marketing texts brings a number of other advantages in addition to their speed, high quality and efficiency. Among others:
AI can deliver personalized content. AI can deliver content tailored to a person's needs and interests. This enables users to find the content that is relevant to them more quickly and easily.
AI can engage the target audience more effectively. Artificial intelligence can be a useful tool to target audiences more effectively. This is especially the case when the group is large and/or heterogeneous. AI enables marketers to better understand what customers want and need. AI can also help develop better campaigns and deliver personalized content. In addition, AI tools can improve the customer experience and optimize customer service.
AI can deliver the right message to the right person at the right time. Thus, technology can help us take on new perspectives and gain amazing insights.
AI can help increase conversion rates by suggesting products and services to potential customers through relevant marketing copy. AI can also help find the right words for a website or offer that are most likely to be read by search engines.
AI can improve customer engagement. AI can help customers find the right products and better understand what they want. This technology can thus also help strengthen customer loyalty and reinforce the brand.
Frequently asked questions & answers
What are AI marketing texts?
AI marketing texts are texts created by artificial intelligence and directly adapted and personalized to potential customers.
How are AI marketing texts used?
AI marketing texts is used to adapt texts to the needs of customers.
What are the advantages of AI marketing texts?
AI marketing texts have the advantage of adapting to the needs of customers, increasing the chance of conversion.
Write short and concise texts. Write texts that are easy to understand.
Make sure that your texts are clearly structured.
Use simple language. Make your texts interesting and appealing.
Be sure to use good spelling and grammar.
Use good images and graphics to enhance your text.
The right AI marketing copy can propel you and your business forward and help attract new customers. With KI Marketing Texts, companies can write their marketing texts without having to worry about the correct spelling or keywords. KI Marketing texts are also already optimized for search engines, bringing more traffic to the company's website. In addition, AI marketing texts enable a personalized approach to customers, as the texts are adapted to the needs and wishes of the customers. But convince yourself of the quality of AI marketing texts by simply trying it out yourself!