Content writing is a great way to make money and work online. But being a successful content writer means more than just writing good copy. If you're reading this, you're probably looking for a way to make a name for yourself online. Whether you're a freelancer or an entrepreneur, content writing as your business. In this blog article, I'll show you how content writing works as a business and the steps you need to take. So go ahead and learn more about the possibilities of content writing!
The importance of content writing
If you want to build a successful business, it's essential that you study content writing. Because good content is the be-all and end-all these days when it comes to practicing content writing as a business and being found on the Internet to attract customers. But what actually is content writing and why is it so important?
Content writing is the art of writing texts that are not only informative and interesting, but also search engine optimized. Because if your texts are well written and optimized, you will be listed higher by Google & Co. – which means more people will get to your website or blog. And the more people you reach, the greater the chance you'll gain customers, too.
So for companies, but also for individuals, it is essential to invest in good content. If you are unsure if your texts are good enough or if you even have the time to take care of content writing, you can contact a professional agency that specializes in this field or you can use free tools that we will list later in the article. Because good content isn't just important – it's critical to success if you want to pursue content writing as a business.
Content Writing as a Business - How to Make a Name for Yourself
In recent years, content writing has become a real business. Many people make their living creating content for businesses and organizations. If you also love writing and can imagine starting your own business doing it, then you should consider whether content writing is right for you.
Content writing is a very broad field and there are many different types of content you can create for your clients. For example, you can write blog articles, website copy, newsletters, e-books, or even social media posts. So, if you're interested in content writing, you should consider which area you'd like to specialize in.
Of course, to be a successful content writer, you not only need to be good at writing, but you also need to know how to create content that interests and appeals to people. So, if you don't have any experience with it yet, you should first get informed and learn various tips and tricks. A good way to do this is to take online courses on content marketing or SEO, for example.
So if you're thinking about becoming a content writer, you should first do some research and find out if it's right for you. For example, you can take various online courses or find information in forums. Books and guidebooks on the subject can also be helpful. Once you know if content writing is right for you, you can get to work making a name for yourself as a professional content writer!
Content writing as a business advantages and disadvantages
If you have a talent for writing, you might even be able to build a business with it. This is because content writing is in high demand these days and there are more and more companies and websites looking for quality content. As a content writer, you therefore have the opportunity to become self-employed and work from home. Of course, this also means that you have to establish yourself in the industry in order to succeed. Nevertheless, content writing as a business has some advantages:
You can be your own boss

You can work from anywhere

You can work flexibly

You have control over your time

You can earn more money
However, in content writing, as in any business, all that glitters is not gold. Of course, it sounds tempting to work from home and still be self-determined in choosing the topics you want to write about. But there are also some downsides to consider before jumping into the content writing adventure. For example, the fact that as a freelancer you don't get a fixed monthly salary, but your income can fluctuate greatly from job to job. The competition should not be underestimated either. After all, content writing is no longer an insider tip and more and more people are trying to gain a foothold in this field. So if you want to succeed, you need to stand out from the competition and make a good name for yourself.
Content Writing as a Business - Useful Tools
If you want to get serious about content writing as a business, there are some useful tools that can help you. Of course, in the end it always depends on your own writing style, but with the right tools you can make your work easier and get the results you want faster.
First of all, it is important to have a good writing software. Word is of course the default program, but there are other good alternatives like OpenOffice or Pages. The important thing is that you have a program in which you can work well and in which you have all the functions you need.
Another important tool for content writers is a good grammar and spell checker. Grammarly or Language Tool are good examples of such a tool. It helps you to check your texts for errors and correct them immediately. This way you won't have to worry about your texts not being perfect.
Another tool I can recommend is neuroflash. neuroflash is an AI text generator that helps you to create different types of texts completely automatically. So you can create relevant content faster and more effectively than ever before. In doing so, neuroflash is able to generate both short and concise texts, such as a social media post: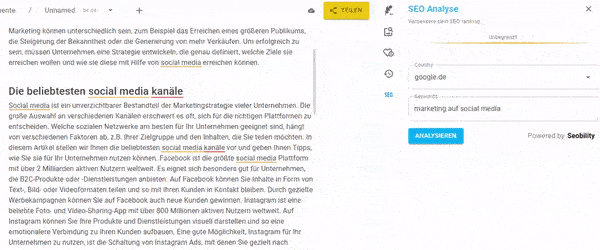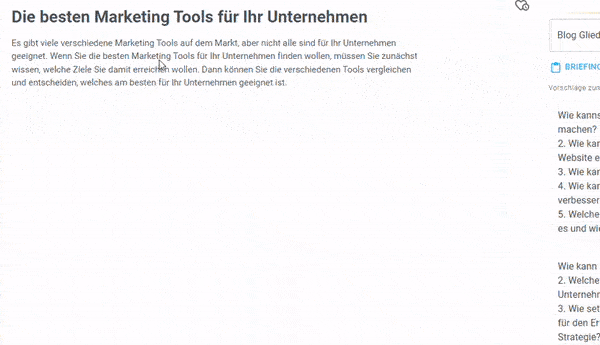 Frequently asked questions & answers
Content writing is writing content for a business.
Why is content writing important?
Content writing is important because it is a way to drive a business forward and achieve its goals.
How to be successful in content writing?
Successful content writing requires creativity, research, and a lot of time.
What does the future of content writing look like?
No one knows for sure what the future of content writing will look like. However, experts agree that it will play an important role in the future of communication. In an increasingly digital world, companies will rely more and more on online channels to communicate with their customers. In this context, content writing is becoming increasingly important to capture users' attention and inform them.
Can you make money as a content writer?
Yes, you can make money as a content writer. However, it is important to be knowledgeable in this area and know what is important. There are many people who claim to be content writers, but few of them are actually good at what they do. However, if you know how to write and deliver good content, you can make very good money doing it.
Find out what topics interest your customers. Just take the time to talk to your customers and learn what makes them tick. This is the best source of information for topic ideas that you can use in your content.

Stay up to date. Keep up to date with new trends and developments in your industry. This way, you can make sure your content stays relevant and interesting.

Be unique. Avoid simply repeating what others have already written. Figure out what you can do differently to set yourself apart from the competition.

Pay attention to quality instead of quantity. Don't publish just anything just for the sake of publishing something. Instead, you should focus on the quality of your content and make sure it's relevant and useful to your target audience.

think long term. Don't just gear your content to the current season or trend. Instead, you should try to stay relevant in terms of content and find topics that will still be relevant in the future.
Content writing as a business, is much more than just writing a few words on a page. It's about creativity, originality and making a name for yourself. If you decide to work as a content writer, there are many ways you can make a name for yourself. You can specialize in a particular genre or niche, you can develop a unique writing style, or you can simply deliver the best content. It's important to realize that content writing is more than just a few words on a page. If you put your mind to it, you can really create something great.