Lately, the error message "ChatGPT is at capacity right now" has been a constant annoyance for users trying out OpenAI's AI chatbot. This is no surprise, however, as the OpenAI artificial intelligence chatbot has fascinated a large crowd since its release, with people wanting to try out its features on a daily basis. Unfortunately, this high interest often leads to ChatGPT's servers being overloaded and the software can no longer be used. In this article we will explain what the error message is and what you should do in this case.
ChatGPT is at capacity right now - Why is ChatGPT not working?
If you have tried to use ChatGPT lately and received the error message "ChatGPT is at capacity right now", it means that the servers are too busy and ChatGPT Capacity is overloaded. Your requests can therefore not be processed. This occurs when the ChatGPT servers are unusually busy. You can also get different types of problems, such as ChatGPT error code 1020, network problems, etc. You should be aware that ChatGPT servers are overwhelmed with the amount of incoming requests when any of these problems occur.

Like any other online service, ChatGPT requires servers for its operation. Given the high volume of traffic, they tend to become overloaded. Due to the high volume of users, the servers cannot process all requests from a ChatGPT user. But what can you do in case of such an error message?
How to fix the "ChatGPT is at capacity right now" Error
If the capacity error in ChatGPT is driving you crazy, try to take it easy for a while and try the following solutions to fix the "ChatGPT is at capacity right now" error:
As in many cases, patience proves its worth. So if you have some time, wait a moment. As mentioned above, traffic is one of the main causes of the error message "ChatGPT is at capacity right now". You should wait fifteen to thirty minutes if you keep getting the same error message. Within this period of time, the problem should probably be fixed. You may be able to log in to ChatGPT when the server load drops significantly. Click on the "Get notified when we're back" link to be notified by email when the service is available again.
You must refresh your browser after a certain browser time if you want the browser to reload the page from the server instead of from the cache. This triggers a new request for the page from the browser to the server. Therefore, it is possible that updating the browser will allow you to gain access.
3. log in to your ChatGPT account again
There may also be a problem with your OpenAI account. To find out, log out briefly and then log in again.
Your current location is probably the cause of the problem, as too many people from your area are using the local ChatGPT servers. Accordingly, one solution is to change your location. A VPN for Android can help you with this. Accessing OpenAI ChatGPT from an Android or iOS device makes it easy to set up a virtual private network and disguise your location.
5. use ChatGPT in incognito mode
Incognito mode offers higher privacy as it prevents your browsing history and cookies from being saved. This keeps the websites you visit or any actions you take on those websites invisible to others. So you can try to use ChatGPT in incognito mode. After that, you should be able to. to be able to access ChatGPT.
6. open a second OpenAI account
You can increase your chances by signing up for two different OpenAI accounts. However, to allow everyone to use the software without interruption, OpenAI can temporarily disable overly active accounts.
7. delete the cache of your browser
Clear your browser's cache and then try again. There are many advantages to clearing the browser cache. First of all, it makes sure that the web browser is kept up-to-date with the latest changes to websites. It also increases the speed of the browser by freeing up memory to store more information in the cache. How to clear your cache in Google Chrome:
To access the menu in Chrome, launch the browser and then click on the three dots in the upper right corner.
Select Delete browser data from the drop-down menu that appears.
A new window will open where you can select website data, including cached images and files, cookies and other user information.
Click the Delete button. This completes the process of clearing the cache.
8. check the ChatGPT server status
If none of the above steps helped, the problem is probably not yours. If this is the case, you can use a tool to check if OpenAI and ChatGPT are available.
9. avoid using ChatGPT during peak hours
In general, it can be recommended not to use ChatGPT during peak hours. Many people around the world have access to the free AI application ChatGPT. Therefore, you may get the error message "ChatGPT is at capacity right now" more often during peak hours.
10. sign up for ChatGPT Professional or ChatGPT Plus
If you want to bypass the "ChatGPT is at capacity right now" error completely, you can of course sign up for ChatGPT Professional or ChatGPT Plus. The subscription plans provide you with unrestricted access to ChatGPT even during high server load. However, these plans are fee-based and have a monthly price.
ChatGPT is at capacity right now? Use a ChatGPT alternative!
Not everyone has the time or patience to wait until ChatGPT is available again and try to get access to ChatGPT in a roundabout way. In this case, it is best to look for a ChatGPT alternative. neuroflash is one of these alternatives. 
As an alternative to ChatGPT, neuroflash offers its very own AI chatbot, namely ChatFlash! ChatFlash is included in all neuroflash price plans and can also be used completely free of charge and without subscription. You can easily find the AI chat in your neuroflash interface: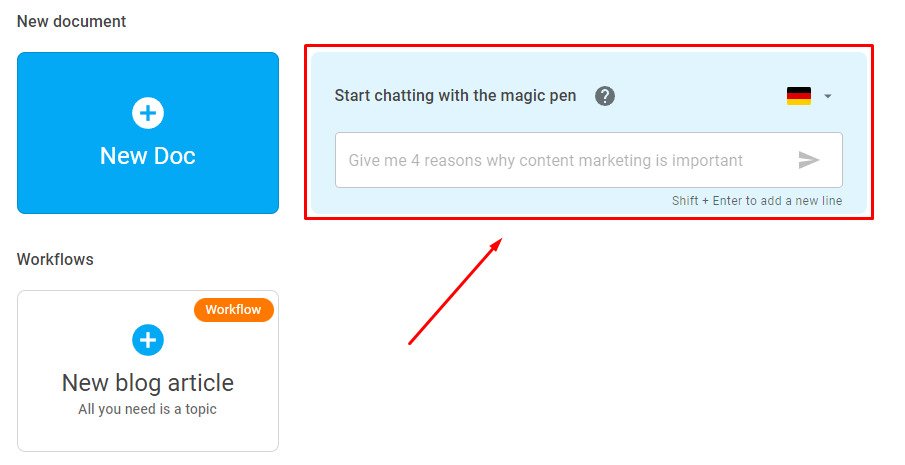 Start your chat by simply typing your request, question or instruction. The AI will respond to your input. The chat does not forget your last question/instruction, so you can refer to it. So you can keep chatting with the AI.
ChatFlash is based on the same technology as ChatGPT and is in no way inferior to the OpenAI chatbot. In addition, ChatFlash offers even more functions that are not included in ChatGPT. 
Via personalities, it is possible to direct and influence the output of the magic pen in a targeted manner. Likewise, neuroflash already offers optimized prompts with templates, which are adapted to various applications and can be used freely.
Templates: Get inspired by the large selection of text templates to get started even faster. Determine what kind of text you want to generate with ChatFlash and get suggestions for a suitable prompt right away. 
Personalities: You specify who you want the magic feather to be. With personalities you can customize the scope of the chat to get even more appropriate and targeted results. The output generated by ChatFlash is closely related to the selected personality and adapts to the context of the conversation.
A personality defines the following:
Tone of the conversation
Role (function)
Personality, brand
Context of the expected answer
You can choose from different personalities. For example, ChatFlash can answer as an SEO consultant, social media influencer, journalist or writing coach. Additionally, we offer you the possibility to add your own personalities. For example, you can customize ChatFlash to match your company identity or personal writing style. We will show you how to do it:
Finally, neuroflash offers you a variety of other functions with which you can edit texts even further. Various workflows and additional functions such as an SEO analysis and an AI image generator also offer great added value for anyone who needs texts for professional purposes.