The right WDF IDF strategy can help move your website higher in search results and optimize your content marketing. But what exactly makes a good strategy? In this blog post, I'll show you what WDF IDF is all about, what it's all about, and give you practical tips on how to build a solid WDF IDF foundation for your business.
First, it's important to understand what WDF IDF even means. The meaning of WDF IDF lies in a surprisingly simple acronym – where WDF stands for Within Document Frequency and IDF stands for Inverse Document Frequency. So it's about comparing how often a word is used on one page of your website and the frequency with which that word appears on other websites. The IDF also ensures that less frequently used words carry more weight than more frequently used words. The combination of both factors – WDF and IDF – provides an accurate determination of a keyword's relevance for a particular search.
Here, there are also WDF IDF algorithms that are used when searching for a specific word or phrase in a document. Such an algorithm calculates how often a word occurs in a document and multiplies this number by the frequency with which the word occurs in other documents. This gives you a better idea of how relevant the searched word is to its search.
Why is WDF IDF important?
WDF IDF is especially important when working with search engines and relevant to the topic of Search Engine Optimization (SEO). In the field of search engine optimization, WDF IDF is a useful method to place keywords on web pages and thus increase the visibility of the page in various search engines. 
Additionally, WDF IDF is an important aspect of content marketing because it provides a systematic approach to creating content that both ranks well with search engines and attracts users. It focuses on creating high-quality content that is relevant and adds value to users. So, WDF IDF can help your website appear higher in search results and generate more traffic.
WDF IDF analyses are therefore particularly useful for selecting new keywords and checking existing content for relevance. The goal of the algorithm is to identify website content, analyze it and also test Search Engine Optimization. In this way, the content can achieve a high position in the SERPs (Search Engine Result Pages).
WDF IDF is a proven and widely used Search Engine Optimization tool used by many successful online businesses. WDF IDF is an algorithm that determines the relevance of a particular keyword in relation to a search query. Thus, the goal of WDF IDF is to improve the quality and relevance of a web page for a specific keyword and thus to support the content marketing of companies. 
But how does WDF IDF work exactly? Quite simply, the algorithm analyzes all the web pages that are relevant to a particular search query and uses various criteria to determine how often the keyword occurs on these pages. Two factors are taken into account: the frequency with which a certain term occurs on a page and the number of links that refer to this page from other pages. Then the keyword is evaluated using the Inverse Document Frequency value. The higher the value, the less frequently the keyword occurs and the more relevant it is for the search. 
This algorithm is therefore particularly useful for optimizing web pages for search engines and content marketing, as it provides an objective method for determining the relevance of pages for specific search terms. However, it is important to note that the algorithm is only one aspect of search engine optimization; to be truly successful, you must also consider other factors, such as the content and structure of your page. Therefore, you should not rely only on WDF IDF, but complement the strategy with other SEO measures.
Why should you use WDF IDF?
Whether it's content marketing or search engine optimization, WDF IDF offers a number of key benefits when creating content online:
A WDF IDF strategy is an excellent way to improve your search engine ranking. By choosing the right keywords and using them consistently, you are guaranteed to achieve better rankings.
Not only the search engine ranking will be optimized by WDF IDF, but also the click-through rate and therefore the performance of your website can improve.
WDF IDF is easy to implement and does not require complex calculations.
The process is very flexible and can be adapted to the situation at hand.
WDF IDF is easily scalable and can be used for large websites.
WDF IDF analysis is an indispensable tool for webmasters and SEOs who want to improve their web presence.
How to use WDF IDF tools successfully
There is a list of different WDF IDF tools that you can use for your purposes. It's best to try out some of the tools to find out for yourself which tool suits you and your work best. For example, a very popular WDF IDF tool is Seobility. Seobility is a tool that helps you optimize your website for search engines. It analyzes your website and gives you hints on how to improve it. This increases the chance that your site will appear higher in the search results and get more visitors.
If your focus is specifically on creating texts, you can also use a WDF IDF tool in combination with artificial intelligence. neuroflash, for example, offers a combination of text generation and WDF IDF analysis, powered by Seobility. On the one hand, the AI helps you create relevant SEO texts, such as complete blog posts, in just a few steps. All you have to do is provide some information about your topic and define desired keywords: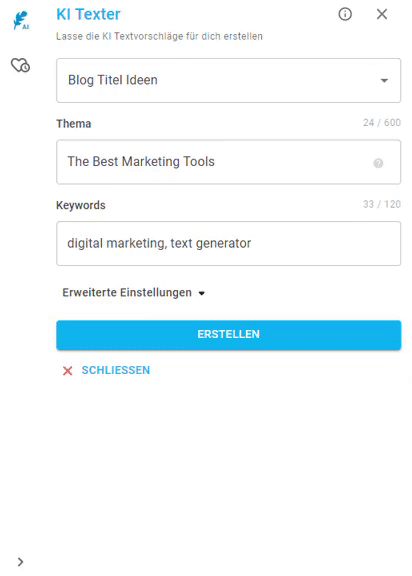 Afterwards, the artificial intelligence can write an entire blog article for you: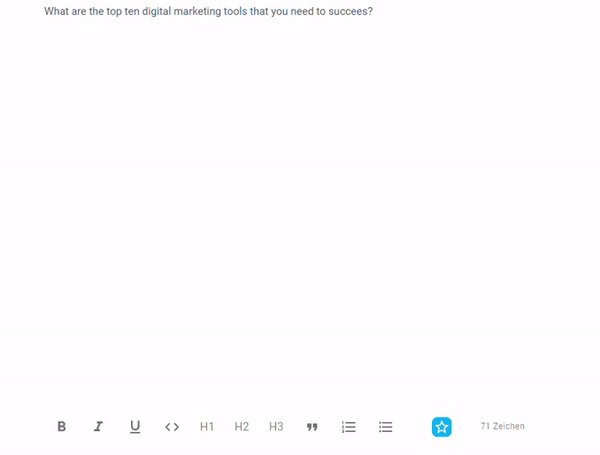 Now for the WDF IDF analysis. After you have created the text with the help of AI, or you have written the text yourself, you proceed to the SEO analysis. To do this, select the desired search engine and specify the relevant keywords in the text:
Finally, the text is subjected to a WDF IDF analysis in the neuroflash editor, where suggestions are made as to which keywords you should use more often or possibly less in your text. In addition, you can also get a direct overview of competing pages: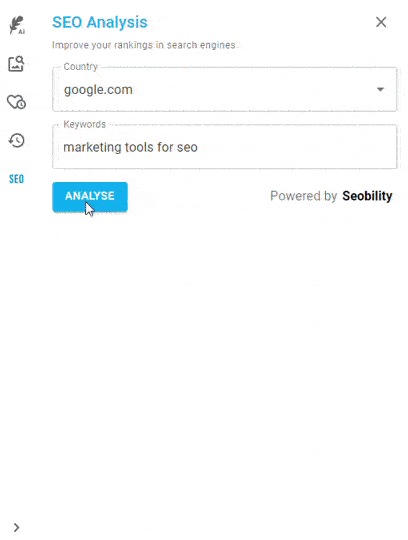 This gives you a concrete overview of the Search Engine Optimization of your text and, if necessary, you can adjust it so that it ranks better and attracts more readers. 
With neuroflash's WDF IDF analysis you get valuable insights into the text optimization of your AI generated articles. Identify important words that are highly relevant for the search engine ranking for certain keywords. In addition, the SERP analysis helps you to find out how your content should look like in order to be able to play in the top 10 search results for the selected keyword. You can access the WD IDF analysis from neuroflash here. 
WDF IDF is a very useful strategy for companies that want to constantly improve their website. By analyzing search queries, companies can find out which keywords are most searched for and where they can still improve on their website. It also allows them to find out which keywords are most relevant to their business and which words are most often associated with their brand. This way, businesses can constantly improve their website and gain an advantage over their competitors. Follow the tips above to get the best results!