The days when people had to live with creative writer's block are long gone. Thanks to today's technological developments, everyone has access to a unique content generator that allows you to quickly create high-quality content. So, if you are looking for a support to create texts quickly and effectively, a content generator is just what you need!
What is Unique Content Generator?
A unique content generator is a tool you can use online or as an app. With a content generator, you can create high-quality German texts and search engine optimized content that you can use for your website or blog. It is therefore a useful tool for bloggers and online entrepreneurs who want to improve their traffic and search engine rankings.
Such software can draw on a large network of data and use machine learning to create new and original content. Through artificial intelligence, it can create texts that you can use for your purposes. For example, neuroflash's unique content generator offers a wide range of different text types that you can use to have high-quality German texts written:
You just need to enter some simple keywords related to your topic to create new content:
Furthermore, the neuroflash software can easily continue sentences for you: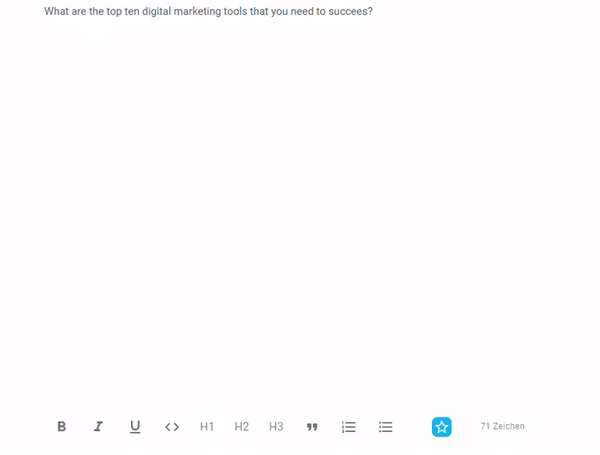 Unique content generator – advantages
A unique content generator offers you numerous benefits from which you can profit:
A unique content generator is an incredibly useful tool. You can use such a generator to create high-quality German texts quickly and easily. Thanks to the artificial intelligence and machine learning of the generator, you can create a variety of interesting and engaging articles that will delight your readers in no time.
You save an enormous amount of time and effort, because a unique content generator creates the content for you. You only have to take care of the publishing. German texts are easy to generate and can be published immediately. You save yourself the trouble of researching, writing and editing, for example.
Unique content generators create not only unique, but also high-quality content. The content generator is able to create German texts in such a way that they meet the requirements of search engines. Moreover, the content is regularly updated so that it is always up to date.
The program offers a number of functions that allow you to compose your text. One can write the text in any language, since the programs can read and write several languages. The texts are automatically structured so that the text is generated with the correct paragraphs. This way you can effectively create structured content.
A unique content generator is a very flexible tool and can create content that is customized to the needs of the clients.
Unique content generator – disadvantages
There are also some disadvantages associated with a unique content generator. For one, it is relatively expensive to purchase and requires regular maintenance to maintain its full functionality. However, there are also some free generators like the unique content generator from neuroflash.
Moreover, the generator may not always achieve the desired effect. It may happen that the generated content does not meet the expectations. In such cases, it is often better to write the content yourself. Another disadvantage is that the content can often be used only once. If you want to use the same content again, you have to generate it again. This can take time and effort.
Finally, the biggest disadvantage of a unique content generator is that it is an automatic software. That means it is not possible to control certain steps or create the texts yourself. Thus, it is not suitable for every writing style.
Examples of use for a Unique Content Generator?
A unique content generator can be used for various purposes. Here are some examples:
Generate unique content for your website or blog. This will help improve search engine rankings and drive more traffic to your site. If you run your blog or website with regular news, you can also use a content generator to keep presenting your readers with new and up-to-date information
Use the generator to create unique product descriptions. This is helpful to increase conversion rates and generate more sales.
Use the generator to improve your email open rate and reach more customers. With the generator, you can create unique email content that will improve your email open rate and reach more customers.
Also for companies, the unique content generator is an ideal solution to always offer new and up-to-date content on their own websites. By generating content automatically, employees can focus on other important tasks and don't have to worry about constantly updating the website.
Unique content generator & the future?
The future of unique content generators appears in excellent shape. After many companies have worked successfully for several years in the field of production of software, as well as in the areas of marketing and sales, you can see what success they have achieved. Here you can find out about some unique content generators that are currently available on the market.
The unique content generator is an incredibly useful tool that will become increasingly important in the coming years. After all, the more content there is on the Internet, the harder it will be to stand out from the crowd. However, with the unique content generator, you can easily and quickly create unique texts that clearly stand out from the competition.
The concept of unique content generators works well and is very effective. It is often and gladly used as a marketing tool by companies to improve search engine optimization, generate clicks and attract new customers. 
A unique content generator is a software that can help you generate targeted content in minutes. There are many methods you can use to write new posts for your website – but only a unique content generator allows you to create more targeted text with minimal effort.
With a unique content generator you can define the framework of your topic for the text and from its default the software automatically generates relevant keywords and catchphrases as well as headings and paragraphs. Thanks to the intelligent relevance function of unique content generators, you will achieve faster success in ranking the website in search engine results. Shouldn't you have doubts? Then you can click here to read more about the benefits of a unique content generator here.