The Internet offers countless opportunities to make your brand known. One of them is social media marketing. But what exactly is it and how can you become successful with it? Whether it's Facebook, Twitter or Instagram: Each platform has its own rules and possibilities. We'll explain how to set up an effective social media marketing strategy, with or without a social media agency, and show you what to keep in mind!
What is social media marketing?
Social media marketing refers to the use of social media platforms such as Facebook, Twitter and LinkedIn to promote a business or organization. The main aim is to increase brand awareness and improve its image. The aim of social media marketing is also to attract new customers and strengthen the loyalty of existing customers.
To use social media marketing effectively, you first need to figure out what goals you want to achieve with it. Then you can develop a marketing strategy to achieve those goals. This includes choosing the right social media, creating interesting and high-quality social media content, and communicating with users. This is the only way you can build a strong social media presence and achieve your goals.
How social media marketing works: 6 tips for a successful marketing strategy
Social media marketing is a form of content marketing in which companies promote their products and services via social media such as Facebook, Twitter and Instagram. They use a variety of strategies to engage with their target audiences and convince them of the value of their products or services. In order to develop a successful marketing strategy, the following steps should be followed:
These goals can be short, medium or long term. For each goal, you should develop and prioritize actions. Unforeseen events such as a crisis can also be part of your business goals. Things don't always go the way you plan, but with a clear set of goals, it's easier to make the right decisions.
So ask yourself what you hope to get out of social media marketing and what you want to use social media platforms for. Do you want to increase brand awareness? Generate leads and sales? Expand your target audience? Connect you more with your existing audience? Generate more clicks for your site?
Any combination of these goals is possible and can help you better understand which social media platforms to engage with. When in doubt, keep your social media marketing strategy simple instead of complicating it with lots of goals. With clear and structured goal setting, you can get the most out of your social media marketing strategy.
A successful social media marketing strategy requires that companies know exactly which target group they want to address. To do this, first and foremost, you need to find out where your target audience is most active. Then you can decide which social media platforms are best for your purposes. Some examples are:
Facebook is a very popular social network used by millions of people worldwide. Businesses can create their pages on Facebook and connect with potential customers. They can also place ads to get more reach for their pages.
Twitter is also a very popular social network. On Twitter, companies can post short messages (called tweets) that can be read and shared by other Twitter users. Twitter is especially good for spreading news and communicating with customers.
Instagram is another popular social media platform. On Instagram, businesses can post photos and videos that can be liked and shared by other Instagram users. Instagram is especially popular with young people and is therefore particularly well suited for marketing trendy products and services.
TikTok is a video-only app that allows users to create and share short videos with music and effects. The platform has a number of features that enable marketers to get their content to the right audience. So you can create your own account and produce content or get other accounts to promote your service or product. TikTok reaches young target groups in particular.
LinkedIn is a business and employment-oriented social network. It is designed primarily for professionals and businesses and offers its users the ability to create online profiles and contact other members or produce and share their own social media content. Therefore, LinkedIn is particularly suitable when you want to reach entrepreneurs and experts.
No matter what your goals are or what industry you're in, your social media marketing strategy should absolutely be data-driven. An effective marketing strategy for social media is based on numbers. However, these numbers need to be put into a context that is consistent with your original goals. Here are some important numbers to watch out for:
Reach: The reach of a post is the number of unique users who have seen your post. How much of your content actually reaches users' feeds?
Clicks: This is the number of clicks on your content or account. It's important to track clicks per campaign to understand what piques users' curiosity or encourages them to buy.
Engagement: The total number of social interactions divided by the number of impressions. This tells you how well your audience perceives you and how willing they are to interact.
Hashtag performance: which hashtags were used most often? Which hashtags were most associated with your brand? This data can help you focus your content in the future
This is the point that social media marketing thrives on. Content marketing cannot succeed without interesting and engaging social media content. It is especially important to regularly publish new and up-to-date content, as social media is very fast-moving. From text posts to videos and beyond, many brands rely on the same content formats and creative elements over and over again. These topics can help you become more consistent and develop a meaningful content strategy. There are many different types of content that can be shared on social media: .
Collaborations: It pays to share collaborations with other companies, brands or influencers on social media. By sharing the collaboration on various social media platforms, you can increase the engagement of your target audience. People love to see content co-created by brands and influencers. It also allows you to reach new customers who may not have known about your brand before.
Events: If you or your company will be attending events, it's an excellent idea to share this on social media as well. It shows that your brand is present in your industry and informs followers where and when they can interact with you. So by sharing events, you can present something new and exciting to your audience and create an incentive to interact with your brand. This way you can increase your reach and engagement growth as well as attract new customers.
New features/services/products: If your company is offering new features, services or products in the future, be sure to share this with your followers on social media. There are two main reasons to share such news. First, it can show that the brand and the company are constantly evolving, generating more attention and interest. Second, it can help customers stay informed and up to date. For example, when you release a new feature, you can tell your customers how it helps them use your services.
New content: Website content such as new landing pages or blog posts and guest articles can also be shared on social media. For one thing, you can use it to expand your audience and attract new readers. Also, you can increase the visibility of your website and generate more traffic. If you publish interesting and quality content on a regular basis, it will have a positive impact on your business.
Reviews: Whether reviews on review sites like. OMR Reviews or posts from other experts and influencers, it is recommended to share positive feedback about your brand on social media. The experiences of others lend credibility to your brand and business, and help new customers build trust and make a decision.
Not only are you expected to post new content regularly, but you're also expected to be there for your followers. Creating a timeline can help better schedule social media posts and interaction with followers. Take time to consider the best times to post on social media to ensure your social media content gets enough engagement. For a larger company, a social media manager can be Help coordinate posts and community interactions.
After a while, you should have developed a comprehensive understanding of your social media strategy. However, it's still important that you keep adjusting this strategy over time. Without continuous analysis of your efforts, you'll never know how one campaign performed compared to another. This is where a bird's eye view of your social media activity can help and put things in perspective. This means you should look at your best performing content to adjust your campaigns accordingly, especially if your content is stalling.
Much of social media marketing starts with carefully examining your data. So you can react in the short term to get the most out of your current campaigns, and then use those insights proactively to revise your next strategy.
10 reasons why you should do social media marketing
Social media is a great way to connect with potential customers.
Social media helps you raise awareness of your brand.
Social media can help you drive more traffic to your website.
Social media is a great way to connect with your target audience.
Social media can help you increase your visibility.
Social media is a great way to be more flexible in responding to customer needs and feedback.
Social media is a great way to connect with other businesses.

Social media is a great way to engage with your competition.

Social media is a great way to get feedback from customers and prospects.

Social media marketing can have an impact on your site's search engine ranking.
Do you need a social media agency?
If social media marketing is getting on top of you, there is also the option of using social media marketing agencies. Social media agencies are companies that specialize in creating and managing social media campaigns for other businesses. They take charge of planning, executing and analyzing their clients' campaigns and create customized strategies to achieve their clients' goals. They also provide consulting and training for clients to help them more effectively design and manage their own social media campaigns.
Using a social media marketing agency has many advantages. First of all, such agencies can do the marketing work effectively and efficiently. This is important because in today's world it is becoming increasingly difficult to attract attention and win customers. Agencies also have the experience and knowledge to develop the right strategies for your business. They can help you reach your goals faster and increase your sales.
The downside, however, is that social media agencies are very expensive. A good agency will cost at least 500 euros per month. That's a lot of money, and it's not necessarily something every entrepreneur can or wants to spend. Another disadvantage of using a social media agency is that they are often not as good as promised. Many agencies promise great things, but in the end they don't deliver. This can be very disappointing and result in a big loss. Finally, it is important to remember that social media agencies are not a magic bullet. It can be a great tool, but it is not a guarantee of success.
As an alternative to a social media agency, you can also use other services. For example, did you know that you can use artificial intelligence to write social media posts? For example, with the free neuroflash AI Text Generator, it is possible to create various social media posts from Instagram to LinkedIn: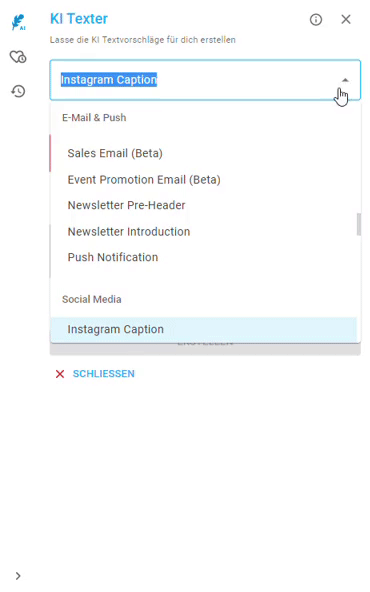 So the neuroflash generator can support you if you lack the right words for your social media post, or you just don't know what to write. How you can use the social media function of neuroflash, we explain here:
Social media marketing is an effective way to connect with your target audience. By interacting with users, you can identify with your brand and build a bond with them. However, you should be thoughtful when choosing platforms and designing your content to ensure you achieve your goals. So use social media marketing consciously and effectively to be successful in the long run.