Writing is an art, but it is also a skill that requires practice and extensive knowledge of language and grammar. With the emergence of AI writing tools, it has become easier for writers to craft content that is both impactful and error-free. One such tool that has been making waves in the writing community is Perplexity AI Chrome Extension. This cutting-edge tool promises to deliver unparalleled writing assistance by generating suggestions and corrections in real-time. But how does Perplexity AI Chrome Extension compare to other top writing tools out there? In this blog post, we'll explore the features and benefits of Perplexity AI Chrome Extension and examine how it stacks up against other writing tools. Let's dive in!
What is Perplexity AI Chrome Extension?
Google Chrome Store has numerous extensions that help content writers to create high-quality content and maintain focus while working. Having the right extension can make your content writing simpler, more comfortable, and more fun. That's why Perplexity AI Chrome Extension was designed to help content writers achieve these goals. One of the distinguishing features of Perplexity AI is its ability to help writers generate new ideas for their content.
Perplexity AI Chrome Extension is an AI-powered writing tool designed to help content writers create high-quality content efficiently. It offers several unique features, including topic generation, detailed suggestions, and affordability.
Perplexity AI Chrome Extension Features:
Perplexity AI Chrome Extension is designed to help content writers in various ways. For instance, it can:
Instant summary of your current page
Quickly ask any question from your toolbar
Ask questions about your current page
Ask questions focused on your current domain
Share your answers with a link
Click to ask follow-up questions
One of the most significant benefits of Perplexity AI Chrome Extension is the ability to speed up the content creation process. It's an excellent tool for those who want to write high-quality content quickly and efficiently.
How does Perplexity AI Chrome Extension Compare with other AI Writing Tools?
Perplexity AI Chrome Extension has numerous competitors in the AI-based writing tool market. While Perplexity AI Chrome Extension may appear to be a promising AI-based writing tool, it falls short of distinguishing itself from its competitors. Despite claims of providing precise and accurate suggestions based on input content, discerning writers seeking a tool that truly delivers should look beyond Perplexity AI. While some may argue that it is a viable option, it is generally agreed that the level of precision and accuracy that the tool provides does not measure up to expectations.
For instance, Grammarly is one of the most popular AI writing tools that offer specific and detailed feedback, including extensive grammar and spell check features. Likewise, ProWritingAid is an excellent editing tool that provides a comprehensive analysis of the content, making it appealing for individuals who are looking to create professional content. Hemingway Editor is another highly effective AI writing tool, providing real-time analysis of the content, highlighting potential edits and restructuring suggestions.
Perplexity Chrome Extension or ChatFlash Browser Extension?
However, we cannot continue this analysis to figuring out if Perplexity AI Chrome Extension is truly the top-notch tool for your browser because there's another contender in town – ChatFlash Browser Extension. The latest addition to the browser extensions framework, neuroflash AI text generator extension has made its debut and it's available on not only Chrome but also Firefox with Safari soon joining in too! This nifty little gadget offers all of the same features as an app would, except now you get them more conveniently. We'll explain why below.
With AI technology at its core, this innovative tool is designed to simplify and streamline all of your work-related tasks. From creating social media content to responding to emails. By incorporating AI into your daily routine, you'll be able to work smarter, not harder. Freeing up valuable time and resources that can be better spent on other important tasks. Don't let outdated methods hold you back any longer. Take advantage of this powerful tool today and experience a whole new level of productivity and efficiency in your professional life! Try today ChatFlash – ChatGPT with your own voice.
Top features of ChatFlash Browser Extension vs Perplexity AI Chrome Extension:
Your neuroflash account will be directly linked so you can pick up exactly where you left off. You can resume work without the need to copy and paste every time you switch tabs. Our seamless integration eliminates the hassle of constantly switching between tabs, saving valuable time that could be better spent on other tasks. By effortlessly picking up where you left off with direct linking, our innovative solution streamlines your workflow for maximum productivity. Say goodbye to tedious copying and pasting – make use of this game-changing feature today!
1. Rewriting content:
Give commands like "Summarize the content above in 3 bullet points" for quick summaries or repurposing options. Do you want to save time and energy in summarizing content? Well, then be sure to give commands directly into your ChatFlash chrome extension, to get quick summaries and repurposing options. This will help you to save time and effort, allowing you to focus more on the crucial aspects of the job. So, make sure to use this method for all your summaries and repurposing needs.
2. Responding emails:
Responding to emails has never been easier. Copy/paste any email into our user-friendly interface and let it write your reply for optimal efficiency!
3. Social Media posts:
Creating engaging social media posts has always required time-consuming effort… until now. Open up our browser extension on any platform. Then tell ChatFlash what kind of post would suit your brand style perfectly. As simple as that!
4. Brainstorming:
Brainstorm new ideas without losing focus thanks again due direct integration between websites & chatbot personalities available within app itself.
5. Personalities:
With customizable tonality settings tailored specifically towards your voice as well as unique personality traits built right in. There's no limit when it comes down how much control over messaging output one wants out their digital assistant companion.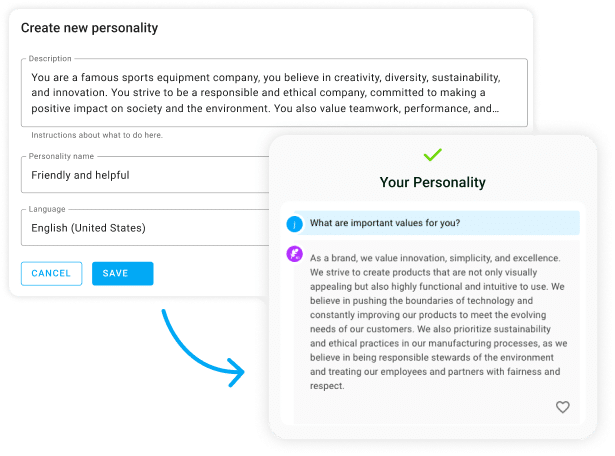 Chatflash Chrome Extension is user-friendly and easy to use, offering an excellent alternative to Perplexity AI Chrome Extension. It allows you to engage with other writers and editors, making content creation an interactive experience.
With ChatFlash Chrome Extension, you'll be able to take your writing skills to the next level. This powerful tool is designed with user experience in mind, ensuring that even those who are new to content creation can use it with ease. Unlike Perplexity AI Chrome Extension, which can often feel overwhelming and confusing for beginners, ChatFlash offers a simple and intuitive interface that makes collaboration easy. Don't settle for less when it comes to creating compelling content. Choose ChatFlash Chrome Extension today and start taking advantage of its many benefits!
Conclusion
In conclusion, while Perplexity AI Chrome Extension may work for some content creators, ChatFlash Chrome Extension offers a unique set of features that make it the ideal alternative. It provides a more interactive and collaborative experience for content creation while also providing instant feedback and answers to your questions. Therefore, if you're looking for an effective writing tool that can truly take your content creation process to the next level, ChatFlash Chrome Extension is the go-to option.
Ditch writer's block and let the AI inspire you, generate texts in a second and create realistic images. With the integrated workflows, you'll finish your first draft 10x fast and boost ad conversions with better copy in a second. You can also use the integrated SEO tool to optimize your content for search or use the plagiarism checker to make sure your content is unique.
Everything you generate is yours and can be used wherever you want.
Download and install the browser extension in a few clicks and make neuroflash your inseparable online companion: