What is an Instagram Caption Generator?
For those of you who don't know, Instagram is an incredibly popular photo-sharing app that allows users to post photos and videos, follow other users, and like and comment on posts. There are many reasons why Instagram is as popular as it is. Some people enjoy the visual aspect of the platform, while others enjoy the community and connecting with friends and family. Additionally, Instagram has a variety of features that keep users engaged, such as filters, hashtags, and location tags. Fact is, Instagram is one of the biggest and most significant social media platforms of our time.
Subsequently, an Instagram Caption Generator is a tool that can help you come up with creative and engaging captions for your Instagram posts. All you need to do is enter a keyword or two related to your post, and the generator will provide you with a list of potential captions to choose from. There are a few reasons you might want to use an Instagram Caption Generator. Maybe you're feeling uninspired and need a little help coming up with something clever to say. Or, maybe you want to find a way to stand out from the crowd and make your posts more engaging. Whatever the reason, using a caption generator can help you save time and come up with captions that you might not have thought of on your own.
Why using an Instagram Captions Generator can pay off big time
According to Adam Mosseri, the Head of Instagram, the amount of time people spend viewing your content is very important to the Instagram algorithm. He also said that the Instagram algorithm favors content that keeps people engaged and coming back for more. Thus, there are numerous factors that you need to take into account when uploading content on Instagram, like using attractive visuals, responding to comments and questions, sharing your content on other social media sites and making sure that your captions are interesting and engaging.
If your captions catch the attention of your followers and other users, then those people are more likely to view your posts and read through the descriptions, which leads them to spend more time on your Instagram page. This can ultimately lead to more opportunities for you to engage with your followers, which can in turn result in a stronger connection between you and your community. Additionally, it can lead to more opportunities for you to promote your brand or product.
However, with the overflow of images on the average Instagram feed, your post really has to stand out so that your followers stop scrolling and like or comment on your image. This is where the Instagram Caption Generator comes into play. By using a caption writer for your Instagram captions, you can profit off of multiple benefits:
An Instagram Caption Generator can help you come up with creative and catchy captions for your posts and to find the best hashtags to use.
An Instagram Caption Generator can help you save time by generating captions for you. The app will automatically generate captions for your photos, making it easier and faster for you to share them with your friends.
An Instagram Caption Generator can help you improve your engagement by providing you with captions that are more likely to get people to engage with your posts.
An Instagram Caption Generator can help you increase your reach by providing you with captions that are more likely to get people to share your posts.
With an Instagram Caption Generator, you will never be stuck on what to say for a photo ever again.
So, if you're looking for a way to take your Instagram game to the next level, an Instagram Caption Generator is a great option to consider.
How to use an Instagram Caption Generator to make your posts stand out
If you're looking to improve your Instagram page, then using an Instagram caption generator can be a great way to do so! Even though it might sound complex at the first glance, using an Instagram Caption Generator is actually quite easy.
Find a caption generator. There are many different caption generators out there, so find one that you like the look of and that seems easy to use. You should also make sure that the caption generator you choose suits your style and needs. 
Choose the photo you want to use and prepare it for upload to Instagram. It's necessary to have decided on what photo to upload, since you need its attributes to generate a fitting caption.
Enter some keywords related to the photo, such as what it is of, what you can see in the photo, or what feeling you want to convey with it. Make sure the keywords you enter are relevant to your post.
Choose the perfect caption for your Instagram posts. The best caption generators will provide you with a variety of options to choose from, so take your time and pick the one that best fits your content. Take the time to read through the generated captions and edit as needed. Don't just settle for the first one you see! If you don't like the generated captions or the keywords you chose are not adequately represented in the results, you can simply generate new captions.
Have fun with it! Don't be afraid to experiment and try out different caption ideas. Once you are happy with the results, copy and paste the caption into your Instagram post, upload to social media and voila – watch your engagement level and follower count increase!
Explore the neuroflash Instagram Caption Generator
To visualize this process, let's give you an example with the neuroflash text generator. neuroflash uses a natural language processing model to create up to fifty different text types fast and effectively with AI. Thus, neuroflash can also be used as a caption writer and includes text types like Instagram captions and other social media posts. 
For our example, imagine you are on a trip to a relaxing spa for a weekend with your dog. You are wearing your soft spa robes, enjoying a bottle of sparkling water together and just launching on the hotel bed. You take the following picture:
Now, that is a cute and funny picture worth sharing! However, you still need a fitting caption to make this the perfect Instagram post. You can use neuroflash to quickly generate a creative caption for you. All you need to do is select the Instagram Caption text type in the menu and describe your picture to the AI: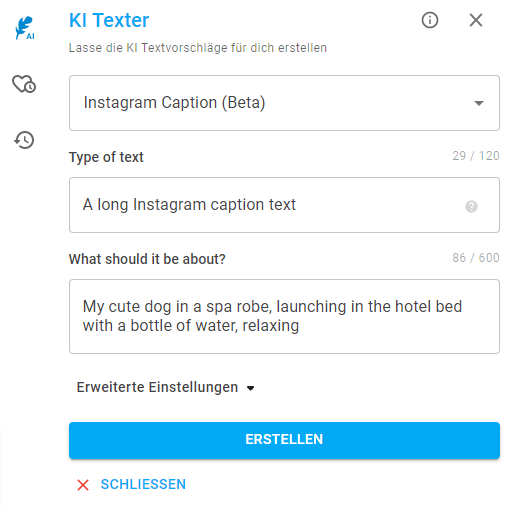 Then, all it takes is one click and the AI starts to generate captions for you: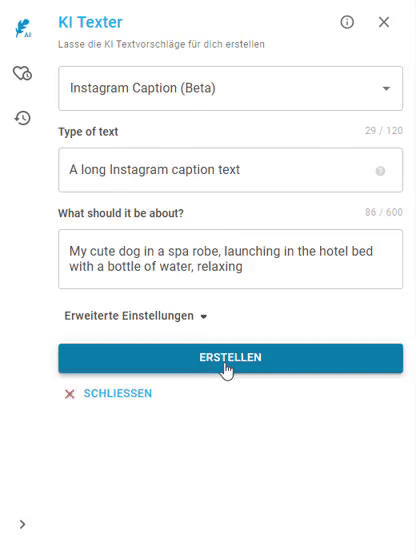 If you are not a fan of the generated captions, you can simply reload the results to create different captions:
Just select the caption that you like the most and that suits your post the best. Now, you are ready to upload to Instagram! With neuroflash, you can write all kinds of social media posts within seconds:
With an Instagram Caption Generator, you can easily take your Instagram game up a notch. With just a few clicks, you can easily add witty and positive captions to your photos that will make them stand out from the rest. So why not give it a try and see for yourself how easy and fun it can be? With the neuroflash generator you can start right here, right now and completely for free!