Copywriting tools help with product description writing and content marketing. This is especially important in the era of social media, where effective and fast content creation is becoming more and more relevant. A copywriting tool is a helpful support here, because it uses text templates that guide and support the user in creating content. For example, the tool reminds the user which words they have used and makes suggestions on how best to structure a text. We explain how copywriting tools are revolutionizing the market in a short video:
What are Copywriting Tools?
Copywriting tools are special tools that help users create product descriptions, advertising copy, and other content to assist them in content marketing. For example, it helps you sort out your thoughts and present them effectively on paper or in a document. A good copywriting tool should be able to help you create clear and understandable texts that will appeal and convince your readers. 
Furthermore, copywriting tools not only support copywriters in writing texts, but also create a visual framework to structure and format the text. In addition, copywriting tools can instantly translate texts into different languages, making the content available to other audiences. This diversifies your content and increases the chance that it will be shared on social media sites.


Copywriting Tools- advantages?
A copywriting tool is a very useful product to create texts written for attracting customers. Below are 3 reasons why you should use copywriting tools.
The fast creation of texts: One of the biggest advantages of copywriting tools is that they can quickly provide suitable texts for any purpose. There are countless ways to find texts, but it is extremely time-consuming to research and write them manually. Most of the time, this work has to be done by a human, so potential clients often have to wait a long time for new content. The copywriting tool already includes many types of texts of various categories and in many languages and can create and present them without any time delay.
The quality of the texts: The quality of the texts plays a crucial role. Although many freelance writers are good at writing texts such as blog posts or product descriptions, but still the creativity and inspiration of people sometimes decreases. This point does not occur at all when using copywriting tools, as they have access to a huge database of ready-made texts. As a result, a copywriting tool can effectively create innovative content where the quality of the text is as good as that of a human.
The flexibility of the rewritten text: The flexibility with which one can create rewritten texts is usually in the hands of the author. With a copywriting tool, the ability to put an unlimited amount of ideas on paper is no longer limited. Any content can be created in seconds to be used for your website. The tool determines what text fits on a particular day in a particular place and what words you should use to do well in content marketing.
To visualize these advantages, we will show you an example with the free neuroflash Copywriting Tool. Just enter a few short markers and the tool will spew out ideas for you: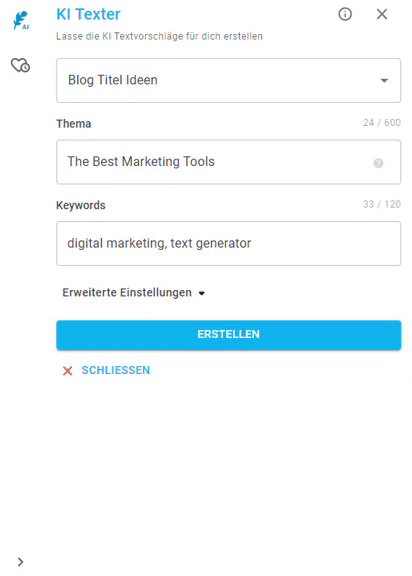 Furthermore, the tool can easily resume texts for you: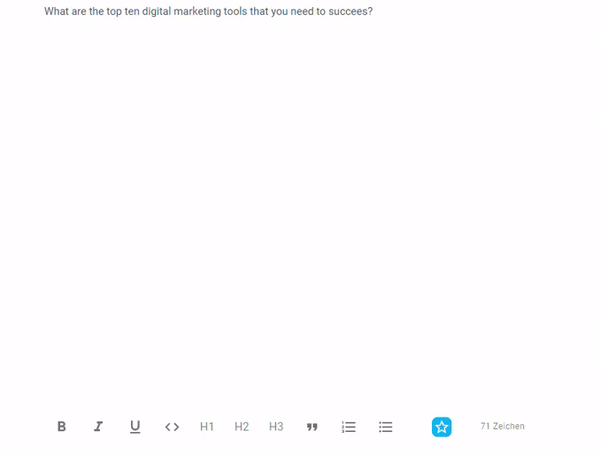 What are possible disadvantages of copywriting tools?
Copywriting tools are useful, but they can't meet all the needs of a marketer. Remember that copywriting tools ultimately only help you write the content and find the right keywords. Therefore, you should still work out other marketing strategies and communication strategy to maximize your successes. Other disadvantages include:
Some people believe that using copywriting tools can limit the creativity of the writer.
Some people believe that it is easier to hire a professional copywriter than to deal with it themselves.
There is always a risk of getting lost and losing track of things when using a copywriting tool.
What are uses for a copywriting tool?.
Copywriting tools can be used for many different purposes. Here are some examples:
A company can use a tool to improve its website content. This can increase the conversion rate of the website and generate more traffic.
An online store can use a tool to improve its product descriptions. This can increase sales and attract more customers.
A blogger can use a tool to improve his blog articles. A copywriting tool helps you improve your articles in different ways, for example by adding images, videos or other multimedia elements.
Ultimately, copywriting is a very broad field. Copywriting tools are therefore usually developed specifically for the industry in question. However, there are also copywriting tools like neuroflash with which you can create many different types of text such as product descriptions, slogans, banner ads and even more:
Copywriting Tools & the future?
The future of copywriting is the future of advertising. The world is becoming more and more connected and people are increasingly influenced by digital media. Advertising must adapt to this development and appeal to people in interesting and creative ways.
Copywriting tools are plentiful these days. The biggest known copywriting tools are probably Google Adwords, Google Adsense and Facebook Ads. These tools play a big role especially in search engine optimization. The big advantage of copywriting tools is that you no longer have to go to various search sites yourself to see how certain keywords are rated, but get the rating displayed directly.
Finally, one should distinguish whether one needs a tool to do copywriting work or whether one just wants to collect information. The future of copywriting tools seems uncertain here. As you can see here and here, there are already many good programs that can help copywriters in their work. So there seems to be no end in sight for new developments of this kind of tools.
A copywriting tool is essential when it comes to writing powerful and positive texts. With them, you can improve your writing style and take your texts to the next level. Copywriting tools help you write faster, more effectively, and more creatively. They can help you find the right tone for your content, generate interesting ideas and organize your thoughts better. With the right copywriting tool, this can give you a huge advantage over your competition.