Although content creation software is becoming increasingly important, there are few content software products on the market. Many website owners need professional tools for their content management to create content and improve their content rating. Nevertheless, most content software programs do not have professional quality.
Most companies need content creation software that works reliably and is easy to use, like neuroflash content creation software. Do you want to know what are the advantages of such content creation software and how to use it? Then just read on!
What is content creation software?
A content creation software is a software that helps the user with his content management, in that the program produces content for websites. These tools provide a way to manage information in an organized way, explain complex concepts in simple words or write articles for publications. To help you stay on track, here are a number of different content tools you can use for your website.
Content creation software is especially useful for people who need to write texts on a regular basis. Thus, the neuroflash content creation software also provides a large variety of text templates:
On top of that, the software allows you to create content by simply entering some keywords that you want your content to be based on. The software will then generate an article or content based on these keywords.
You just have to enter some simple keywords related to your topic to create new ideas for possible content: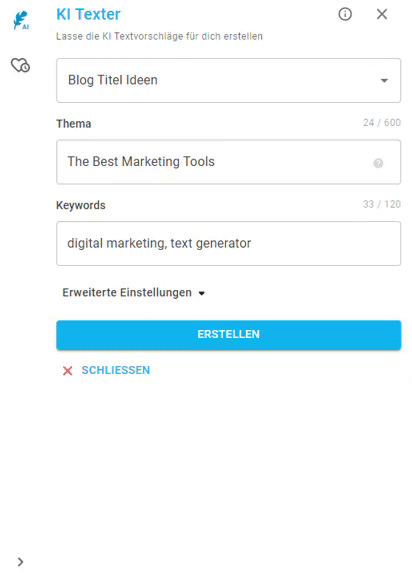 Furthermore, the neuroflash software can easily continue sentences for you: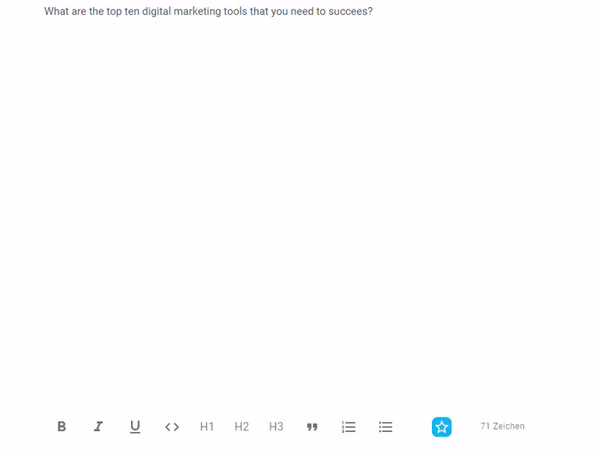 What are the benefits of content creation software?
As you have already seen, content creation software brings great advantages. You can find some of them listed here:
First of all, content creation software makes content creation much easier. It boosts your content rating and supports you in your content management. It provides a structured environment in which you can organize and present your thoughts. It also often includes useful features such as an integrated dictionary or spell checker. 
With content creation software you can make your content more professional and appealing. You can be sure that your content will remain at a high level. The software will take all the necessary steps to ensure that your content is well written, researched and optimized. Additionally, by using the different features, you can add a personal touch to your texts and customize them to your needs.
Another advantage of content creation software is that it is easy and can be used by everyone. The software is not installed on a computer, but can be used online from anywhere. So the user does not need to own a high-end PC or expensive laptop to use such software and since everything is stored online, it does not matter if the computer does crash.
Finally, you can be sure that your content will be kept up to date, which will help in your content management. The software constantly monitors the latest developments in your niche and ensures that everything stays up to date.
What are possible disadvantages of content creation software?
One of the main problems with content creation software is that it can't perfectly mimic a human's writing style. So when you have a blog article or other piece of content created, the style may not be quite as convincing as you would like. In addition, the software may also make mistakes or use inappropriate words, which will affect the quality of the overall content.
Another disadvantage of content creation software is that such software is often expensive and has a steep learning curve. It is also often the case that you have to subscribe to the software, which incurs additional monthly or annual costs. Only a few providers like neuroflash also offer free content creation software.
What are use cases for content creation software?
Content creation software can be used in a wide variety of areas. For example, it can help with the creation of webinars, online courses or e-books. It is also suitable for creating newsletters, blog articles or social media posts.
Content Erstellungssoftware ist auch oft als Content Management System (CMS) bezeichnet. Einige Beispiele von Anwendungen dieser Software sind: WordPress, Drupal, Joomla, Typo3.
Content creation software & the future?
Content creation software is also often referred to as content management system (CMS). Some examples of applications of this software are: WordPress, Drupal, Joomla, Typo3.
This will be especially the case when it comes to creating longer and more elaborate content. However, it is also important to note that the future of content creation software is not just in the hands of businesses. Consumers will also play an increasingly important role in content creation.
With the increasing demand for personalized and interactive content, more and more consumers are becoming actively involved in the content creation process.
Furthermore, it is expected that in the near future content creation software will be able to handle images, videos and audio files. This means that a website will look like it was made by humans.
Content creation software, often called Content Management System (CMS), is a tool for creating content. The CMS provides various functions that enable publishing of content and allow to customize the design of the website. This software can be used both online or as an app and provides a set of functions for content management of the website.
There are different software systems with different functions. The appropriate product should be chosen according to the needs of the user. Here you can find a comparison of different content creation software.