Your profile: You are an editor and looking for a tool to write your texts automatically? Then you need an AI content writer tool.
Most businesses need an AI content writer tool that works reliably and is easy to use. Do you want to know what this topic is all about and what advantages such an AI content writer tool can offer you in the field of content creation and content marketing? Then just read on!
What is an AI content writer tool?
An AI content writer tool is a software that helps users with their content creation and content marketing by having the program produce content for websites. These tools provide a way to manage information in an organized way, explain complex concepts in simple words or write blog posts for publications.
An AI content writer tool is especially useful for people who need to write texts and create SEO content on a regular basis. Thus, the neuroflash AI content writer tool also provides a wide variety of text templates, from blog posts to product descriptions: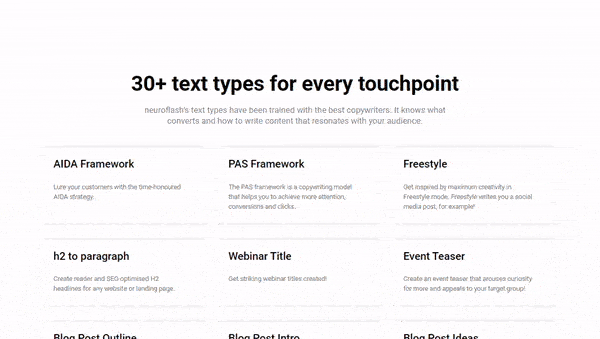 On top of that, the software allows you to create content by simply entering some keywords that you want your content to be based on. The software will then generate an article or content based on these keywords. For example, if you want to create blog posts this is no problem for neuroflash:
What are the advantages of AI content writer tool?
As you have already seen, an AI content writer tool brings great advantages. You can find some of them listed here:
First of all, an AI content writer tool makes creating SEO content much easier. It boosts your content rating and supports you in your content marketing. It provides a structured environment in which you can organize and present your thoughts. In addition, the tool often includes other useful features, such as an integrated dictionary or spell checker. 
With an AI content writer tool, you can make your content more professional and appealing. You can be sure that your content will remain at a high level. The tool will take all the necessary steps to ensure that your content is well-written, researched, and optimized. Additionally, by using the different features, you can add a personal touch to your texts and customize them to your needs.
Another advantage of an AI content writer tool is that many tools are easy and for everyone to use. The software is not installed on a computer, but can be used online from anywhere. So, the user doesn't have to own a high-end PC or expensive laptop to use such a tool and since everything is saved online, it doesn't matter if the computer does crash.
Finally, you can rely on your content to stay up to date, which is what an AI content writer tool helps you with. The tool constantly monitors the latest developments in your niche and makes sure that everything stays up to date.
What are possible disadvantages of an AI content writer tool?
One of the main problems with an AI content writer tool is that it can't perfectly mimic the writing style of a human. So if you have blog posts or any other piece of SEO content created, the style may not be quite as convincing as you would like. Moreover, the tool may also make mistakes or use inappropriate words, which will affect the quality of the overall content.
Another disadvantage of an AI content writer tool is that such tools are often expensive and they have a steep learning curve. It is also often the case that you have to sign up for a subscription for the tools, which incurs additional costs on a monthly or annual basis. Only a few providers like neuroflash also offer free AI content writer tools.

What are use cases for an AI content writer tool?
An AI content writer tool can be used for many different purposes. Here are some examples of use for such a tool:
A company can use an AI content writer tool to improve its website content. This can increase the conversion rate of the website and generate more traffic.

An online store can use an AI content writer tool to improve its product descriptions. This can increase sales and attract more customers.
A blogger can use an AI content writer tool to improve their blog articles. A copywriting tool helps you improve your articles in different ways, for example, by adding images, videos or other multimedia elements.
Ultimately, content creation is a very broad field. AI content writer tools are therefore usually developed specifically for the respective industry. However, there are also copywriting tools like neuroflash that can be used to create many different types of text such as product descriptions, slogans, banners and more.
AI content writer tool & the future?
The future of content creation is the future of advertising. The world is becoming more and more connected and people are increasingly influenced by digital media. Advertising must adapt to this development and address people in interesting and creative ways.
AI content writer tools are available in abundance these days. The big advantage of AI content writer tools is that you don't have to go to different search pages yourself to see how certain keywords are rated, but get the rating displayed directly.
Finally, one should distinguish whether one needs a tool to do writing work or if one just wants to collect information. The future of AI content writer tools seems uncertain here. As you can see here and here, there are already many good programs that can help content writers in their work. So there seems to be no end in sight for new developments of this kind of tools.
These days, writing content is difficult. The time you have to invest to write content is enormous. The AI Content Writer tool is a great help in this regard. It automatically creates content at the level of a human, based on artificial intelligence and databases. You can use the tool for different purposes to improve your content marketing.