When it comes to content recommendations, artificial intelligence is the best choice. This is because artificial intelligence can analyze content and use machine learning to select specific topics that are really interesting for the reader.
This is especially important in the fast-paced digital economy. So how can I ensure that my content is always up to date and relevant? We explain this and much more in this entry.
What does content recommendations with AI mean?
Content recommendations with AI means nothing more than that an artificial intelligence helps you find new content for your blog. Such recommendations are an incredibly valuable tool for your blog's content management. It can also help you further increase the success of your blog and prove yourself in the competitive digital economy of the internet. This is because they help you find the right content for your readers.
There are two types of content recommendations: appropriate and exclusionary. There are two types of content recommendations: corresponding and excluding.
In the corresponding type of content recommendations, a user is provided with content based on their previous behavior and interests. This is the most common method of recommending relevant content.
Excluding content recommendations are used to withhold content from a user that they have already consumed or that does not match their interests. This is a less frequently used method, but it can be very useful in certain situations. Content recommendations therefore make it possible to connect websites with the same interests.
What are the benefits of content recommendations with AI?
The advantages of content recommendations with AI lie in the wider spectrum that the software offers, as well as the possibility of gaining better access to the needs of customers through the process used. For example:
Artificial intelligence can filter and prioritize content that is relevant to the reader.  The most important advantage of content recommendations with AI is that they can significantly facilitate the marketer's work. This is because through machine learning, AI-based systems can very accurately determine which content is most relevant to a particular user. As a result, marketers no longer have to invest as much time in research and content management and can instead focus on producing high-quality content.
AI can suggest content that was previously unknown to the reader. AI can determine what content might be of interest to the reader. This means that AI can also suggest content that was previously unknown to readers. This led to the reader increasingly learning about new topics and your blog gaining innovative value.
AI can personalize content to meet the individual interests of the reader. Content recommendations with AI can also be an important part of keeping customers happy. Through machine learning, AI is able to more accurately determine what content interests readers and what does not. This allows it to point people directly to new topics and therefore market them better. Ultimately, AI is able to gain better access to customer needs and therefore increase customer satisfaction.
AI can dynamically adapt and update content to stay current. AI has another major advantage over human editors. Humans have to research, create or update the same content over and over again. Artificial intelligence's machine learning allows it to do the same work in less time. For example, at the touch of a button, neuroflash's AI generates up-to-date content recommendations on the topic of the digital economy: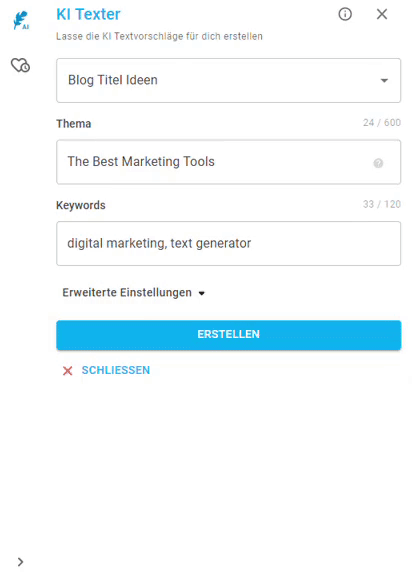 What are the possible drawbacks of content recommendations with AI?
Some users are skeptical about machine learning and using AI in their blog content recommendations, as they are convinced that this system will not work reliably. They feel that the recommendation process will be more helpful from a human with a lot of experience and deep knowledge about the customers.
In fact, content recommendations with AI can have drawbacks if not used properly. For example, it can be difficult to understand the exact algorithm that artificial intelligence uses to recommend content. As a result, some users may feel that they are not getting the best possible results.
Furthermore, this can lead to users only seeing content that is recommended to them by the AI and no longer the content they actually want to see. Finally, it is also possible that the artificial intelligence makes mistakes in recognizing the relevance or context of content.
What are use cases for content recommendations with AI?
The main use cases of content recommendations with AI are:
View content that certain people like.
Display content that has been viewed the most.
Display content that performs best for a search term.
Content recommendations with AI are finding a lot of use, especially in digital marketing. If you want to learn even more about it, just take a look here.
Recommendations are based on the behavior and interests of users. For example, they can collect information about the user's likes and dislikes by evaluating website statistics. The concept also uses data from social networks and information about the company's products and services. This allows their blog content to be optimized quickly and effectively.
Content recommendations with AI & the future?
Artificial intelligence is on everyone's lips. It is no longer just the future, but has already become part of our everyday lives. For example, AI is often used in marketing or sales. Automated chatbots can help to better advise potential customers and thus increase sales.
Overall, it can be said that content recommendations with AI will play an increasingly important role. This is because the technology is improving all the time and thus also becoming increasingly effective. This means that more and more companies can benefit from the advantages of this method and offer their customers even better content. There are already a variety of useful programs and tools that can recommend content for your website.
In the future, algorithms will be even better able to understand a user's context and make personalized recommendations accordingly. 
The competitiveness of companies often depends heavily on their own content management, because this is crucial for the attractiveness of the company. One of the biggest challenges in content management is finding new content.
It's clear that the future of content management and marketing lies in the personalized, intelligent use of AI. Creating content recommendations with AI based on individual user needs and preferences can ensure that the right message gets to the right person at the right time. This will not only reach the target audience, but also strengthen the bond between brand and customer.