When it comes to social media, the choice of different platforms and tools is almost endless. Which one should you use? And above all: for what purpose? In this blog post, I'll introduce you to the different options and give you an overview of the features of each social media tool.
What are social media tools?
Social media management tools are dynamic web applications that allow users to manage social networks like Twitter and Facebook more easily. There are many different social media tools on the market, but some of the most popular and widely used are Hootsuite, Sprout Social, and Buffer. These platforms offer users a number of useful features, including:
Real-time updates on the latest activity on social media;

The ability to schedule and publish posts;

Detailed analysis function for all actions taken on social media;

Integration with other enterprise applications
Why do you need social media management tools?
Social media management tools are important because they help businesses build and maintain a strong online presence. With the right tools, companies can effectively manage their social media channels and reach their target audience. The right tools also make it easier for companies to plan, create and share content, and interact with customers and prospects.
Social media management tools are a great way to increase your brand's reach and engage with your target audience. These tools allow you to schedule your posts to ensure your content is always online at the right time. Additionally, with most tools you can also track the interaction with your followers and see which posts are particularly well received.
How do you find your target group?
The first step is to consider which social media are best suited for your target audience . For this, it is important to analyze and define the target group precisely. What age group, gender and social class does it include?
The interests of the target group are also important. What topics are people in the target group interested in and what content might appeal to them? Keeping these points in mind, you can start looking for your target audience on the respective social media platforms. There are several ways to do this. For example, you can use relevant hashtags or search for the relevant terms in the search engines.
Forums and groups can also be a good way to find your target audience. Here, however, you should also be careful not to end up on unsuitable platforms or in unsuitable groups.
How do you build a strong online presence?
There is no set way to build a strong online presence. However, some companies are more successful than others. This article describes the steps you can take to make your business more popular online and attract more customers. The importance of social media for a company's marketing cannot be overestimated. However, there are a few things to keep in mind: The target group, platform selection, and content strategy must be coherent.
So what strategies do successful entrepreneurs pursue?
1. define your target group
Before you do anything else at all, you need to know who you want to target with your social media presence. Only if you know exactly which people or companies you are targeting with your offer can you choose the right channels and content.
2. choose the right channels
There are different social networks and not every one is suitable for every purpose. So before you focus on one or more platforms, you should research where your target audience spends the most time.
No one reads or watches something that is of no use to them. So if you create content that is relevant to your target audience and adds value to them, the likelihood of it being shared and liked increases.
At the same time, you should also be creative and produce interesting content that suits you. Because that's the only way you can stand out from the competition and generate attention.
Social media isn't a one-time thing – to be successful, you need to post new content and interact with your audience on a regular basis. If you don't, your followers will soon lose interest and stay away.
Social Media Tools: Advantages and disadvantages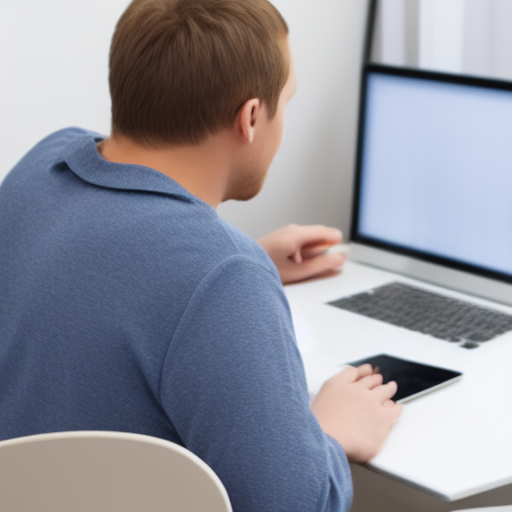 There are both advantages and disadvantages associated with using social media management tools. Benefits include allowing businesses to manage and grow their social media presences. This can help increase the visibility of the company and attract more customers. In addition, social media management tools can enable companies to reduce costs by saving time and resources.
The disadvantages of social media management tools include that they can sometimes be expensive and that they require a certain level of technical knowledge. In addition, social media management tools can also make companies seem less personal.
What social media tools are available?
There are countless social media management tools on the market. Every company, every brand and every influencer has different requirements for such a tool. The following criteria should be considered when making your selection: – Functions and tools: Which functions and tools do you need? – Price: What is your budget for such a tool? – Ease of use: How easy is the tool to use?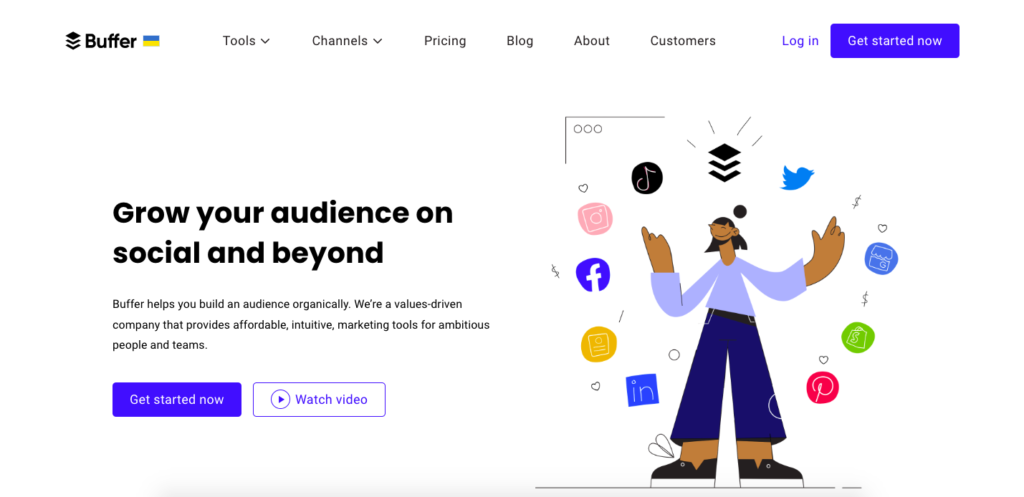 Hootsuite is a popular social media management tool used by both small and large businesses. Hootsuite integrates various social media accounts – from ten to more than 50, depending on the tariff – including Facebook, Instagram, Pinterest and YouTube, as well as LinkedIn. With Hootsuite, you can not only create posts and publish them to the various channels at set times, but also integrate tracking, monitoring and reporting.
Time-saving due to optimal posting functions

Evaluation of the data and useful statistics

Calendar function helps with the use of many social media
Disadvantages at a glance
Difficult termination of the tariff
Professional subscription: 49 €/month, 30-day trial for 1 user and 10 social media accounts

Team subscription: 249 €/month, 30-day trial for 3 users and 20 social media costs.

Enterprise Subscription: You can contact Hootsuite to get a quote.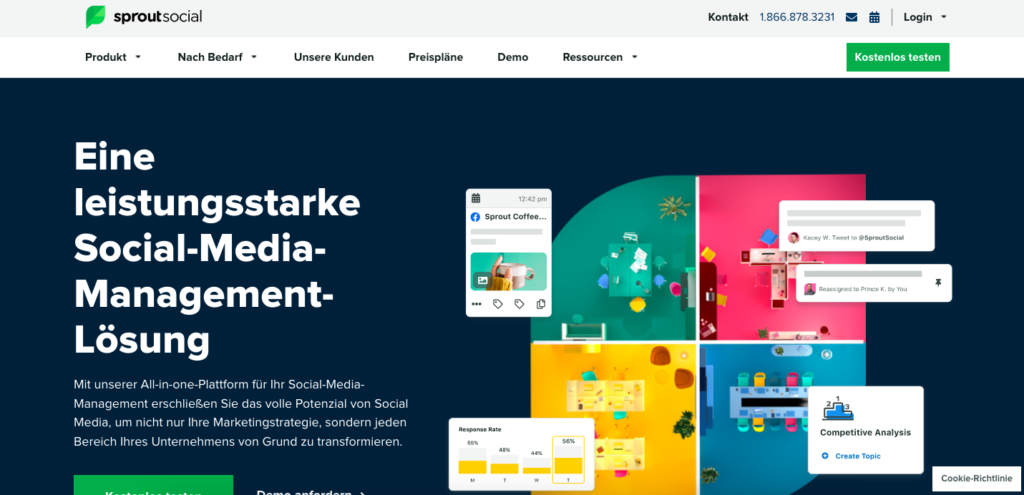 Sprout Social is a social media tool that allows you to compare different accounts with each other. The tool provides correct and accurate data on numerous social media portals and also offers features such as social listening, content management, engagement solutions and much more. In addition, Sprout supports teamwork and creates great customer experiences easily.
useful for large company or agency
Disadvantages at a glance
Customer support not ideal
Standard: $249 per month for 5 social media profiles

Professional: $299 per month for unlimited social media profiles

Advanced: $499 per month with automated link tracking

Enterprise: You can contact Sprout Social to get a quote.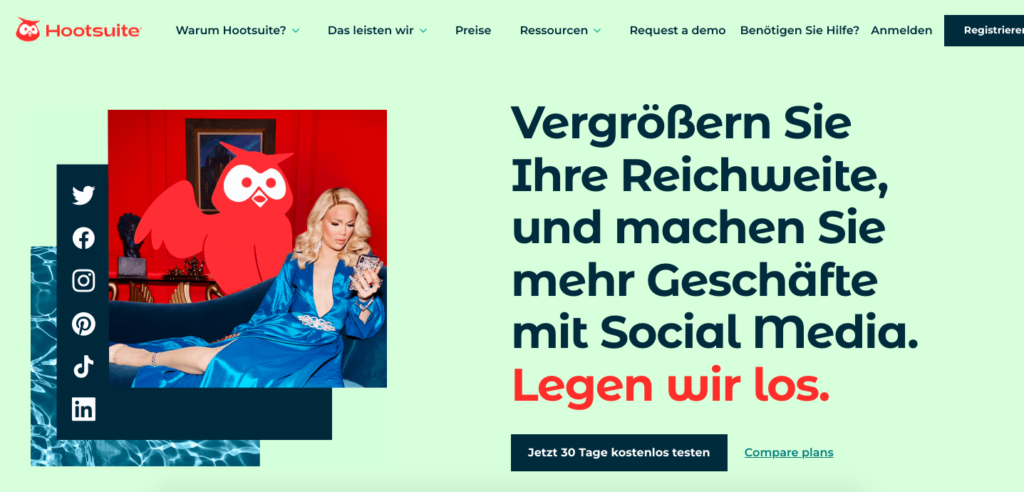 Buffer allows you to schedule content for major social networks like Twitter, Facebook pages and groups, Instagram, LinkedIn, and Pinterest. This can be done via the desktop version as well as via the mobile app or a browser extension. Suggestions for Twitter hashtags are also available in each version.
Disadvantages at a glance
Published articles are not sortable in the analysis area

Max. 10 postings per social media profile
Free: $0 for up to 3 social media profiles

Essentials: $5/month per profile with 14-day trial

Team: $10/month per profile with 14-day trial

Agency: $100/month per profile with 14-day trial
Improve your social media with neuroflash
In addition, neuroflash has a built-in SEO analysis that makes it easy to check which keywords are relevant to your blog or article.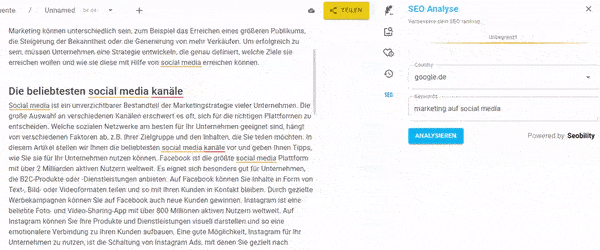 Alternatively, you can use the Freestyle tool to take your lyrics to a new level.
Frequently asked questions & answers
What are social media management tools?
Social media management tools are software programs that allow users to manage their social media activities. This includes managing contacts, scheduling posts and analyzing statistics.
Who uses social media tools?
Anyone who uses social media. Whether for personal or professional purposes, most people are active on social networks and use them regularly. If you're not using social media to its full potential, you're wasting time and resources. By using a tool, you can work more effectively, get better results, and save time in the long run.
How much do social media management tools cost on average?
Social media management tools can vary widely in cost. Some are free, others cost several hundred euros a month. The cost depends mainly on what features the tool offers and how many users it has.
Useful tips on social media management tools
Social media management tools are essential if you want to be successful with your business presence on social media. However, choosing the right tool can make the difference between success and failure in achieving your goals. When you're looking for a suitable social media management tool, it's important that you first figure out which features are most important to you. This usually means analyzing your audience and figuring out where they spend the most time online. In addition, you should decide what types of content are best suited to capture your audience's attention and guide them to action (or purchase). Some of the features you should consider when looking for a suitable social media management tool are:
The ability to manage multiple accounts: If you have multiple social media accounts, it's important to find a tool that lets you manage everything in one place. This saves time and effort when switching between accounts.

Automating tasks: A good social media management tool makes your job easier by performing tasks automatically, such as posting content at specific times or following competitors.

Reporting and analytics: A good tool should also provide you with detailed reports and analytics on the performance of your social media campaigns. This will help you figure out what works and what doesn't so you can adjust your strategy accordingly.
Each tool has its advantages and it just depends on which features are relevant to you. This blog post has shown you which are the most popular social media tools in comparison. I hope you now have a better idea of which tool suits you best. If not, don't worry about it! There are many more great tools out there and you're sure to find the perfect one for you soon.