Marketing is an important tool for companies to compete in the market. However, it is not always easy to keep track of everything. So in this blog article, we would like to put together some basic tips and tricks on marketing for beginners.
Marketing is the planning and execution of a concept to identify the needs of a specific customer base, offer a product or service, and promote interaction between the supplier and the customer. However, marketing is more than just advertising. Advertising is a small part of marketing, which can also include research, product development, pricing and distribution. The target audience of a particular product or service may refer to people with certain characteristics such as age, gender, social class, education level, occupation, ethnicity or religion.
Marketing for Beginners Step 1: The 4 Ps
The 4Ps of marketing are product, price, promotions and place. These categories include the various decisions that must be made before a product can be brought to market. The product must be carefully developed to meet the needs of the target audience. The price must be set to meet customer expectations and cover the company's costs. Promotions must be carefully planned to attract attention and arouse the interest of customers. Finally, the product must be available in a place where customers can easily find it.
Marketing for Beginners Step 2: Market Research
Whether you are selling a product or providing a service, your business will only succeed in the long run if there is a market for what you offer. This means that before you even start building your business, you should carefully consider whether there is even a market for what you want to offer. Many people already fail here because they simply have no idea how to researcht a market. But don't worry, in this article I'll show you the best way to do it.
Marketing for beginners Step 3: Target and audience analysis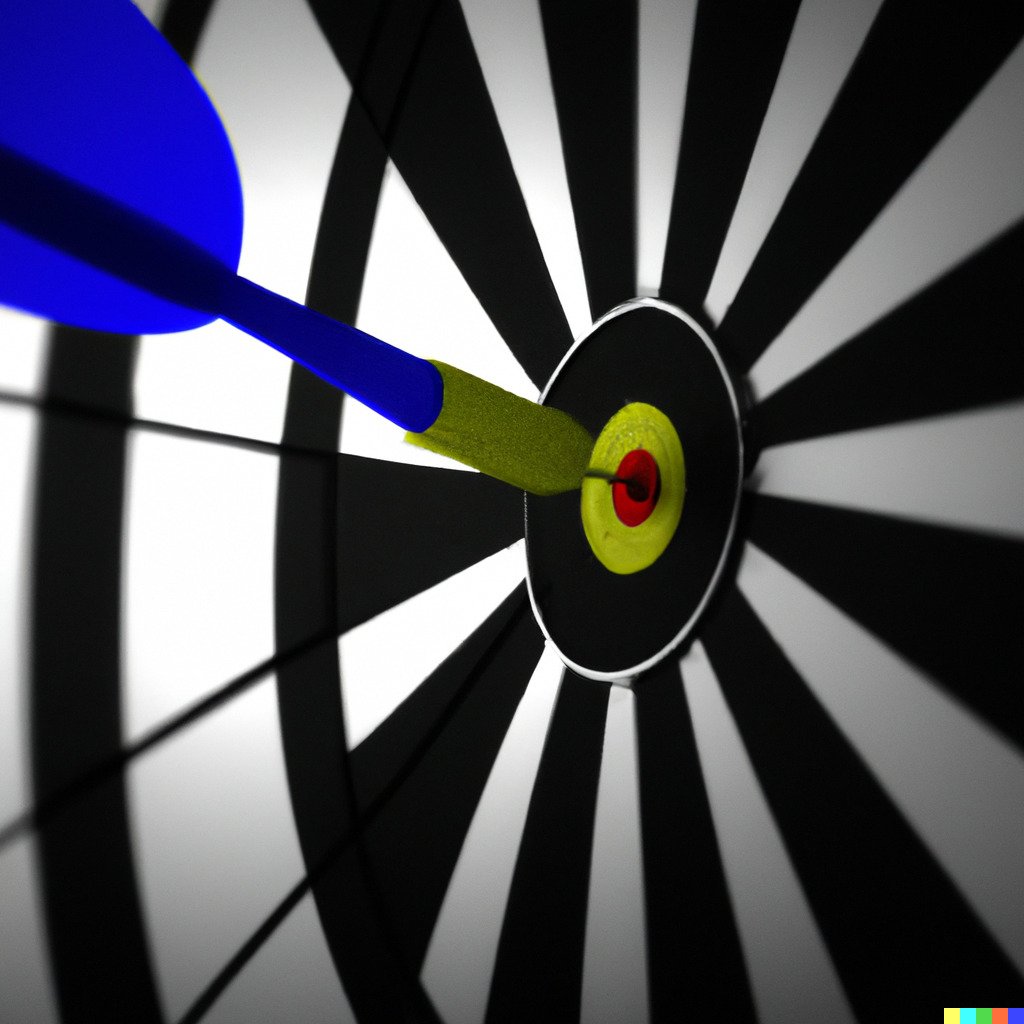 Target group analysis is the scientific method of studying the behaviors, attitudes and motives of a specific group of people with the aim of better understanding them. The analysis can be applied to different target groups and is an important marketing research tool. Some of the most important questions you should ask yourself in this step are: Who is my target audience? What are the needs of my target group? How can I best reach my target group? And what message do I want to convey?
The target group analysis is based on various research methods, such as surveys, observations or expert interviews. By combining these methods, a comprehensive picture of the target group can be created. A target group analysis provides information about the needs and wishes of the target group and helps to develop the right marketing measures. It is therefore an important tool for any company that wants to successfully market its products or services.
It's still important to think about what specific goal you want to achieve – and not wait until the ad is already running. This involves goals such as: Do I just want traffic? Or do I want people to convert (buy something or sign up for something, such as a newsletter) on my landing page right away? Do I want more followers for my Facebook page or more interactions for my Instagram posts? Such questions are relevant because you always get from Facebook exactly the people Facebook knows how they react. So if you want conversions but are bidding on traffic, your Facebook Ads costs will go up, simply because you chose the wrong target and Facebook is sending you the "wrong" people.
Marketing for beginners Step 3: Marketing the product or service
The third step in our Marketing for Beginners series is marketing the product or service. This is the process of figuring out how to get your offer out to the public and make it interesting enough for customers to buy.
The answers to the above questions will inform what type of marketing campaign is best to get your product or service out to the public. So take time to think through these questions thoroughly and answer them thoughtfully.
If you're selling a product, you can display it in a store or sell it online. If you're providing a service, you need to figure out how best to meet your customers' needs. This includes thinking about what kind of advertising and communication tools you want to use to draw attention to your offer.
There are different types of marketing: offline marketing includes, for example, print media such as newspaper ads or billboards; TV commercials and radio advertising fall under broadcast marketing; and online you will find mainly e-mail marketing (newsletters) and search engine marketing (SEO = search engine optimization). Which method is best suited for which company depends on the context. In any case, however, you should think carefully about taking several paths at the same time – a combination of offline and online measures is almost unthinkable nowadays!
Especially when writing marketing texts, tools such as neuroflash can help you. neuroflash allows you to create a number of different texts to support you in your marketing strategy. With just a few pieces of information, neuroflash generates a product description for you, for example: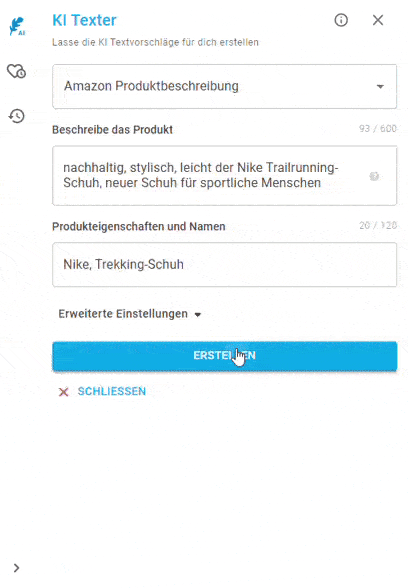 Also the SEO relevant texts, such as meta descriptions, can be generated so that your results are displayed directly on the first page in search engines like Google;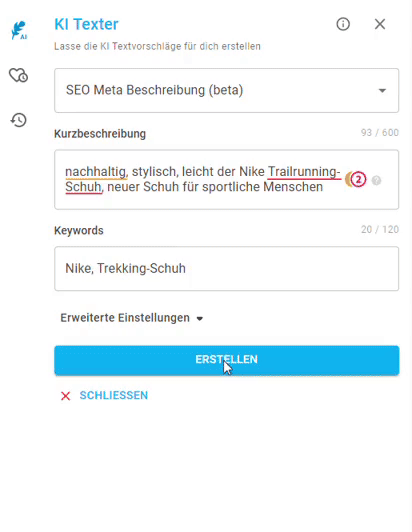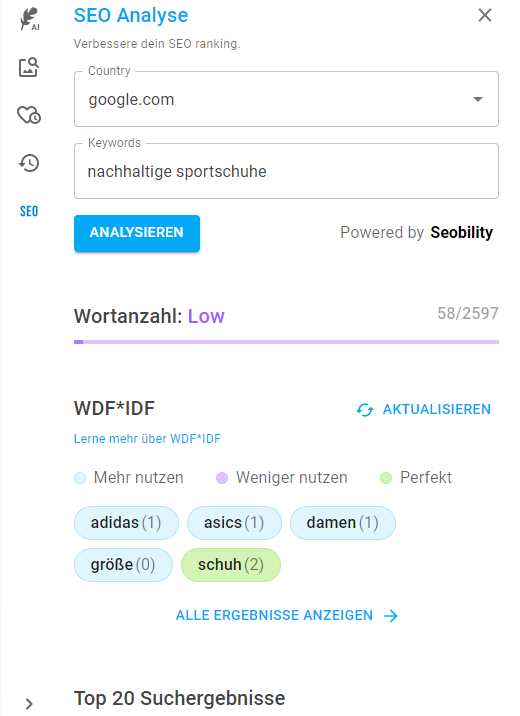 Frequently asked questions & answers
Marketing is the planning and execution of a business to determine and influence demand for its products or services.
Marketing can be done in many different ways, such as advertising, sales promotion, public relations, or direct marketing.
What are the goals of marketing?
The goals of marketing are to increase sales, increase market share, increase customer satisfaction, and create a positive image for the company.
If you're just starting out in marketing, you should focus on the basics first. Read books and articles on the subject to develop a basic understanding. Look for ways to highlight what you have to offer and bring it to people.
Take time to plan your marketing campaigns. Think carefully about the audience you want to target and the message you want to convey. Create a detailed schedule describing exactly how you plan to proceed.
Rely on proven methods, but also be willing to try new things. Use social media and other digital channels to spread your message. But also be open to other possibilities, such as flyers or posters in local stores or public facilities.
Be sure to communicate regularly and keep your audience in the loop. Use your website or social media to share promotions and news. Email newsletters are also a great way to stay top of mind.
Keep your eye on the ball and adapt your strategy to changing needs. This way you can ensure that your marketing campaigns are always relevant and successful.
Marketing for beginners can be challenging, but it's worth learning the basics. With the right tools and a solid understanding of the basics, you can get your marketing campaigns off the ground.