What are creative bio examples?
A creative bio is a short, three to four sentence bio that can be used for any purpose. It should be interesting and highlight your best qualities. There are many different ways in which such a creative bio can be used. For example, you can use it as a personal bio or a business bio(professional bio.
In this case, the  creative bio is a short, first-person account of who you are and what you do. Unlike a traditional resume, a creative bio is meant to show off your personality and achievements in a way that is both approachable and interesting. While there is no one-size-fits-all template for a creative bio, there are a few things you should always include: Your name and title, a brief overview of your professional background, your most notable achievements, what you do currently (or what you're passionate about), and a fun fact or two about yourself.
However, there is also social media bios. For example, you can write an Instagram bio for your Instagram account or a Twitter bio for your Twitter account. Furthermore, YouTube channels can have channel descriptions too and if you have your own website then you can also include a short bio on your "On Us" page which explains the origin of your business or site, its policy, its goals, and its philosophy. So as you can see, there are many uses for creative bio examples, you just need the right bio ideas. 
What should creative bio examples look like?
When it comes to writing a creative bio, the sky is the limit! Whether you're looking to use your bio as a way to introduce yourself to potential clients or customers, or simply want to add a personal touch to your website or social media profile, there are endless possibilities for what you can include.
That being said, there are a few key elements that should be included in any creative bio example, no matter what the purpose may be. Here are a few tips to get you started:
Be concise: One of the most important things to remember when writing a bio is to be concise. No one wants to read an essay about your life, so try to keep it short and sweet. 2-3 sentences is usually all you need.
Use humor: A little bit of humor can go a long way in making your bio more engaging and memorable. Just be careful not to overdo it – you don't want to come across as try-hard or unprofessional.
Be unique: There's no point in writing a creative bio if it's going to sound just like everyone else's. Take some time to think about what makes you special and highlight those aspects in your bio.
Use keywords: If you're using your bio as a way to attract clients or customers, be sure to include keywords that relate to your business or industry. This will help ensure that you show up in relevant search results.
Tell a story: A great way to make your bio more interesting is to tell a short story about yourself or your business. This can be something personal, like how you got started in your industry, or something related to your business goals or philosophy.
With these tips, you'll be well on your way to writing a creative bio that packs a punch!
Generating creative bio examples with AI
Writing an enticing and original bio is not easy and takes a lot of creativity and skill. Especially in today's fast-paced and ever-changing social media world, it can be difficult to come up with creative bio examples that accurately reflect who you are and what you do. Fortunately, there are now AI tools that can help you generate creative bio ideas and bio examples for any purpose.
neuroflash, for example, is a free AI tool that can help you generate over fifty different text types. The tool also entails various types of creative bio examples that allow you to input your information and then generates a range of possible bio examples for you to choose from. Here are three examples of what you can do with neuroflash:
A personal bio is a brief summary of your professional and personal life. It usually includes your education, work experience, and other important information about you. A personal bio is a great way to give people a snapshot of who you are and what you do. It can be helpful in networking or applying for jobs, and it can also be a fun way to share your story with others.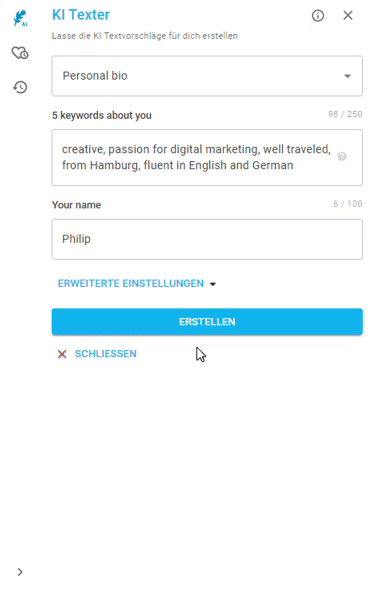 YouTube Channel Description
A YouTube channel description is a short paragraph that gives viewers an idea of what your channel is all about. This is your chance to tell people why they should watch your videos and subscribe to your channel.
An About us page is a page on a website that provides information about the site, its creators, and its purpose. It can also include information about the company or organization behind the site.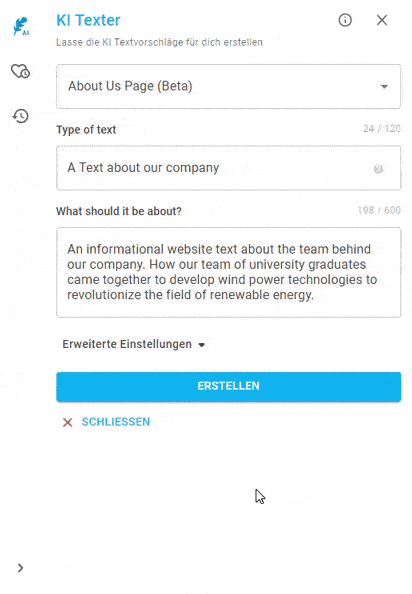 The benefits of generating creative bio examples with AI
As we all know, first impressions are important. And when it comes to making a good first impression, your bio is key. Whether you're looking to land a new job, entice new customers, score a date, or make new friends, your bio is your first opportunity to make that good first impression.Sure, you could just list your name, age, and where you're from. But why not take advantage of this opportunity to show off your personality and give people a taste of what makes you or your business special?
That's where AI comes in. With the help of AI, you can generate creative bio examples that will help you stand out from the crowd. Here are just a few benefits of using AI to generate your bio:
You'll save time

. Writing a bio can be time-consuming. But with AI, you can generate a bio in seconds. All you need to do is input some basic information about yourself and let the AI do the rest.

You'll get more views. An interesting bio will help you get more views on social media and other online platforms. If you're looking to land a new job or score a date, an eye-catching bio is essential.
You'll be more memorable. A well-written bio will help you stay in people's minds long after they've met you or scanned your profile. If you want people to remember you, make sure your bio is creative and unique.
You'll be able to try different versions. With AI, you can easily try out different versions of your bio until you find one that feels just right. Not sure if you should list your age or not? Try both and see what works best. Want to experiment with different tones? No problem! Just let the AI generate a few options and choose the one you like best.
You'll have fun! Writing a bio doesn't have to be a chore. With AI, it can actually be enjoyable. So go ahead and give it a try! You may be surprised at how much fun you have in the process.
In conclusion, there are a few key points to remember when writing a creative bio. First, be sure to tailor your bio to your audience – what would they be interested in knowing about you? Secondly, don't be afraid to infuse some personality into your writing – this is what will make you stand out from the crowd. Finally, keep it concise – your bio should be a snapshot of who you are, not your life story. Additionally, AI can provide you with bio ideas or simply generate creative bio examples for you. With these tips in mind and the help of artificial intelligence, you'll be sure to create a bio that will leave a lasting impression!