Recently, we've been hearing more and more about the use of AI in various areas of the recruiting process. While there are no clear numbers yet on how far along the implementation of AI is, it seems clear that it is becoming an important tool. Recruiting is an important but also complex process. Many companies today are relying on the help of AI to streamline the recruiting process.
5 neuroflash functions to facilitate the recruiting process
Recruitment is a complex topic that requires many different skills and knowledge. Additionally, there is no single standard for the recruiting process. Each company has its own requirements, procedures and policies. This all means that the recruiting process & HR processes are difficult for those who execute it. But with artificial intelligence, you can make this process a little easier, too!
Every recruitment process begins with a job advertisement. The job posting is the first point of contact between the company and the applicant. It is the first impression an applicant gets from a company. Therefore, it is important that the RFP is clear and concise and conveys exactly what the company is looking for.
A good job posting is the foundation for a successful recruiting process. neuroflash helps you to write an appealing advertisement that attracts the right applicants and reduces the number of unsuitable applications.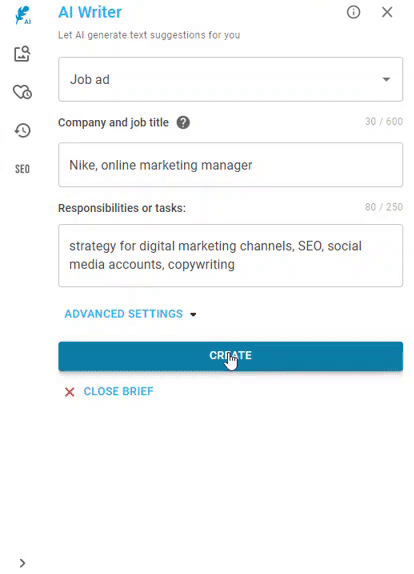 2. job interview question
The next important step in recruitment is the interview. The questions that are asked of the applicants play a major role here. Good interview questions are important because they can help you get to know the candidate better. They give the interviewer the opportunity to learn more about the candidate's skills and experience. Also, good questions can help get a feel for whether the candidate is a good fit for the organization and team.
To breathe fresh air into your job interview, you can use neuroflash to formulate new and inventive questions. This will liven up your interview and you won't have to resort to outdated questions that are repeated in every interview.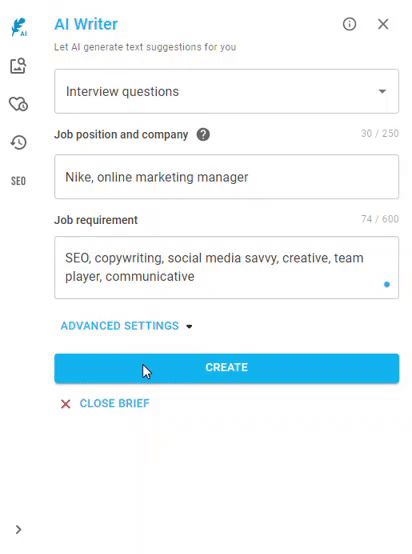 In addition to the recruiting process, it is also important for HR to be able to coordinate and mobilize the team. This includes formulating a concrete corporate vision that everyone strives to achieve together. The corporate vision is an essential part of a company's strategic planning and should therefore be formulated with care. The vision gives the employees orientation and motivation, it describes where the company wants to be in the future. It forms the basis for the further strategic orientation of the company and derives the tactical measures.
With neuroflash, you can ensure that you formulate a strong vision that motivates the team, keeps them together, and steers them in the right direction. neuroflash helps you to create a corporate vision that gives a clear idea of what you want to achieve.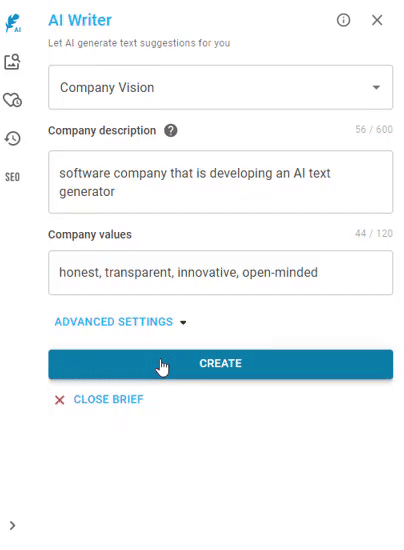 Also, an important aspect to coordinating the team is to identify and signal problems. Formulating problem statements in the company is important for solving problems. Problems can have a variety of causes, such as inefficient workflows, lack of communication, or lack of resources. By formulating problem statements, these causes can be identified and eliminated. This will make the company's work run more efficiently and smoothly.
With neuroflash you can formulate problems in a few seconds. Once the problem is identified, all you have to do is briefly describe the problem and the artificial intelligence generates a problem statement. Thus, you save a lot of time and can use your energy elsewhere.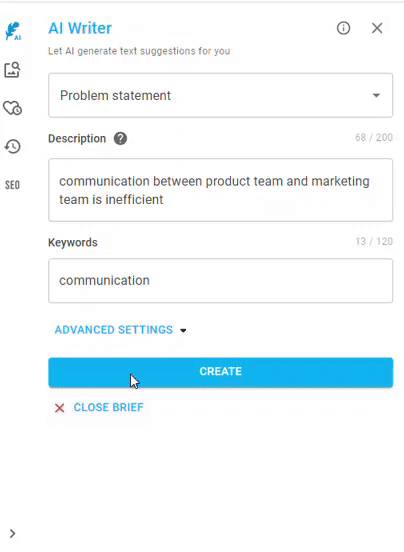 In HR you have to communicate a lot with different people, departments and industries. Often you have to compose a large number of emails, for some of which there are no ready-made templates. This takes an extremely long time and can be especially problematic when urgent emails cannot be sent in a timely manner, causing communication to stall.
With neuroflash, you don't have to worry about writing emails anymore. Instead of painstakingly composing each email by hand, you can use neuroflash to create emails with just one click. From subject lines to email text, with the magic pen you can generate mails on any topic and occasion, saving time and stabilizing communication,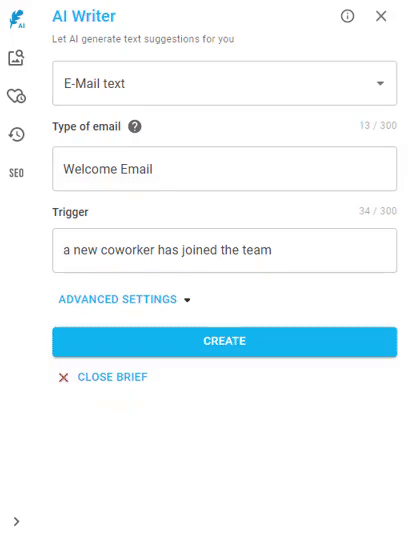 Tips & Hacks for the Perfect Landing Page by the Magic Feather
HACK: If you already have key points for a text, or perhaps want to further formulate an existing text, you can use the neuroflash "Expand" or "Continue writing" function.
TIP: You can also use neuroflash to rewrite texts.
TIP: If you want to quickly create something specific, such as a To Do list, you can also use the neuroflash "Command" feature.
Using AI in the Recruiting Process & HR - Advantages
The use of AI in the recruiting process and in human resources is still relatively new. However, AI does bring some advantages;
Faster than a recruiter: AI can be used to screen more applicants in less time.
Objective: AI is not influenced by the same biases or emotions as humans.
Creative: With the help of AI, you can bring more creativity to the application process.
More accurate matching: AI can use large data sets to more accurately predict what qualifications an applicant should bring to fit a company.
Better communication: AI can improve the speed and efficiency of intra-company communication. This means that many processes can be optimized.
Frequently asked questions and answers
How can I make the use of AI in the recruiting process & HR effective?
The possible applications of artificial intelligence in the recruiting process & HR are almost unlimited. Recruiting processes can be greatly simplified and accelerated through the use of text generators and AI analysis tools. For example, companies can use text generators to make initial contact with potential applicants or conduct automated preliminary interviews. AI is also relevant for optimizing communication within the company.
What experience is there already with the use of AI in the recruiting process & HR?
There are already some companies that are successfully implementing the use of AI in the recruiting process and HR. Here, AI is primarily used to speed up and simplify the search for suitable candidates. Hiring processes are also optimized through the use of AI. This can ensure, for example, that only the best candidates are considered for a position. However, the use of AI in the recruiting process and HR is still relatively new and there is no long-term experience with the use of the technology. Therefore, it is still unclear what impact the use of AI will have on the labor market as a whole.
How can I optimize my texts for the recruiting process & HR with AI?
More and more companies are turning to AI to streamline their recruiting process and HR department. The most important thing is to find the right software or tool. It is also important to communicate with the AI in such a way that the AI can also understand and correctly interpret the tasks,