Copywriting vs Copyediting are two completely different positions, but play an important role in marketing. In this blog, you'll learn all about both terms and what makes a copywriter and copyeditor.
Copywriting is the art of writing text to achieve a specific effect. This can be, for example, an advertising text, which should arouse the interest of the readers and make them buy a certain product. Or it can be an informational text that serves to convey certain content in an understandable and interesting way. Copywriting, then, is not just about writing, but rather about finding the right words and the right tone of voice to achieve the desired effect. To do this, you have to put yourself in the target group's shoes and find out exactly what interests them and what language they understand.
Copywriting is an incredibly important skill for anyone working in marketing. The world of marketing is moving so fast, and people's attention spans are getting shorter and shorter. If you're not able to get to the heart of your message and get it across to the right people, you'll soon be overtaken by your competition.
How do I become a copywriter?
There is no one way to become a copywriter. However, most copywriters have training in communications, marketing or journalism. Many also have a college degree in one of these fields. To be successful, however, you don't necessarily have to have a degree. Many successful copywriters have acquired their skills through practice and self-study.
If you are seriously interested in becoming a copywriter, you should try to learn as much as you can about copywriting. Read books and articles on the subject and look for examples of good advertising. Also, be sure to write regularly to improve your skills. The more you practice, the better you get. Also learn how to write compelling SEO copy here.
Qualifications of a Copywriter
There aren't many jobs where you can exercise your creativity like you can as a copywriter. The work is varied and exciting. Whether it's for a website, a flyer, or a social media campaign, you always need to find the right words to convince customers. But what qualifications do you need to have? Of course, it helps to have fun with the writing process. Even if the creation of texts is not witchcraft: Without joy in the matter, it just does not work. One of the most important qualifiers of a good copywriter is their writing ability. The copywriter must be able to write clearly and concisely and produce compelling copy that grabs the reader's attention and helps them understand the message. He should also be able to think creatively and propose new ideas for advertising campaigns.
Here is an overview of the qualifications of a copywriter:
Degree in communications, journalism, or related field
At least two years of experience as a copywriter for advertising materials and digital content
strong writing skills and knowledge of linguistic stylistics
Ability to present complex topics in an understandable way
careful working method and high quality awareness
A copywriter can earn an average to high salary, depending on their experience and the topics they cover. In most cases, a copywriter is paid per word, which means that the more words he writes, the more money he earns. In addition, copywriters can also be paid per hour.
How do I write good copy?
Good copy is the supreme discipline of online marketing. The best copy is more than just words on a web page – it's artwork that draws the reader in and captivates them. If you are interested in writing good copy, you must first understand what exactly good copy is. Good copy is compelling, engaging, and clear. There is no set way to achieve this, but there are certain elements that any strong copy should contain. For example: a clear point of view: what problem do you want to solve? Why should people believe you? Background information: What do you do better than everyone else? Personal stories: Will you appear trustworthy to your audience?
Do you have trouble putting your blog ideas into words? Nowadays, with the help of the Internet, this is no longer a problem. The KI Text Generator from neuroflash offers a variety of different tools to help you before, during and even after writing. For example, the introduction of a blog. Sounds good? Then test it out right here.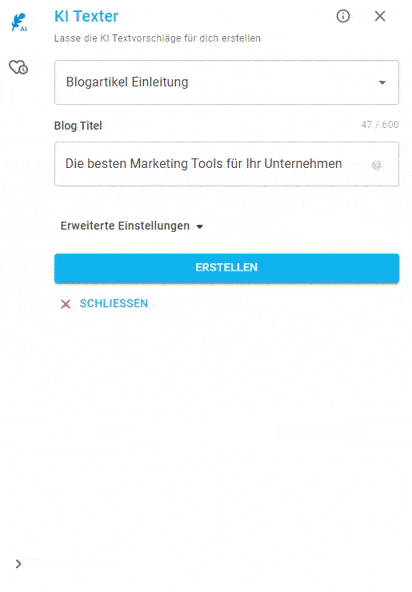 Copyediting is working on a text to make it "fluent and readable." The goal of copyediting is to maintain the author's style while ensuring that the text is free of spelling, grammar, and typing errors. Copyeditors can also work with the layout and design of a book or article. Learn more about the topic in this guide by Judith Butcher.
Copyediting is an indispensable tool for those who want to succeed in the world of marketing. Text editing is a perfect way to make the content more interesting and appealing. The proofreading process uncovers and corrects errors, which means that only error-free texts are presented to the reader. Additionally, copyediting can help improve the style of writing, making the overall brand more appealing. If you are a company looking for a copyeditor, click here.
How do I become a copyeditor?
Copyediting is a great skill to learn to get ahead in your career. By learning the basics of editing and practicing with different types of text, you can better market yourself and establish yourself as an expert in writing quality. To become a copyeditor, however, you don't just have to be an excellent writer – there are other qualifications you need. First, you should have grammar and spelling skills. Knowledge of typographic rules and basic design skills are also helpful. In addition, you should be willing to learn and develop on a regular basis. Copyediting is a constant process of learning new strategies and techniques.
Qualifications from a copyeditor
A copyeditor is someone who revises and improves the content of a document. This person can correct spelling, grammar, and sentence order to make the text more readable and understandable. Copyediting can also include revising text to improve style or structure. A copyeditor should be able to quickly review and improve the content of a document without changing the author's original message.
Here is an overview of the qualifications of a copyeditor:
A copyeditor should have a sound education in spelling, punctuation and grammar. It is also important that he has knowledge in various style guidelines.
The work of a copyeditor focuses on correcting errors in spelling, punctuation, and grammar, as well as checking the content for accuracy and completeness.
He should additionally pay attention to whether the text conforms to the given font style or not.
The average salary of a copyeditor in the United States is between $40,000 and $50,000 per year. In Germany, the average salary is between 35,000 and 45,000 euros gross per year.
Copywriting vs Copyediting: Which is better?
Copywriting and copyediting are two completely different skills that you need to master in order to be successful in the online marketing business. But which one is better? Well, it all depends on what you want to achieve with it. When writing a blog article, composing an email newsletter, or creating a landing page, it's important that your writing is clear, understandable, and compelling. Copywriting is the right choice for this. If, on the other hand, you want to correct or improve a text, copyediting is the better choice. Both skills are important and should be mastered to be successful in online business.
Copyediting is the art of using words to make a text clear and precise. Both skills are important, but they require different ways of thinking. Copywriters need to be creative and be able to tell a story to grab readers' attention and get them to buy something or take an action. Copyeditors must be analytical and have an eye for detail to find errors in a text and make it as clear and concise as possible.
Frequently asked questions & answers about copywriting vs copyediting
Copywriting is an activity that involves creating promotional materials such as advertisements, brochures, and websites.
Copyediting is the proofreading and editing of all types of texts.
What is the difference between copywriting and copyediting?
Copywriting is the creation of texts, while copyediting is the proofreading and editing of texts of all kinds.
When writing, it is important to be clear and concise.
Be sure to provide your readers with the right information.
Stick to the basic rules of grammar and spelling.
Familiarize yourself with the different styles before deciding one.
If you are unsure, seek advice from a professional editor or proofreader.
Copywriting vs Copyediting – In the end, it becomes clear that both terms and their tasks are very different. Copywriting is the art of writing text that is intended to have a specific effect on the reader. The copywriter's goal is to sell something to the reader – be it a product, a service, or just the idea behind it all. In order to achieve this goal, the copywriter must design the text in such a way that it arouses certain emotions in the reader and makes him do something specific. Copyediting, on the other hand, has nothing to do with selling anything. Instead, copyediting is about making sure that the text is clear and concise and contains no spelling or grammatical errors. It is also often said that "copyediting is the art of making text better" – so anything but boring!